Games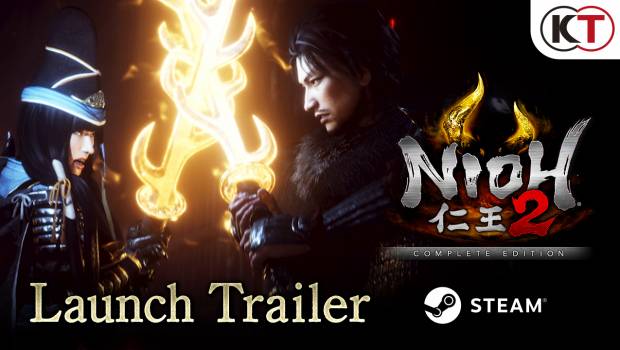 Published on February 5th, 2021 | by Adrian Gunning
DARKNESS IN NIOH 2 – THE COMPLETE EDITION, AVAILABLE TODAY
KOEI TECMO Europe and developer Team NINJA are proud to release the PC version of their highly anticipated dark fantasy action-RPG, Nioh 2 – The Complete Edition, available today via Steam®. To celebrate the game's launch, a cinematic launch trailer was released highlighting the PC version's gripping visuals.
Nioh 2 – The Complete Edition brings one of the most celebrated action games of this generation to PC, offering players the best way to experience violent Sengoku-era Japan and the deadly Dark Realm. Experience the gripping narrative of the base Nioh 2 game, as well as all of the content featured in the three DLC expansions; "The Tengu's Disciple", "Darkness in the Capital", and "The First Samurai", through the eyes of a half-human, half-supernatural yokai warrior. In addition, players will have access to all of the game's weapon types from the beginning of their journey, including those featured in the DLC – the Splitstaff and the Fists – allowing them to master their favourite weapon type and unleash their darkness against intimidating yokai adversaries.
Not only does The Complete Edition feature a wealth of content for players to dive into, it also enables them to enjoy the title with crystal clear 4K Ultra-HD support, alongside ultra wide-screen compatibility, HDR monitor support, and 144Hz monitor support complete with silky-smooth gameplay at a consistent 60/120 FPS on compatible systems*. Also included is full mouse and keyboard customisation support, gamepad compatibility, and the exclusive Valve Helmet armour piece.
Those who purchase their copy of Nioh 2 – The Complete Edition before the 26th February 2021 will be able receive the bonus armour sets, "Sohaya Deserter Garb" and "Ornate Gold Armour" for use on their adventure. To access these limited time bonus items, simply visit the 'Boons' section of the in-game menu and the items will be downloaded.
For all of the latest information on Nioh 2 – The Complete Edition, check out the official site, 'Like' us on www.facebook.com/koeitecmogames, and Follow us on Twitter @koeitecmoeurope or Instagram @koeitecmoeurope
* Features listed, such as 4K and 120 FPS, require a monitor and PC components that support these modes.