Games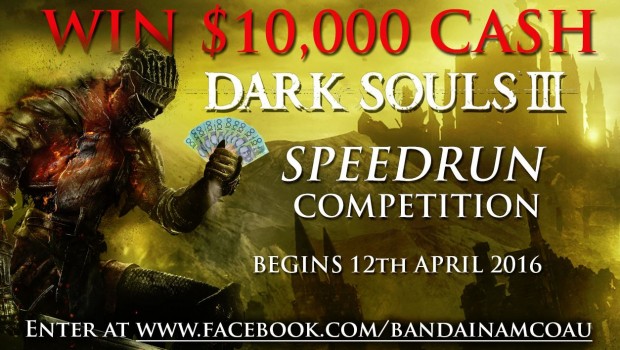 Published on April 7th, 2016 | by admin
DARK SOULS III – WIN $10,000 CASH IN THE DARK SOULS III SPEED RUN COMPETITION
Bandai Namco Entertainment are proud to announce a competition for the upcoming Dark Souls III on PS4, Xbox One and PC – The Dark Souls III Speed Run Competition!
Australian and New Zealand consumers will be able to enter this competition where they will strive to finish the game in the fastest possible time – termed the 'Speed Run', made famous in games like Dark Souls, Dark Souls II and Bloodborne. The quickest time will win an amazing $10,000 Cash!
To enter, consumers need to purchase Dark Souls III on their format of preference and complete their 'Speed Run' and then post their time on the Bandai Namco Facebook page at www.facebook.com/bandainamcoau under the competition posting. Entrants must also upload or stream the entire run to their Twitch account with the hash tag #DS310KSpeedRun. The competition runs for 4 weeks ending Tuesday 10th of May, allowing gamers plenty of time to hone their 'Souls Skills' and deliver their best time and performance in their 'Speed Run'. The Bandai Namco Au facebook page will be updated regularly with a table of the top competitors, allowing entrants and fans alike to compare their styles of play, methods and tricks with others, leading to more enjoyment of what is easily the best game of 2016 so far! Full terms and conditions will be available on the facebook page before the competition starts on April 12.
So, if you fancy yourself as a bit of a player, get along to the Facebook page now and check out the post and start preparing for the 'Speed Run' of a lifetime! You could win that $10,000 cash! Just think of how many copies of Dark Souls III you could buy with that? 
You can view the Twitch stream of the Dark Souls III Launch event containing the 'Speed Run' announcement here:  https://www.twitch.tv/6t4bites_aus/v/58920411
If you need any hints and tips on how to play Dark Souls III better and to level up yourself, please view the 'Comprehensive Guide' here:  https://youtu.be/FqiNDwr0bM4