Comics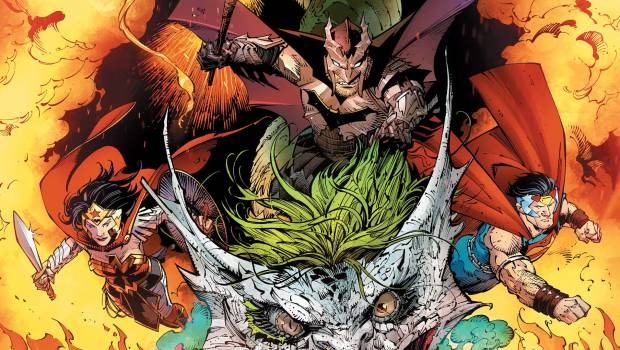 Published on March 28th, 2018 | by Andrew Bistak
Dark Nights Metal #6
Summary: Dark Nights Metal concludes the rollercoaster adventure from Snyder and Capullo on a huge high which opens the DCU to a bold new direction!
The last issue of Dark Nights Metal is finally here as creators Scott Snyder and Greg Capullo wrap-up their epic story about the Dark Multiverse infiltrating the DCU. With the multiverse under threat from the entity known as Barbatos and with the heroes of Earth almost defeated, Wonder Woman leads a last ditch effort against an army of hideous dark versions.
So while heroes like Hal Jordan (Green Lantern), Aquaman fight to a standstill, Mr Terrific unleashes his secret weapon of Plasticman which gives Wonder Woman the time needed to bring Batman and Superman back into the fold who are now powered by the mysterious and dangerous metal of the Forge of Worlds.
With Batman back, he takes on one of the dark versions of himself and thanks to the Joker, he manages to defeat him and free the Monitor. With the trinity reunited again, the Monitor informs them that the metal that they are now wielding will allow them to free the denizens of Earth from the Dark God and return this planet and the multiverse to a cohesive existence, including imprisoning this powerful villain.
The story ends with Bruce Wayne hosting a party for some of the heroes who were involved in saving not just their world but also the multiverse from Barbatos with Batman unveiling his next plan, the creation of the Hall of Justice which dawns a new age of heroes for the world of the DCU as the boundary of the known universe, the source wall has just broken open.
Wow… what a read and what an amazing new direction for the DCU. Scott Snyder and Greg Capullo have created one of the most unique superhero stories for DC Comics in a long-time that had unexpected twists, dozens of cameos and an enjoyable story from start to finish. Sure, it had a few lulls here and there but for the most part, it was an exciting read with some really fun one-shots of these twisted versions of the heroes we all love and know.
Although this is the end of Dark Nights, Snyder has created a new legacy for the DCU which commences in May with Justice League: No Justice.
Recommended!
Gallery