Comics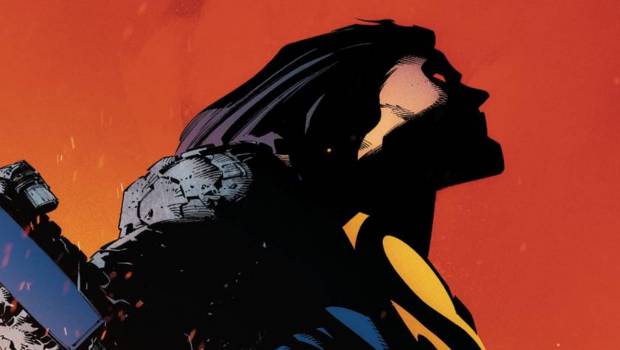 Published on August 11th, 2020 | by Andrew Bistak
Dark Knights Death Metal #3
Summary: Dark Knights Death Metal is another spectacular issue from start to finish!
The story picks up on an Apokolips, the planet that was once ruled by Darkseid before The Batman Who Laughs came. On this new world, Pararobins have replaced the Parademons and it's just as dangerous, probably more so since Darkseid ruled it.
Cue in the heroes!
I'll say this, bats even the evil versions of you are damn good at branding.
– Harley Quinn
Wonder Woman, Batman and Harley Quinn are on Apokolips for a reason and that reason is Superman and to make matters worse, Swamp Thing informs this trio that something evil has woken on Earth and that evil is The Batman Who Laughs who now has the powers of Dr Manhattan.
As we're re-introduced to Superman, we discover that he has been tortured by the Darkfather (think a twisted version of Frank Miller's Dark Knight) who is trying to turn him to the dark. After a short battle where Superman tricks the Darkfather, he is reunited by his rescuers and even a bigger reunion occurs as they rescue the heroes trapped in the super prison of his deadly world.
Aw, You're right, Kent. I'm sorry, I mean I'm not here to kill you. I'm here to watch him do it.
– Robin King
Back on Earth, Doctor Fate senses an intruder to their protected bunker who is the Robin King who taunts the JSA and Barry Allen, adding that his master is here to kill them, the Batman Who Laughs who wants the powers of Wally West. What can the three Flashes do? Simple, they run as Doctor Fate creates a portal for the trio to escape.
Back on Apokolips, the wide gamut of returned heroes includes the great such as Green Lanterns, the Martian Manhunter, Steel, Vixen, Supergirl and Raven as Wonder Woman explains to them what the cosmic entity Perpetua is trying to achieve by drawing the energy of the Crisis worlds for her own nefarious plans. However Wonder Woman believes that if they channel this energy into one of their own, they may have hope in saving the multiverse.
They hope that by channeling the powers into Wally West, while Jarro, the most powerful psychic being in the universe slows down the Dark Knights, it will give time for Wonder Woman, Batman and Superman to re-enter the dark in order to restart the multiverse. However there is another player in the mix and he has been using Lobo to collect pieces of Dark Metal so that he can change the universe into his own image… welcome back Lex Luthor!
Friends. It's good to see you again.
– Superman
Final Thoughts?
Another excellent issue from Snyder, Capullo, Glapion and Plascencia who deliver their artistic energies into a thoroughly enjoyable story that is not only well written but superbly illustrated. While this new universe is quite dark, there's plenty of light that shines brightly in Dark Knights Death Metal and Scott Snyder really has a good grasp on it all!
Great stuff!