Comics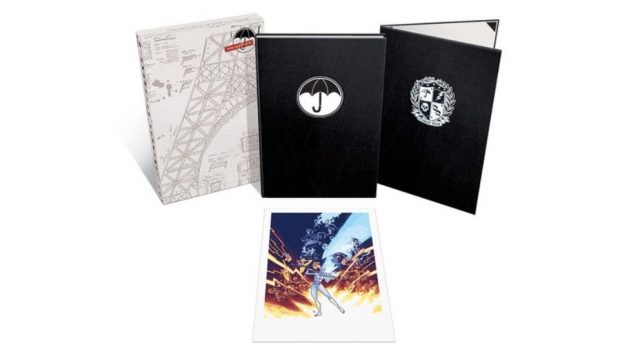 Published on September 21st, 2019 | by Alex Novus
DARK HORSE TO RELEASE DELUXE EDITIONS OF THE UMBRELLA ACADEMY LINE
Dark Horse is giving The Umbrella Academy fans an exciting new collectible for their bookshelves with a new line of deluxe editions! Now a Netflix original series with a second season coming soon, The Umbrella Academy by writer Gerard Way and artist Gabriel Bá continues with the collection of The Umbrella Academy Volume 3: Hotel Oblivion, out now, and a special new one-shot, Hazel and Cha Cha Save Christmas: Tales from The Umbrella Academy, coming out in November.
"We're excited to give our fans the opportunity to further enjoy The Umbrella Academy with this new line of deluxe hardcover editions," said series creators Gerard Way and Gabriel Bá. "We're incredibly grateful to our fans for all their support and hope they enjoy these beautiful new books."
Dark Horse will release The Umbrella Academy Volume 1: Apocalypse Suite Deluxe Edition next spring. This deluxe edition collects the complete Eisner Award-winning series, as well as the short stories "Mon Dieu!" and "But the Past Ain't Through with You." It also includes a 50-page sketchbook section with art by Gerard Way, Gabriel Bá, James Jean, and designer Tony Ong. The 216-page oversized hardcover is bound in leatherette, debossed with an applique of the iconic umbrella symbol, and features foil stamping and a satin ribbon bookmark.
Also included is a lithograph featuring a unique new art piece created by Gabriel Bà exclusively for this deluxe edition. The lithograph is enclosed in a leatherette portfolio, debossed with the Umbrella Academy crest. The book and portfolio are enclosed in a beautiful slipcase featuring art by Gabriel Bà, finished with matte lamination and spot gloss UV.
The Umbrella Academy Volume 1: Apocalypse Suite Deluxe Edition goes on sale in comic shops on March 4, 2020 and in book stores on March 17, 2020. This 216-page deluxe edition retails for $79.99 and is available for pre-order through Amazon, Barnes & Noble, and at local comic shops. Similar deluxe editions of The Umbrella Academy: Dallas and The Umbrella Academy: Hotel Oblivion are planned for later in 2020. In the meantime, fans of The Umbrella Academy can pick up a copy of The Umbrella Academy Volume 3: Hotel Oblivion now! Visit DarkHorse.com for more information on The Umbrella Academy.