Comics
Published on May 17th, 2023 | by Andrew Bistak
DARK HORSE MANGA TO RELEASE "TRIGUN MAXIMUM DELUXE EDITION VOL 1" IN APRIL 2024
More news from Dark Horse Manga: following the Trigun Deluxe Edition single volume collection arriving in December 2023, the next manga series to be released in Deluxe Edition hardcover format will be Trigun Maximum! Volume 1 will be available in April 2024.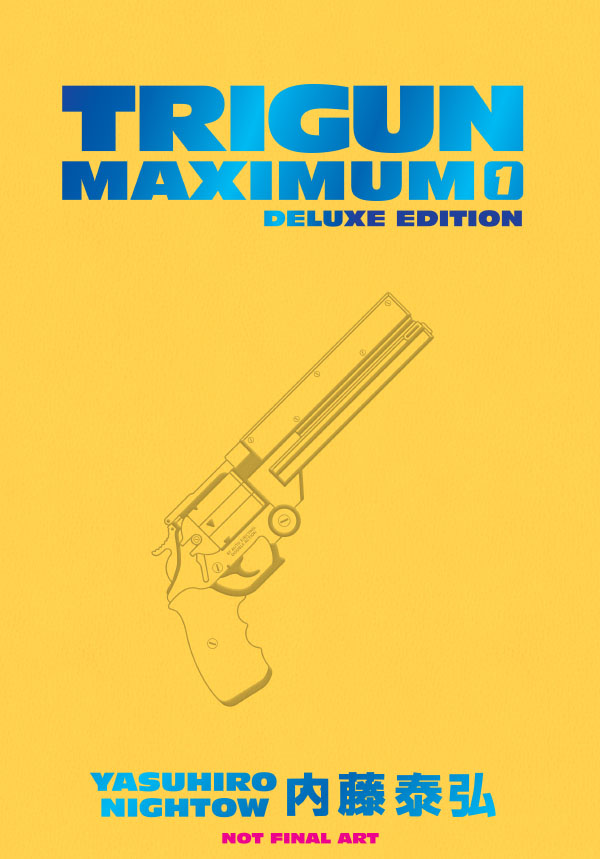 The Trigun Maximum Deluxe Edition Volume 1 gathers the first three Trigun Maximum volumes in a deluxe hardcover edition featuring nearly 600 pages of Yasuhiro  Nightow's signature creation in the original oversized format!
Vash the Stampede, the galaxy's deadliest gunslinger, emerges from two years in hiding to help his beleaguered desert homeworld, Gunsmoke. But the Stampede's many enemies have kept their motors running, and they're back on his trail and determined to bring Vash to ground—hard! And a new crowd of bounty hunters, badasses, and braincases are also looking to cash in the sixty-billion double-dollar price tag on his head!
Trigun Maximum Deluxe Edition Volume 1 (of 5) will be available April 2, 2024 from bookstores, and April 3, 2024 from comic shops. It will retail for $49.99, featuring 584 pages in 7×10″ format. It is available to pre-order now from comic shops and bookstores, including Barnes & Noble.
Praise for Trigun:
"Trigun is well balanced, so while there are some sad moments, they're just the night before the dawn. You rarely have time to be bored, because with every story, you uncover the real profile of the 60 billion dollar bounty, Vash the Stampede. To sum up, Trigun is almost a must-have on your manga (or anime) list." –My Anime List