Comics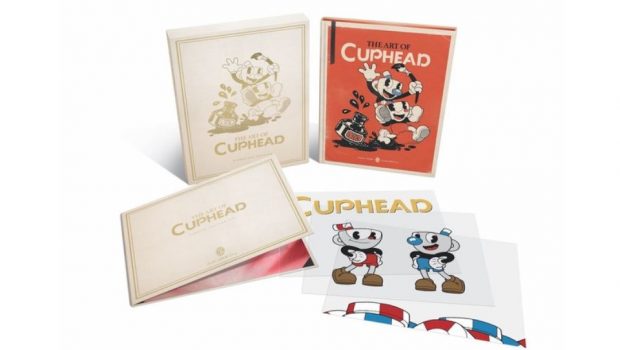 Published on October 22nd, 2019 | by Alex Novus
DARK HORSE DEBUTS A THRILLING ART BOOK FOR THE AGES WITH LIMITED EDITION THE ART OF CUPHEAD
Come one, come all! It's time for a special announcement of a thrilling compendium!! Dark Horse Books, Studio MDHR and King Features Syndicate are thrilled to present this beautiful, limited-edition package, The Art of Cuphead! The limited-edition book includes a cloth slipcase and a set of acetate sheets in a portfolio breaking down the game's classic start screen illustration. This vintage-style art extravaganza is the perfect book for fans of Cuphead.
Get transported back to the golden age of 1930s animation with an art book celebrating the acclaimed run & gun platformer, Cuphead. Each page of this curated artwork collection is designed to capture the vintage look and feel of the Thirties. Take a gander at the game's traditional hand-drawn frame-by-frame animation. Peek at the concepts, production work, and early ideas that went into the making of Cuphead's characters, bosses, stages and more, including never-before-seen content from the upcoming DLC! Relive the most cherished and challenging moments of Cuphead and Mugman's adventure to reclaim their souls from The Devil, all in a way you've never seen before. Guided by personal insights from game directors Chad and Jared Moldenhauer, take a one-of-a-kind trip through the Inkwell Isles and discover an all-new appreciation for Cuphead's animation style and challenging retro gameplay.
The Art of Cuphead goes on sale March 17, 2019, and is available for pre-order on Amazon and at your local comic shop. Be sure to pick up a copy of this oversized, 264-page art book for $99.99.
Cuphead continues to be celebrated by fans around the world for its arcade action gameplay, highly original art design and award-winning soundtrack featuring almost three hours of original jazz, early big band and ragtime music. The game has sold over 5 million units worldwide and won over 20 major awards, including Special Achievement in Animation at the 45th Annual Annie Awards, Xbox One's Game of the Year and a BAFTA Games award for Music.
The Art of Cuphead from Dark Horse comes on the heels of the recent announcement that Cuphead is coming soon to Netflix in an all new series – The Cuphead Show!. The animated comedy series will expand on the characters and world of Inkwell Isles, with an animation style inspired by the classic Fleischer cartoons from the 1930s.