Comics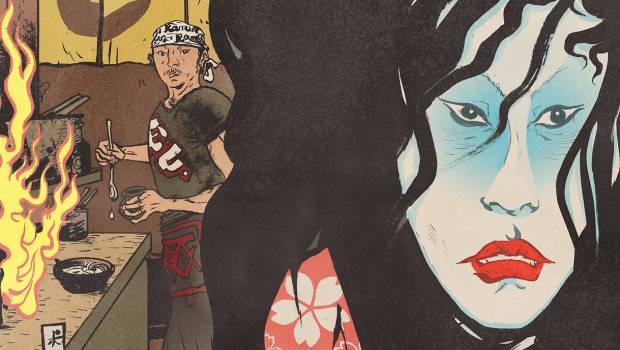 Published on September 13th, 2018 | by Dana Folkard
Dark Horse Comics Will Publish the Final Graphic Novel Written by Anthony Bourdain
This October, Dark Horse Comics will publish the final graphic novel written by Anthony Bourdain before his untimely death in June, 2018.
ANTHONY BOURDAIN'S HUNGRY GHOSTS reunites the bestselling writer, chef, and award winning television host with accomplished co-writer Joel Rose, his friend and longtime collaborator, for a series of horror stories inspired by the popular Japanese Edo period parlour game of Hyakumonogatari Kaidankai. The graphic novel substitutes chefs in place of the traditional samurai, and transforms the classic stories of yokai, yorei, and obake by adding a common thread: food is central to each bone-chilling tale.  On a dark, eerie night a Russian oligarch dares a circle of international chefs to play the Samurai game of 100 Candles—where each storyteller blows out a candle after telling a terrifying tale of ghosts, demons and unspeakable beings, praying to survive the challenge.
The full color, hardcover book goes on sale in comic book shops and bookstores on October 2, 2018 and features:
5 all-new original recipes prepared by Bourdain;
An extended dedication and beautiful send off to Bourdain written by Rose;
Stories stunningly illustrated by artists Sebastian Cabrol, Vanesa Del Rey, Francesco Francavilla, Irene Koh, Leonardo Manco, Alberto Ponticelli, Paul Pope, and Mateus Santolouco, with amazing color by Jose Villarrubia;
The Real Ghosts, a handy guide to the legendary spirits behind the terrifying tales, written by Rose, with illustrations by Leonardo Manco;
A reunion for Bourdain and Rose with legendary comic book editor Karen Berger — the editor of Dark Horse Comics' imprint Berger Books and recent inductee into the Will Eisner Comic Industry Awards Hall of Fame — who was the founding editor of Vertigo Comics, which published Bourdain and Rose's graphic novel debut, the New York Times #1 bestseller, Get Jiro!
A jaw-dropping cover by bestselling comics artist Paul Pope.
ANTHONY BOURDAIN'S HUNGRY GHOSTS is a celebration of culinary creativity and the power of storytelling. Like Bourdain and his writing, the stories bring together different traditions to create something unexpected, bold, and occasionally shocking. Bourdain rejected the label of celebrity chef and the publication of this book is an opportunity to reflect not only on Bourdain's impact on culture, but his literary legacy.
As Karen Rinaldi, Publisher of Harper Wave, Bourdain's prose editor, publisher of Kitchen Confidential, and wife of Joel Rose explained, "First and foremost, Bourdain was a writer. Besides spending two decades writing and creating for television, Bourdain penned 14 books and had other works in progress when he died; he took storytelling seriously. Stories are how we connect and, in a world where real connection seems to be losing ground, Bourdain was there to help others claw their way back up. His gift was to connect cultures and people by finding what there was to honor, to share, and to be grateful for, even in the most tenuous of circumstances or in the least expected places."
"It remains a great privilege to publish Anthony Bourdain," said Karen Berger. "Tony grew up a huge fan of R Crumb and the horror stories of EC Comics and for a time, he wanted to be a comic book artist. But Tony loved co-writing comics with Joel and collaborating with the artists. It's heartbreaking that we lost Tony, but I'll always treasure my memories of his irreverent spirit, generosity, and his passion for comics and art."
We hope you'll celebrate Anthony Bourdain, and his love of story and food, by devouring this book.
(128 pages / color / on sale October 2, 2018 in comic shops and everywhere books are sold / $14.99 HC / ISBN 978-1506706696 / Berger Books, Dark Horse Comics, Inc.)
About the Writers:
Anthony Bourdain was a veteran chef and author of both non-fiction and fiction: the New York Times bestselling Kitchen Confidential and Medium Raw; A Cook's Tour; the collection The Nasty Bits; the novels Bone in the Throat and Gone Bamboo; the biography Typhoid Mary: An Urban Historical; two graphic novels, Get Jiro! and Get Jiro!: Blood and Sushi and his latest New York Times bestselling cookbook Appetites. He has written for The New Yorker, The New York Times, The Times of London, Bon Appetit, Gourmet, Vanity Fair, Lucky Peach and many other publications. In 2013, Bourdain launched his own publishing line with Ecco, Anthony Bourdain Books, an imprint of HarperCollins.  His first food and travel show was A Cook's Tour on the Food Network, followed by No Reservations and The Layover on the Travel Channel. In 2013, he joined CNN as a producer, writer and host of the globe travelling show Parts Unknown which received the Peabody Award and Eleven Emmy Awards.  Bourdain received a posthumous Emmy Award for his non-fiction writing for Parts Unknown.
Somewhat notoriously, he established himself as a professional gadfly, bête noir, advocate, social critic, and pork enthusiast, recognized for his caustic sense of humor worldwide. He was as unsparing of those things he hated, as he was evangelical about his passions.
Joel Rose is the author of the novels Kill the Poor, Kill Kill Faster Faster, and The Blackest Bird. Kill Kill Faster Faster and Kill the Poor were both made into feature films. Other writing includes: New York Sawed in Half and the bestselling graphic novel Get Jiro!, co-written with Anthony Bourdain. Joel also was co-founder and editor of the legendary and influential 1980s Lower East Side literary magazine Between C and D. http://www.joelrosebooks.com