Comics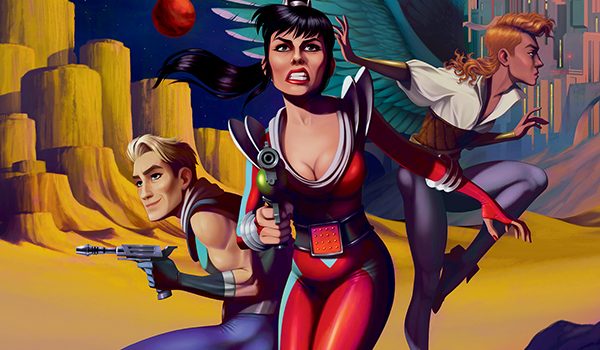 Published on June 30th, 2023 | by Adrian Gunning
DARK HORSE BOOKS PRESENTS: "KILLER QUEENS VOLUME 2: KINGS, NOT WINGS"
Dark Horse Books presents the complete and thrilling new chapter of the galaxy's sassiest ex-assassins with the Killer Queens Volume 2: Kings, Not Wings trade paperback, collecting issues #1-4 of the second Killer Queens series. Follow Max and Alex on their latest mission across the galaxy as they face their former simian boss, questionable life decisions and family drama! The Eisner and GLAAD Award-nominated series features work by an all-LGBTQ+ creative team including writer David M. Booher, artist Bradley Clayton, colorist Harry Saxon, letterer Lucas Gattoni, and cover artist Chris Ables.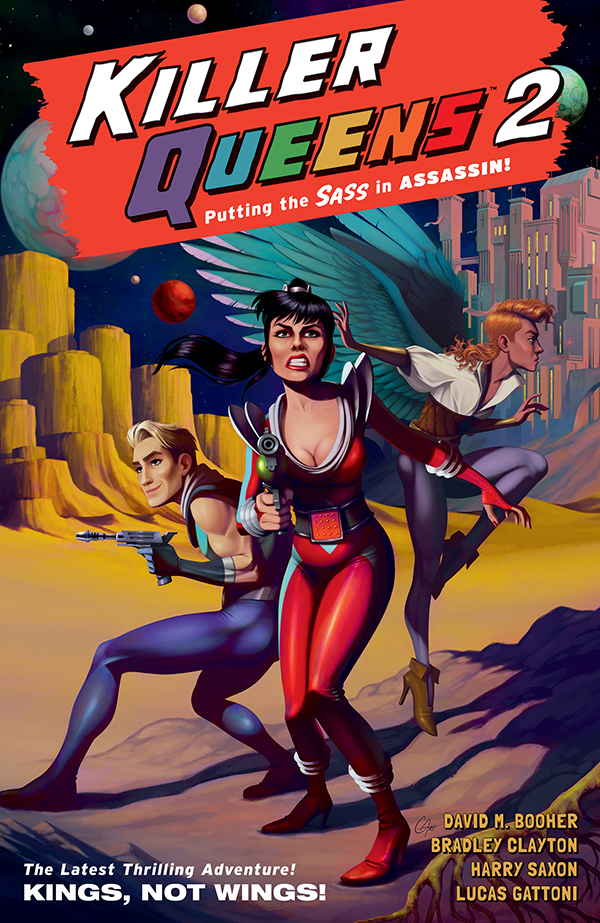 During a day of questionable choices at Space Pride, Max and Alex bump into their old boss, Bieti, and his new-and-improved hench bears. The grumpy little simian tries to get them back on his team to chase down a runaway heir to the throne of Sarelia, an alien planet ruled by a brutal patriarchy. Little does he know that the heir in question happens to be Alex's younger sibling. And they have… wings.
Turns out, a genetic quirk gives some of their race wings when they're born. But on a planet that lives by the motto "Kings, not wings," those born with wings are required to have them cut off. It's supposed to make them more "masculine." The king is doing all he can to get his youngest heir back on the butcher block and restore the line of succession.
As Alex and Max race to save Alex's sibling from Bieti, the king's guard, and a galaxy-wide bounty hunt, they'll dredge up Alex's past and confront her planet's misogynist present. If that means burning the patriarchy to the ground, well, get out the torches.
The Killer Queens Volume 2: Kings, Not Wings trade paperback will be available in bookstores March 19, 2024 and in comic shops March 20, 2024. It is available for pre-order now on Amazon, Barnes and Noble and at your local comic shop and bookstore and will retail for $19.99.
Praise for Killer Queens:
"The fabulous frontier presented in Killer Queens #1 … is a testament to progress in regards to where we are now in light of how far we have come."—GWW
"As this fun to the extreme ride plays with classic sci-fi tropes in a queer messy soup, it also promises larger themes further down the road. Can't wait to see where Alex and Max take their journey."—Comics Watch
"A slew of quirky lines keep the action going while frantic art portrays a high-risk battle filled with tension."—Comicbook.com