Comics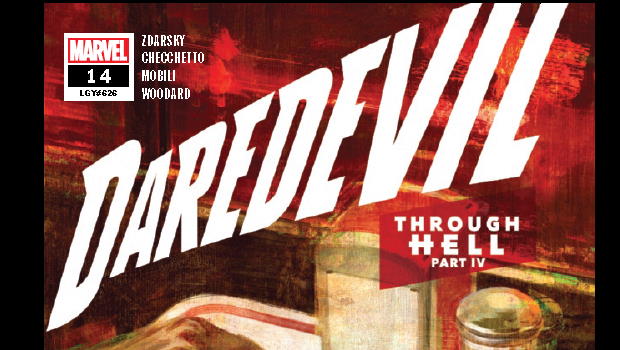 Published on December 18th, 2019 | by Chris O'Connor
Daredevil #14 Comic Review
Summary: Murdock and detective North have a talk while Fisk learns he isn't the big fish in a small pond anymore. Factions are making moves and tensions are rising.
Matt Murdock and Detective Cole North have a coffee together, Wilson Fisk learns that in New York the Mayor isn't the most powerful person and Hell's Kitchen bubbles with rising tensions and The Owl stirring the pot.
Writing
There's a lot to lay down and a lot to absorb in this issue. Murdock and Detective North open it all with their chat over coffee. You get the impression they are feeling each other out, trying to establish where each of them draws the line for what they would do to seek justice. As if that wasn't intense enough we also have Wilson Fisk learning just what his limitations are as Mayor, a position he no doubt thought would make him the most powerful person in New York only to now learn there are those with more power than he. But we aren't finished yet… the scene with Murdock and Mindy is full on but shows a degree of understanding on Murdock's part of just what it means to be a hero… the reach the dangers he faces stretch and how those dangers can impact the ones he loves. All of these elements (and more) compressed into 24pgs yet still feeling well fleshed out and compelling is quite an impressive act to pull off but Chip does so.
Artwork
I'll be upfront… the thing that really drew me to this comic was the cover. I love that gritty, darker Norman Rockwell look. Marco and Francesco continue that high level of quality throughout with some lovely detail in every panel from foreground to background and everything in between. The colouring is just right and the visual punch of an image of Detective North standing in front of car headlights near the end of this issue is quite striking.
Final Thoughts?
There's a lot to take in from this issue but none of it feels overwhelming. A lot of ground is covered and some motivations are fleshed out whilst actions that are no doubt going to lead to some massive events in future issues are put in motion. A great issue and well worth adding to your collection.
Comic Details
Publisher: Marvel
Writer: Chip Zdarsky
Artist: Marco Checchetto, Francesco Mobili
Cover Artist: Julian Tedesco
Genre: Super hero, Action, Crime
Format: 24pgs, FC, Ongoing
Release Date: 4th December, 2019