Interviews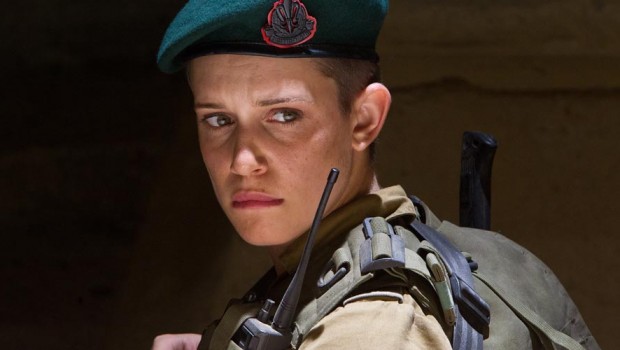 Published on October 9th, 2013 | by Admin
DANIELLA KERTESZ WORLD WAR Z INTERVIEW
Q: Daniella, this is your first huge Hollywood role. How does it feel to be in a movie with Brad Pitt?
KERTESZ: Being in Hollywood film was a very exciting experience. I have learned a lot working with Brad. He is very focused and pays a lot of attention to the context of the scene and its role in the story. He's always open to new ideas and interpretation of the situation, and to the different reactions your character may have.
Q: Tell us a little bit about your character. Who do you play?
KERTESZ: "Segen" is an IDF soldier assigned to protect Gerry Lane's life and assist him in his quest to try and find a cure for the Zombie epidemic. The character is a strong, brave and tough woman who is faced with a horrible injury due to a Zombie attack. She has to find ways to overcome this disability in the following parts of the movie.
Q: Can you take us through the process of how you got the job? Was it a normal audition?
KERTESZ: Auditioning for this part started in Tel Aviv followed by a short trip to Malta where I met Marc Forster and the producers. It was a rather physical audition that included mainly the "arm" scene. I had to use a lot of my imagination and express this kind of pain, shock and fear as a result of the situation.
Q: When you read the script and saw that it was your job to protect Brad Pitt, what was your first reaction?
KERTESZ: After reading the script for the first time I found it a great responsibility to be at the position of protecting Brad Pitt. And found it a bit funny in a way. I mean, me protecting Brad Pitt? – That was just too good to be true.
Q: You have a couple very challenging scenes in this film. What was the most difficult, and why?
KERTESZ: The most difficult scene was when we first sat down on the airplane and Gerry was treating us. I wanted to bring a different kind of pain and trying to find the balance between a young woman hurting and a strong soldier was not easy.
Q: Any other scene?
KERTESZ: There were also scenes in Malta, fleeing from the Zombies that included an enormous amount of people. It was very hot and was hard not to get run over. And I found myself on the ground too many times when Marc yelled, "cut"!
Q: Israel plays a very important part in this film. Can you explain why, and while you are at it, do you think Israelis will like this film?
KERTESZ: Israel is portrayed to be the first country to react seriously to the threat of a Zombie pandemic. I think Israelis will enjoy it very much as it puts Israel in a position with the ability to foresee and confront unexpected challenges.
Q: World War Z deals with an epidemic. Of course it's completely over the top, but it does have a message. What did you take away from this film?
KERTESZ: I think the topic of an epidemic in this film is an example of many other threats that humanity is not prepared to confront and the important thing in these situations is to remember that we are all humans and have to reach out and support one another.
Q: We know very little about you, but we do know that you speak at least five languages. Tell us a little bit about yourself.
KERTESZ: I grew up in Jerusalem and moved to Tel Aviv when I was 14. Until then my first love was dancing but as I got to Tel Aviv I decided to try acting. The summer before moving I ran into a casting director on the street that offered me an audition for a new television series. I got the part, made contact with my agent and that was the beginning of my acting career.
Q: And why do you speak so many languages?
KERTESZ: I speak English and French. My mother was an English teacher and is originally from Belgium. I got to practice my French in Paris while in theater school. Three years ago I took up Spanish in Barcelona during my theater studies there.
Q: Do you think you will have to move to Los Angeles now; this is the capital of entertainment after all?
KERTESZ: Even though L.A is the capital of show business, the way I see it productions are taking place globally these days and is a worldwide trade. You don't have to live in Los Angeles to make a living with movies.
Q: You shot this film in many different locations. Was that fun, and which place was your favorite?
KERTESZ: We shot in many locations. I very much enjoyed traveling and particularly loved staying in Malta as it has such an interesting culture and amazing views and sites.
Q: When you look five years down the road, where do you see yourself in your professional life?
KERTESZ: Looking five years down the road I would love to work with different directors and explore a range of characters. I would also like to complete my studies in the field of cinema and theater.
Q: After you finished this movie, did your friends come up to you and ask you what Brad Pitt was like? – What did you tell them?
KERTESZ: When my friends asked me about Mr. Pitt, I had to tell them the truth. That he was great and one of the coolest people I have ever met!