Books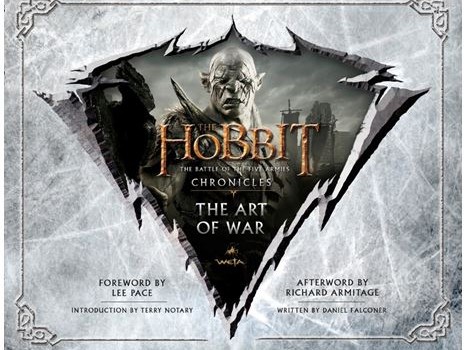 Published on November 19th, 2015 | by admin
Daniel Falconer releases the sixth and final HOBBIT CHRONICL
Having spent a great deal of time with these great artists, this is merely the tip of the iceberg. What lies beneath is already beyond our imaginations; new technologies and techniques wielded by artists at the forefront of their crafts"
-Richard Armitage, actor 
The Hobbit: The Battle of the Five Armies Chronicles – The Art of War goes behind the lines to explore how thousands of artisans brought the defining film of Peter Jackson's adaptation of J.R.R. Tolkien's The Hobbit to the screen.
More than 1,000 intricate illustrations, stunning photographs and never-before-seen imagery illuminate fascinating insights shared by cast and crew, including exclusive content from the extended edition of the final film.
Discover the challenges and reactions of the stars of The Battle of the Five Armies as they recount their experiences and excitement.
As the story of The Hobbit reaches its shattering climax amidst an epic landscape of war and tragedy, join Weta Workshop senior concept designer Daniel Falconer behind the scenes one last time as this sumptuous final book in The Hobbit: Chronicles series celebrates the epic conclusion of The Hobbit film trilogy. 
About Weta Workshop
Weta Workshop is Peter Jackson's New Zealand-based multi-award winning conceptual design and physical manufacturing facility servicing the world's entertainment and creative industries. Weta Workshop houses a range of disciplines under one roof – including conceptual design, weapons, armour & chainmaille, specialist props, vehicles, specialty costumes, models & miniatures, special makeup & prosthetics, public art & displays.