Comics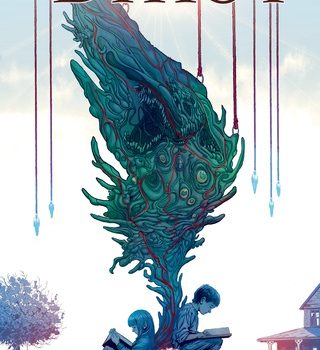 Published on February 9th, 2022 | by Kevin Mwenda
Daisy #2 Review

Brief Summary
Daisy #2 continues the lore of the cannibalistic giants, monstrous creatures spawned from fallen angels and had incredible abilities. To prove a point, the mysterious giant, Daisy, manages to resurrect the other protagonist of the story, Lindsay, a young mother out looking for her missing son.
The story
Daisy #2 opens as Lindsay comes out from a deep cave, whose entrance is completely covered with some forest undergrowth. Once outside, the protagonist comes face to face with the tall giant and her savior, who inform her that her mind is adjusting to being resurrected. As Daisy puts it, Lindsay has been "touched by the divine." At this point, the reader learns that Lindsay's son is alive and that her role and place in the whole narrative is just beginning.
Daisy informs her that father is corrupting the children, children chosen to be conduits or vessels for the ancient spirits of the Nephilim, hence deforming them. The lore to Daisy's background continues as she informs us that the Nephilim are offspring of angels and humans, becoming cannibalistic creatures that ravaged the land before becoming cursed. On the other hand, Father intends to harness some strange power to revive his lost brother, and Daisy wants to stop him. Daisy is then seen raising an army of dead animals and carcasses to do this. Back at home, Father is attacked by some mysterious crows, and a boy is seen saying "For the Greater Good," as the comic concludes.
Final Thoughts
I admit that I'm impressed with Daisy's #2 storytelling and overall narrative. The story feels dark, gritty, and develops at a relatively fast pace, but the reader is not left behind. The writer increases its mystery factor where I'm not even sure what's Daisy's intent in the first place. Unlike the first issue, Daisy #2 is not bogged down with the lore and giants' background, mainly concentrating on developing the plot, as well as showcasing some of Daisy's abilities and powers. In addition to the story, the comic's artwork excels at its horrific aspect. For instance, the dead bodies of animals, the crow in Father's room, and his eventual probably dead body are well illustrated where we can even make out the bits and pieces of bone and flesh. I cannot wait to see how the mystery unfolds in the next issue.
Comic Information
Release date: January 12, 2022
Writer: Colin Lorimer
Artist: Colin Lorimer
Colorist: Joana Lafuente
Cover Artist: Colin Lorimer