Blu-ray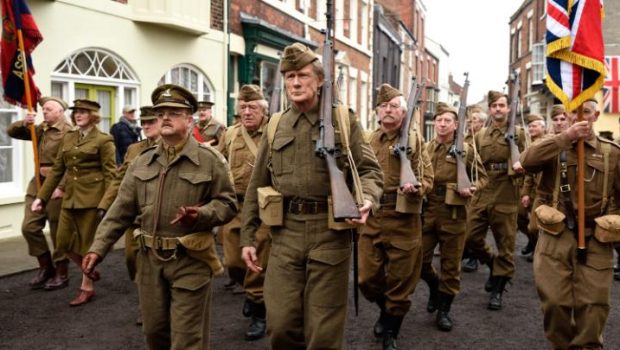 Published on August 22nd, 2016 | by admin
Dad's Army – August 25, 2016
Universal Sony Home Entertainment is releasing Dad's Army – available to own on Blu-ray
™, DVD and Digital from August 25, 2016.
The cinematic remake of the classic 1968 BBC sitcom, Dad's Army boasts an all-star cast that read's like the who's who of British acting royalty. Bill Nighy (Jack the Giant Slayer, Love Actually), Toby Jones (The Hunger Games, Captain America: The Winter Soldier), Michael Gambon (Harry Potter and the Half-Blood Prince, Sleepy Hollow), Blake Harrison (The Inbetweeners Movie, The Inbetweeners 2), Bill Paterson (Miss Potter, The Witches), Tom Courtenay (Doctor Zhivargo, The Golden Compass) and Catherine Zeta-Jones (Chicago, Entrapment) fumble their way to the frontline in this hilarious British comedy. 
It is 1944 and World War II is reaching its climax. The Allies are poised to invade France and finally defeat the German army. But in Walmington-on-Sea morale amongst the Home Guard is low. Their new mission then – to patrol the Dover army base – is a great chance to revive spirits and reputation, that is until demure journalist Rose Winters (Zeta-Jones), arrives to write about their exploits. Her captivating presence has all the men riled up, especially Captain Mainwaring (Jones) and Sergeant Wilson (Nighy), causing a stir with the townsfolk and putting the platoon's wives on red alert.
MI5 then discover a radio signal sent direct to Berlin from Walmington-on-Sea. There's a spy on the loose! The outcome of the war is suddenly at stake, and it falls to our unlikely heroes to stand up and be counted.
A brilliantly cast and exciting feature film based on the TV series which won a cult following across international boarders, relive the blunders as Britain's last line of defence strive to protect the war effort. Dad's Army is available to own on Blu-rayTM, DVD and Digital from August 25, 2016.