Hardware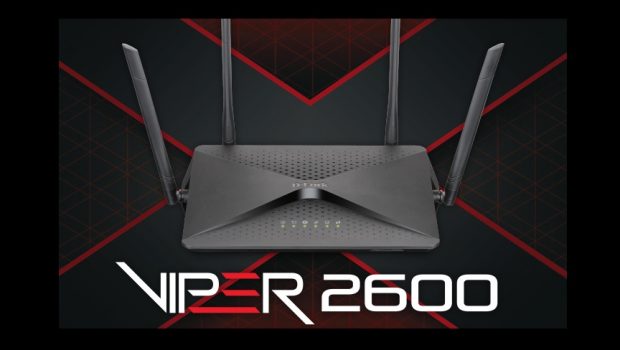 Published on November 30th, 2018 | by James Wright
D-Link Viper 2600 (DSL-3900) Review
Summary: The D-Link Viper 2600 (DSL-3900) provides excellent performance and speed, especially if you have multiple connections and more importantly play games and stream 4K videos!
4.5
Multiple connections!
Welcome to D-Link's new Dual-Band MU-MIMO Gigabit VDSL/ADSL2+ Modem Router with their Viper 2600 (DSL-3900). At its core, this is a high-performance modem router from D-Link that is suited for both the home and the office. It also supports Australia's NBN and if you have access to VDSL (Very-high-bit-rate Digital Subscriber Line), it provides users with transmission rates of up to 100 Mbps. Add in advanced beamforming plus SmartConnect technology and the D-Link Viper 2600 ensures the best possible connection for your Wi-Fi devices.
With that said, we did test the D-Link Viper 2600 with our Telstra NBN connection and the Wi-Fi capabilities of this modem router scored a respectable download rate of 95.63 Mbps and 40.40 Mbps for upload with my laptop being just 7 metres away from the product and through one wall. Directly connected to the Viper 2600, we did score 100 Mpbs for download via our NBN connection. Connecting multiple devices at once (XBox one X, Stan, iPhone X and a laptop), all doing different things and we noticed no issues with speed whatsoever.
Wi-Fi Test
In terms of the Wi-Fi connection, when our Samsung Galaxy S9 was directly next to the Viper 2600 (sitting directly on top of the modem router), the link connection was 866 Mbps, at 7 metres away it was 351 Mbps and at 10 metres, it was 234 Mpbs. So on the NBN, this is actually a moot point as the maximum speed is 100 Mpbs but what it does show is that in most standard size homes, you will have no issues with the Wi-Fi on the 5Ghz network.
Official Photo Gallery
So while I digress slightly, the D-Link Viper 2600 supports the latest standards that includes concurrent dual-band 802.11c Wave 2 that makes it ideal for online gaming and 4K streaming plus just surfing the internet at high speeds as it's like having two Wi-Fi networks. Adding to the features are four Gigabit Ethernet LAN ports (e.g. fixed connections), one USB 3.0 port for shared media plus a VPN pass-through to establish your own Virtual Private Network.
Adding to this is the very easy Wi-Fi Protected Setup (WPS) that allows you to easily add devices to your network via the press of a button and like other D-Link products, it has the industry standard WPA/WPA2 encryption to ensure your data is safe. According to D-Link, the Viper 2600 supports theoretical speeds of up to 1732 Mpbs (5Ghz) and 800 Mpbs (2.4Ghz). You may reach similar speeds on your own network, however given the substandard NBN connection in Australia, the most you'll be able to reach is 100 Mbps when connected to the internet.
Families and office users will also be pleased that the product supports MU-MIMO technology which  means this modem router handles multiple devices simultaneously like playing online games on your PlayStation 4 (Battlefield V), watching Netflix in 4K or just surfing the net with no impact to either users connection. Given that it's powered by a dual-core processor, it's easy to see why the Viper 2600 easily keeps up with multiple connections.
Unboxing Photos

Setting up the D-Link Viper 2600 was a breeze and we simply went through the inbuilt wizard which allowed us to set this product up to the Telstra network. The entire process took just a couple of minutes (all you need are your login details) and it's great that the Viper 2600 even creates its own passwords. Once we were connected to our NBN network, we experienced a very fast connection with no issues whatsoever.
Wizard Installation Photos
The IP menu of the Viper D-Link 2600 which is an internet address (192.168.1.1) is very intuitive and easy to use. There are four main menus at the top which include Home, Settings (Wizard, Internet, Wireless, Network, USB), Features (Firewall, Application, ALC, QoS, Port Forwarding, IP/MAC/Website Filtering, Static Route, Dynamic DNS, IGMP) and Management (Time & Schedule, Log Info, System Settings, Firmware Upgrad, Statistics, Diagnostics).
So while most areas are self-explanatory, areas such as USB allows you to create a media server to stream your music, videos and photos via an attached USB or Time & Schedule allows you to sync the Viper 2600 with the correct timezone where you are located. The Home menu is a very useful snapshot of your network like whether it is connected to the internet, how many devices are connected and if a USB device is plugged into the port. It's also great for troubleshooting should something occur… or alternatively, you can contact D-Link's 24×7 support.
Final Thoughts?
If you're looking for a new modem router that is NBN compatible and has excellent performance and speed capabilities, then look no further because the D-Link Viper 2600 may just be that product. The D-Link Viper 2600 retails for $399.99 and is available through D-Link or at authorised D-Link resellers that is great for gamers, families and small businesses due to powerful features and excellent Wi-Fi capabilities.
For more information, please visit https://www.dlink.com.au/home-solutions/DSL-3900-wireless-2600-dual-band-gigabit-vdsl-adsl2-modem-router
DSL-3900 Specifications