Hardware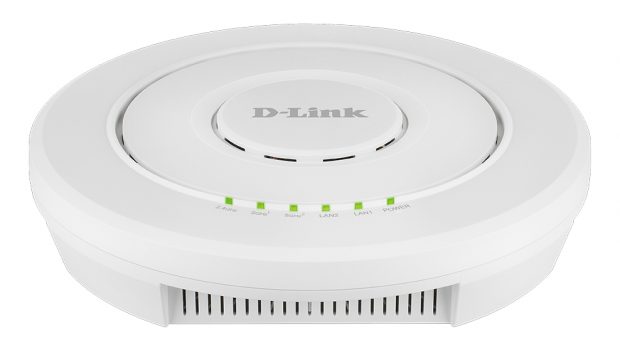 Published on June 25th, 2019 | by Admin
D-Link launches Unified Wireless AC2200 Wave 2 Tri-Band PoE Access Point
D-Link ANZ has launched the DWL-7620AP Unified AC Wave 2 Wireless Access Point specially designed for both small to medium businesses or larger enterprises. The new DWL-7620AP provides unparalleled bandwidth and flexibility for administrators looking to deploy a medium to large scale Wi-Fi network with manageable Tri-Band wireless LAN options and utilising the cutting-edge speed of Wireless AC Wave 2.
The Latest Wireless Technology Wave 2 802.11ac
Concurrent 2.4GHz and 2x 5GHz Tri-band
Up to 2.2Gbps aggregated wireless speed1
Two Gigabit LAN ports with Link Aggregation
PoE+ support (802.3at)
MU-MIMO and Bandsteering technologies
Both Standalone or Controller Managed operational modes
The DWL-7620AP leverages the full potential of 802.11ac Wave 2 to provide unparalleled connectivity with ultra-high combined data rates. It delivers combined speeds of up to 2.2Gbps and in addition, supports Link Aggregation, which allows two Gigabit Ethernet ports to be linked together and act as a single port to double the available bandwidth and maximise the overall throughput of the access point.
Featuring a 2.4GHz and two 5GHz wireless bands to support a growing number of devices connecting to a single access point, Tri-Band technology allows older 802.11b/g/n devices to connect to the 2.4GHz band, while two 5GHz bands can be dedicated to newer, faster wireless AC devices to enjoy seamless bandwidth-intensive applications. Band steering technology efficiently load balances the clients and traffic between the three wireless bands to ensure wireless clients have a superior experience, even in high-density environments.
With support for MU-MIMO (Multi-User Multiple Input Multiple Output), the DWL-7620AP simultaneously communicates with multiple clients using multiple antennas. This allows the access point to utilise the wireless spectrum more efficiently and to significantly increase the network capacity. The 2 x 2 MU-MIMO technology takes full advantage of all streams to serve more wireless clients, dramatically improving wireless performance.
When working in conjunction with D-Link Unified Controllers, the DWL-7620AP, like other Unified Access Points in the DWL Series product line, may be centrally managed. This allows a large number of Access Points (APs) to be deployed and managed easily and efficiently. Once the APs are discovered by the Controller, the administrator can push specific set of configurations onto them, rather than having to do so one by one. In addition, RF resource management and security are also managed centrally, thus allowing the administrator to pre-emptively identify potential deficiencies and weaknesses in the network.
For small businesses that need to deploy multiple APs but lack the resources to tackle the complicated task of network management, the DWL-7620AP's self-configuring cluster feature offers the ideal solution. When a small number of DWL-7620AP's are deployed on the network, they may be initialised to form a self-configuring cluster. Once the administrator configures one Access Point, the same configuration can then be applied to all remaining APs. Up to 16 APs may be used to form a cluster, making setting up your business wireless network particularly straightforward.
There's also 802.11k Fast Roaming which allows wireless clients to move seamlessly between access points. 802.1p Quality of Service (QoS) provides enhanced throughput and better performance of time‑sensitive traffic like VoIP and streaming DSCP. The AP also supports Wi‑Fi Multimedia (WMM), so in the event of network congestion, time‑sensitive traffic such as video can be prioritised. Airtime Fairness ensures that equal airtime is given to each client, preventing slower devices from monopolising and degrading the wireless connection.
Also, when a DWL-7620AP senses a neighbouring device nearby, it will automatically select a noninterfering channel. This greatly reduces RF interference and will allow the administrator to deploy APs more densely. To further minimise interference, when a nearby AP is operating on the same channel, the DWL-7620AP will automatically lower its transmission power2. When, for whatever reason, the nearby AP is no longer present, the DWL-7620AP will seamlessly increase its transmission power to expand its wireless coverage footprint.
In addition when a number of DWL-7620APs are in close proximity with each other, an access point will refuse new association requests once its resources are fully utilised and the association request will be picked up by a neighbouring unit. This ensures that no single AP is overburdened while others nearby sit idle.
Availability
The new DWL-7620AP is available now from www.dlink.com.au for an RRP of AUD$729.95, www.dlink.co.nz for an RRP of NZ$819.99 and from all authorised D-Link Partners in Australia and New Zealand.