Hardware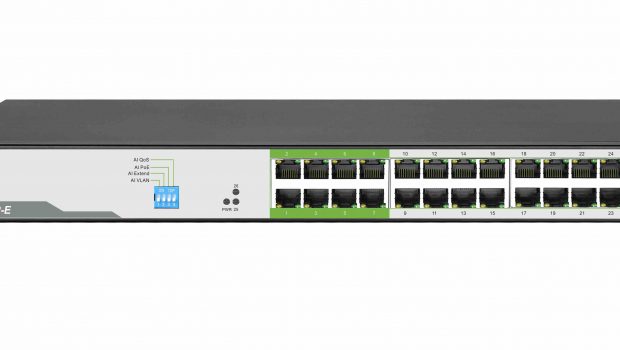 Published on December 2nd, 2021 | by Adrian Gunning
D-Link launches full gigabit long-range PoE switches
D-Link has expanded its selection of Long Range (250m) Power over Ethernet (PoE) switches, with the addition of a full Gigabit range (DGS F-Series) to complement the existing 10/100Mbps products (DES F-Series) on offer, which have proven to be very popular in the local market since their initial launch in early 2021.
Designed as part of D-Link's entry level Unmanaged PoE Switching solutions, the DGS F-Series sports Gigabit (1000Mbps) on all ports, whereas the DES range comes with 100Mbps per port, as well as Gigabit uplinks. All models have enhanced features not normally associated with an Unmanaged Switch including Long Range PoE, VLAN, QoS and Auto PoE Reset functionality.
The ideal Switches for Surveillance Systems Integrators and companies who deploy Camera and Monitoring solutions, these D-Link F-Series Switches meet this market's requirements head on.
With many companies utilising IP Cameras with ever-increasing resolution requirements for better image quality, there is a strong need for PoE Switches to have higher throughput than the 10/100Mbps ports that the DES F-Series range provides, and D-Link has now addressed this market need with the expanded full Gigabit DGS F-Series range launching this month.
The 250 metre PoE capability of the Switches also satisfies the needs of Surveillance Systems Integrators dealing with deployments where a Camera or a Wi-Fi Access Point needs to be installed at a distant location where the standard 100 metre cable length is a limitation. Using the Long Range PoE feature of these clever Switches efficiently overcomes this issue.
The F-Series Switches are also designed for installations where IP Cameras are connected to the same network as other devices and require better security than a standard Unmanaged switch provides. Additionally, when mixing video traffic with other traffic, users often want to apply priority to video streams to avoid video stutter and dropped frames. To overcome this, the D-Link F-Series Switches offer a simple VLAN solution whereby users can easily isolate ports from each other, without the need for additional configuration, alongside automatic QoS to prioritise video and voice traffic.
Another valuable feature of both the DES and DGS F-Series is the ability to reset connected PoE devices using the automatic PoE reset function, or AI PoE. If a device, for whatever reason, stops responding, the Switch automatically detects this and resets the electric current supplied to the device momentarily, causing the device to reboot itself, bringing it back online hopefully in good working order once again.
In short, the DES F-Series Switches and DGS F-Series Gigabit Switches offer an affordable,
high-performance PoE solution with enhanced features over a standard Unmanaged Switch. The F-Series range also offers better throughput than many comparable Switches as well as valuable features including Long Range PoE, VLAN, QoS and automatic PoE reset support.
DGS F-Series and DES F-Series Switches Smart Features
VLAN
Isolates ports from each other. Adds security and improves network performance by constraining broadcast traffic. With a flick of a button, you can isolate Switch ports from each other, whilst still allowing the devices to communicate via the uplink ports. This feature not only adds security but can also effectively suppress network storms and improve network performance.
Extended Range
Enables Long Reach PoE+ support and the capability to supply 802.3af/at PoE and data connectivity on cables up to 250 metres long (Cat 5 or better cabling is recommended).
AI PoE
AI PoE feature automatically restarts a remote device by disabling and re-enabling PoE on the port, if it detects the remote device has locked up and there is no incoming traffic.
QoS
Enables application prioritisation. The new Switches' performance is enhanced with a QoS (Quality of Service) feature to ensure that critical network services such as IP Surveillance, VoIP and IPTV are always given high priority. This feature makes the Switch a perfect solution for IP Camera and VoIP applications.
Availability and pricing
The new DGS F-Series Switches and DES F-Series Gigabit Switches are available from www.dlink.com.au, www.dlink.co.nz and from all authorised D-Link partners and resellers in both countries for the following RRP:
DES-F1006P-E – RRP AU$79.95 and RRP NZ$89.99
DGS-F1006P-E – RRP AU$179.95 and RRP NZ$229.99
DES-F1010P-E – RRP AU$129.95 and RRP NZ$129.99
DGS-F1010P-E – RRP AU$249.95 and RRP NZ$329.99
DES-F1018P-E – RRP AU$349.95 and RRP NZ$379.99
DGS-F1018P-E – RRP AU$549.95 and RRP NZ$649.99
DES-F1026P-E – RRP AU$429.95 and RRP NZ$499.99
DGS-F1026P-E – RRP AU$629.95 and RRP NZ$749.99