Hardware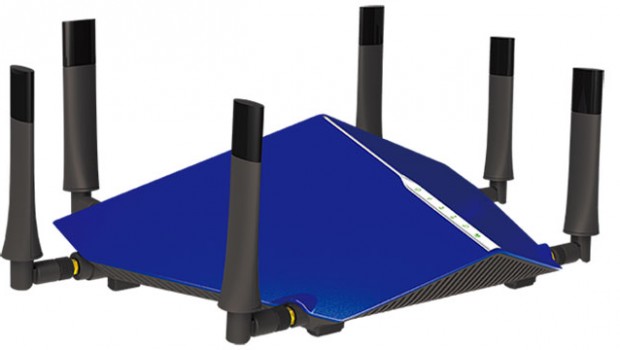 Published on March 8th, 2016 | by admin
D-Link Launches Extreme Streaming Education Campaign
One top of the Range TAIPAN AC3200 Ultra Wi-Fi Modem Router to be won every month for three months
SYDNEY, 8 March 2016: To combat statistics revealed in a recent survey by ARRIS that include the average home now having at least six media devices connected to its Wi-Fi network, spending almost 6.5 hours each week streaming, but with 63% of those homes having Wi-Fi issues, D-Link has launched its Extreme Streaming Education campaign. The campaign kicks off with a new competition that gives away one of its top of the range 'TAIPAN' DSL-4320L AC3200 Ultra Wi-Fi Tri-Band Modem Routers for the next three months.
Extreme Streaming is the education campaign launched by D-Link Australia in JB HiFi and Harvey Norman stores across the country that aims to solve the most common Wi-Fi problems stemming from the incorrect choice of router as well as helping to demystify why consumers may not have the best streaming experience due to their overloaded household Wi-Fi networks.
D-Link MD Graeme Reardon explained, "Extreme Streaming provides education and solutions for issues involving Wi-Fi and routers and includes Extreme Music, Extreme Gaming and Extreme Movies. Users will be educated as to where the Wi-Fi workflow falls over. Is their router up to the job? How can they move from a traditional Wi-Fi setup to one that can properly handle all their streaming requirements? How do they manage their newest, bandwidth-hungry gadgets such as connected smart TVs where the entry or mid-level routers their ISPs have given them simply cannot? The reason we're giving away the TAIPAN is to highlight what a really powerful modem router can achieve and because in most cases it provides the Wi-Fi and networking answers and solutions people are looking for."
D-Link's TAIPAN has had many accolades in the press including:
"After testing the Taipan religiously for the last 3 weeks, I seriously cannot fault this product and no matter how hard I tried, I could not crash the network even with 12 devices connected…for gaming, the Taipan is brilliant as is streaming video content from the internet, particularly 4K video."
"If you have a ton of devices at home and not enough throughput to get them all online, D-Link's Taipan is definitely worth checking out"
"Our demands on our home wireless network and the number of connected devices have increased dramatically so you need a modem/router that can cope like D-Link's new Taipan…..and it does it with ease."
With its Next Generation 11AC Wi-Fi and ultra high-speed wireless connections the TAIPAN AC3200 ULTRA Wi-Fi Modem Router delivers incredible Wi-Fi speeds of up to 3200Mbps (600Mbps on 2.4Ghz + 2 x 1300Mbps on 5GHz) using simultaneous Tri-Band functionality.
The in-built powerful amplifier, 6 high-gain antennas and Advanced AC SmartBeam technology also combine for enhanced Wi-Fi speed and coverage and the Smart Connect feature automatically connects each device on the network to the Wi-Fi band where it can connect at its maximum possible speed. With an embedded ADSL/VDSL modem, Internet connectivity can be achieved with any ADSL or VDSL service in Australia and New Zealand. This includes FTTN and FTTB NBN connections that are being turned on throughout Australia. On top of that, one of the Gigabit Ethernet ports can be used as a WAN port for any fixed line service which also future proofs users for a potential FTTP NBN connection. Combine this with its 1Ghz Dual Core Processor for increased performance to support more devices and provide faster throughput and Gigabit Ethernet that delivers wired performance 10x faster than traditional Fast Ethernet and it's not hard to see why the TAIPAN sits at the heart of D-Link's Extreme Streaming solutions.
Graeme Reardon added, "The TAIPAN essentially futureproofs the home and avoids users having to change routers again anytime soon. This is no mean feat bearing in mind and again according to the ARRIS survey that, "72% of consumers consider a high-speed Internet connection in every room of their house either vitally important or very important. And, more than half (54%) state that it is vitally important to have high-speed Wi-Fi that works outside of its current range." Through our Extreme Streaming education campaign, we aim to solve all the Wi-Fi, networking and connectivity issues in as many homes as we can across Australia. Bearing in mind Netflix is projected to double its size in terms of streaming viewing relative to traditional linear viewing within the next few years, there is no better time to upgrade and get the best modem router and Wi-Fi solution for your home."
To enter the D-Link "Win a TAIPAN" competition go to: www.facebook.com/DLinkAUNZ
D-Link's Extreme Streaming networking, Wi-Fi and router solutions can be found in all JB Hi-Fi and Harvey Norman stores across Australia now.
To read the complete ARRIS Consumer Entertainment Index survey go to: http://ir.arrisi.com/mobile.view?c=87823&v=203&d=1&id=2069771