Hardware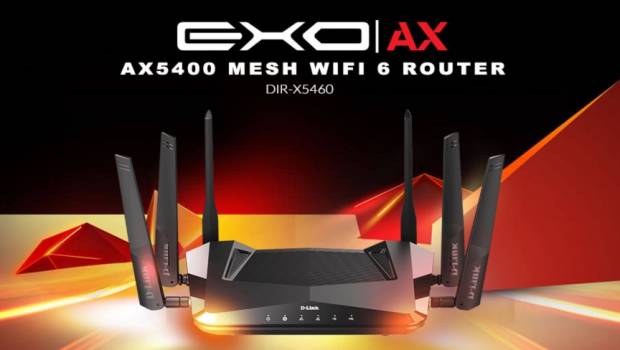 Published on September 14th, 2020 | by Tony Smith
D-Link EXO AX5400 Mesh Wi-Fi 6 Router Review
Summary: The D-Link EXO AX5400 Mesh Wi-Fi 6 Router provides some marked improvements compared to older routers thanks to the new Wi-Fi 6 protocol!
If you're looking for powerful Wi-Fi performance, then the D-Link EXO AX5400 Mesh Wi-Fi 6 (Model DIR-X5460) is the power-up you're looking for. It also combines some of the best wireless technologies together and delivers a consumer device that is perfect for a myriad of uses and if you're sharing your internet connection, it will definitely make poor connectivity a thing of the past thanks to its next-generation features. It's time to open up your internet connection for 4K streaming, online gaming and a wide gamut of other uses at the same time! However bare in mind that a DSL or fiber modem is required for this product which connects to the internet.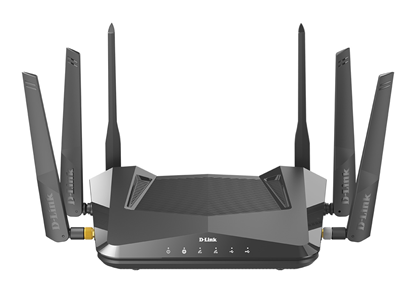 Box Contents
DIR-X5460
Quick Installation Guide
Quick Installation Card
Ethernet Cable (RJ45)
Power Adapter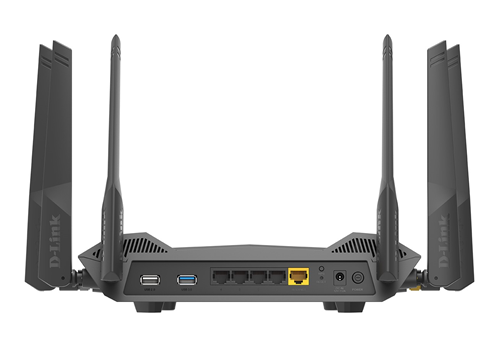 D-Link also state that the D-Link EXO AX5400 Mesh Wi-Fi 6 Router can simultaneously run up to six 4K streaming sessions which is very impressive, given the amount of bandwidth required for this task. Lesser Wi-Fi router devices would either maximise the bandwidth which would be a hindrance to others or poorly share it. However the theoretical next-gen speeds is 5,400 Mbps (600 Mbps + 4,800 Mbps) and while your internet  probably doesn't support these speeds, file sharing in your home or small office will be ultra-quick. Wi-Fi 6 is actually a new standard which is 802.11ax and theoretically can reach speeds that are 250% faster.
Here is a full list of the main features of the DIR-X5460;
Wi-Fi 6 (802.11ax) technology provides faster speeds, greater capacity and less network congestion
Next-gen speeds up to 5,400 Mbps
Dual-Band Wi-Fi with up to 6 simultaneous streams makes 4K streaming, VR gaming or video chatting a breeze
OFDMA and MU-MIMO technology communicate more data to more devices while simultaneously reducing lag
BSS colouring technology reduces interference in 'noisy' Wi-Fi environments, making more efficient use of available Wi-Fi spectrum
4 Gigabit Ethernet LAN ports and 1 Gigabit Ethernet WAN port provide optional wired connectivity
Built in USB 2.0 and USB 3.0 ports to create shared storage
Intelligent Quality of Service (QoS) prioritises network traffic to minimise the impact of low bandwidth
Backwards compatibility ensures support for previous Wi-Fi standards and all Wi-Fi devices
Increased battery life of connected devices with Target Wake Time technology
Supports the latest Wi-Fi security with 128-bit encryption
Voice Control for an even easier home Wi-Fi networking experience
Works with the D-Link Wi-Fi app for easy setup and enhanced parental controls
As you can see, the D-Link EXO AX5400 Mesh Wi-Fi 6 Router ticks all the right boxes for a Wi-Fi router!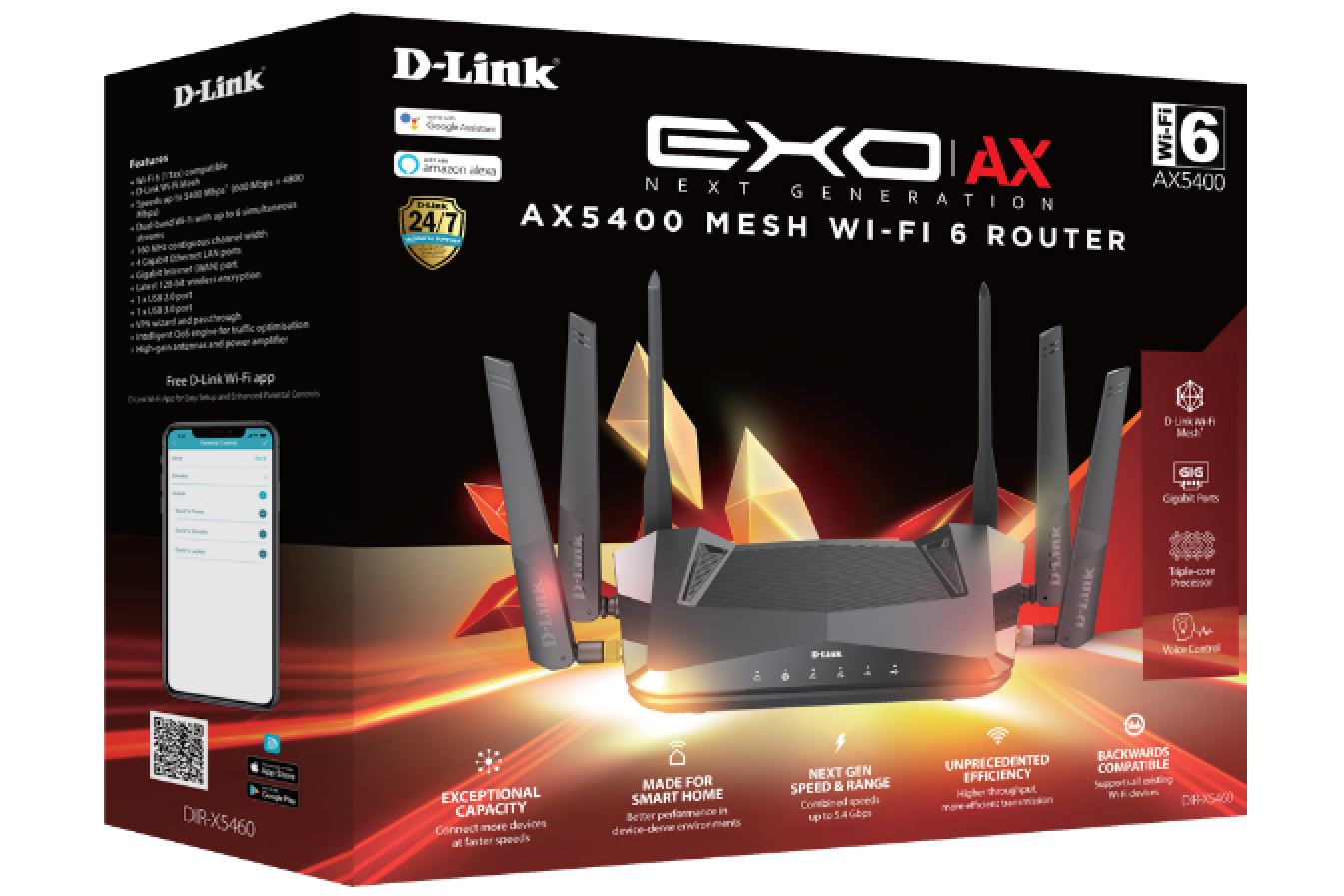 System Requirements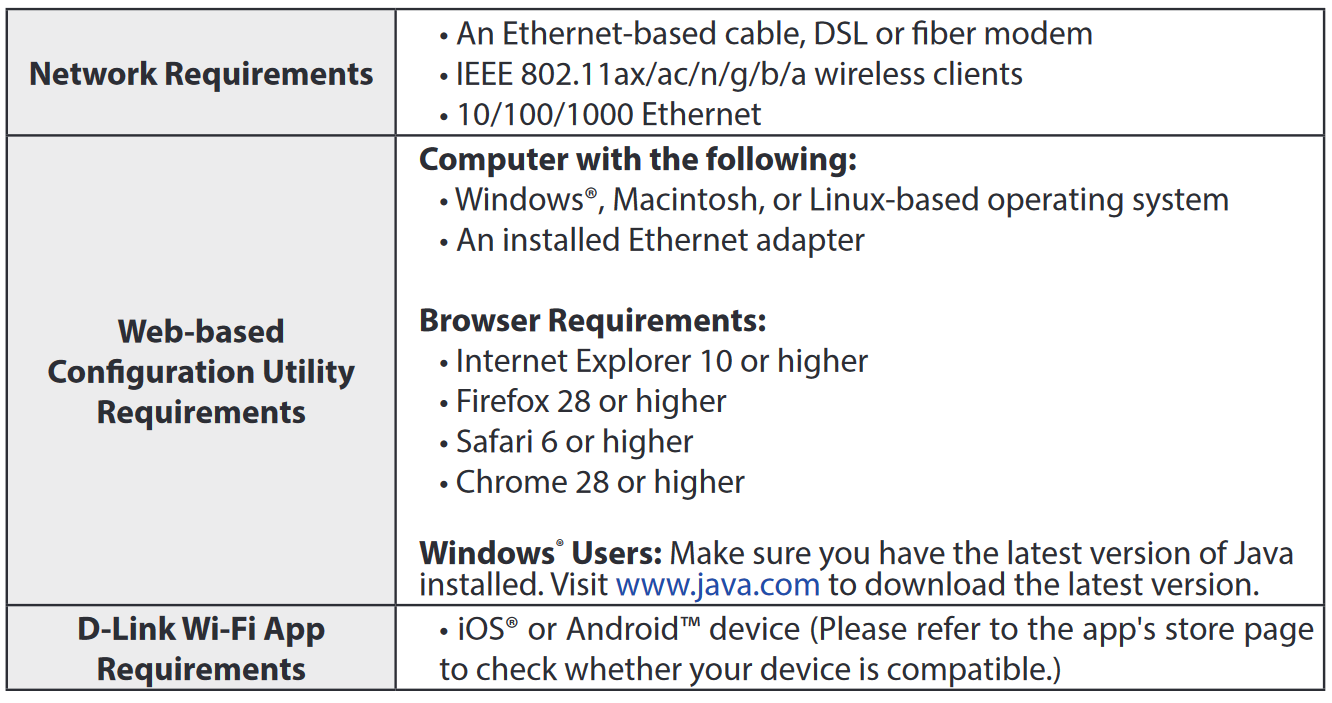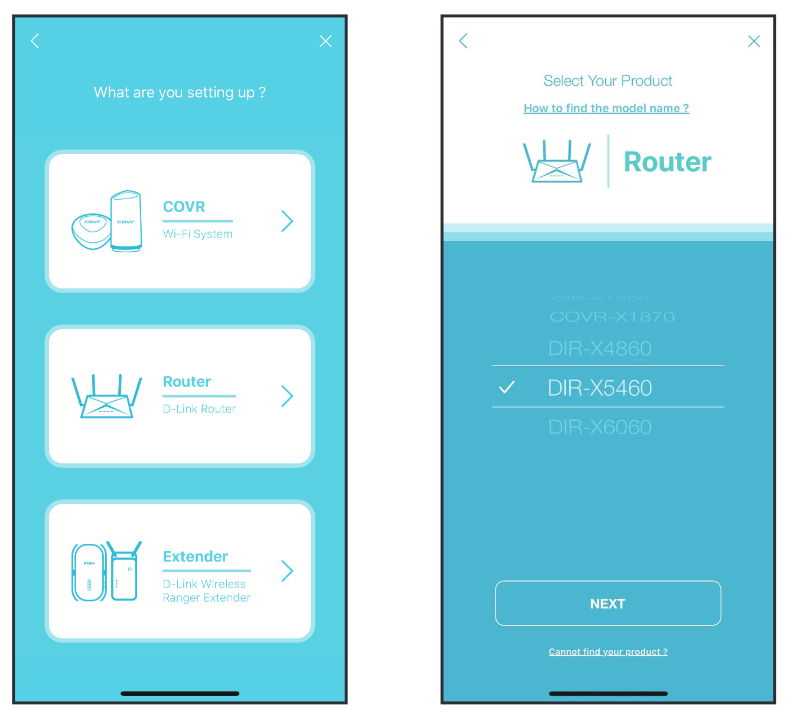 Adding to the features is a powerful 1.5Ghz tri-core processor, 128MB of flash RAM and 512MB of RAM. Powerhouse indeed! It will also check D-Link for new firmware, without any input from the user. In terms of setup, this can be done via your smartphone (D-Link Wi-Fi app) or through your PC (http://192.168.0.1) and both options are very easy to follow.
Official D-Link set-up video
The wizards for both formats are easy to follow and you'll be up and running in no time. To connect devices to your network, you just point your smart TV or gaming console to the DIR-X5460 through their own menus, however if you have devices that support WPS (Wi-Fi Protected Setup), a push of the button on both devices connect automatically to each other.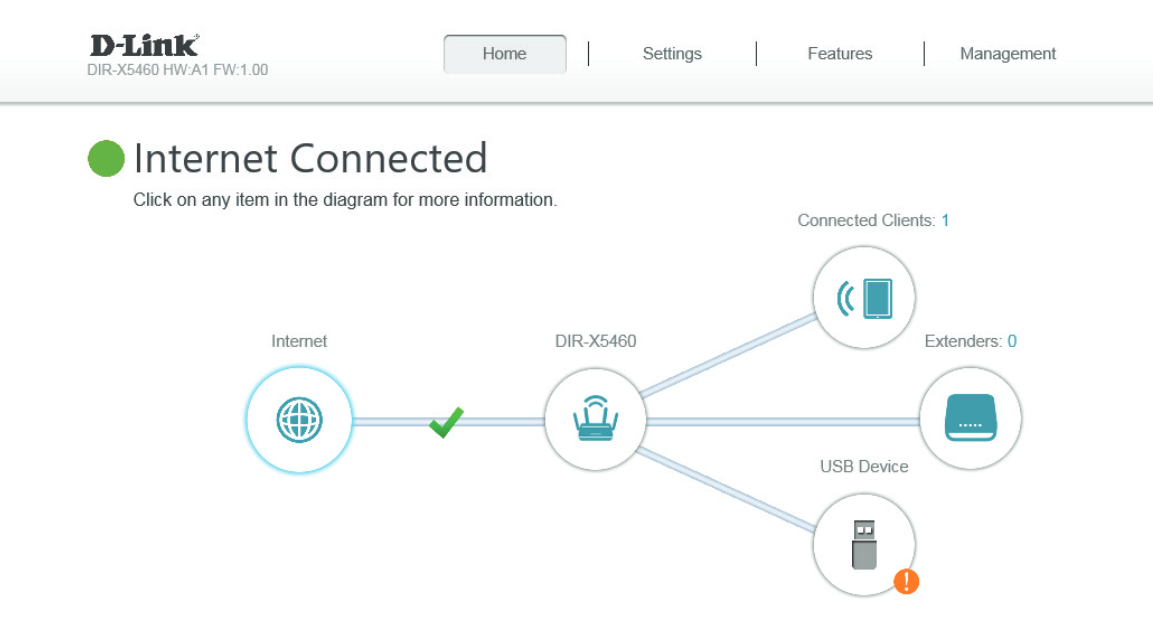 The only physical setup required is to connect the antennas to the router which simply screw in, plug it into the power and then connect the device to your modem. While the product looks like some alien robot, the design is about maximising internet through your home and office with its six antennas. There's also six LED's on the front which indicate power, internet, wireless 2.4Ghz, wireless 5Ghz, USB 2.0 and USB 3.0.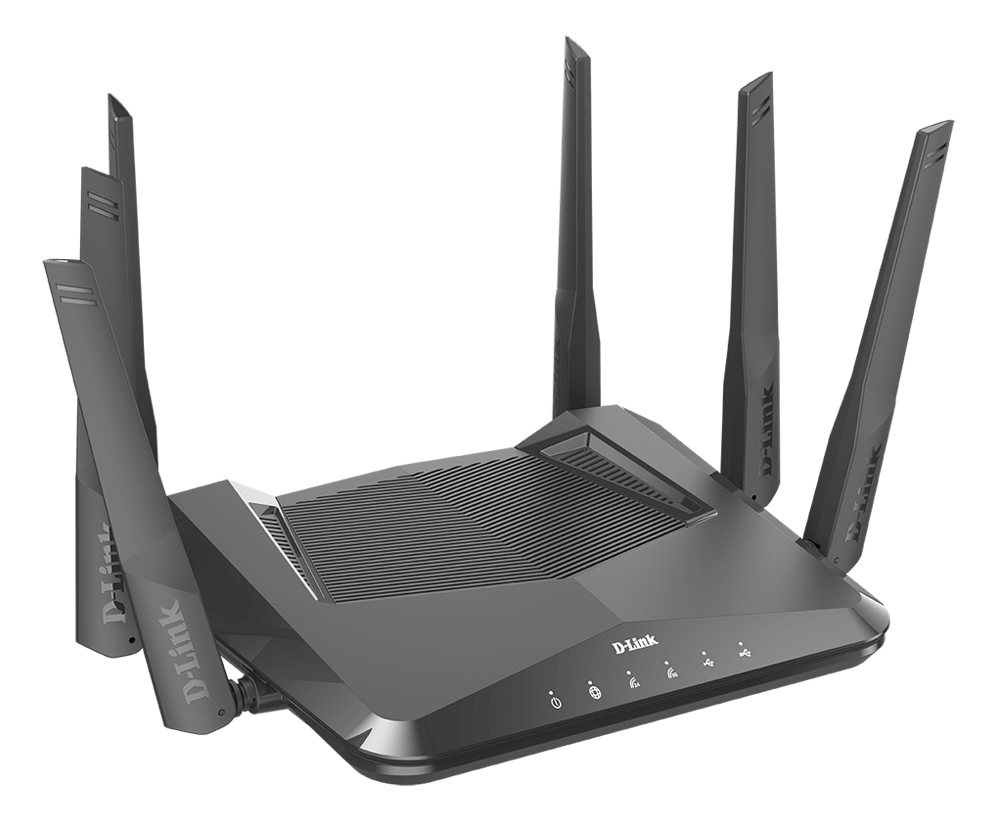 On the back, you will find a USB 2.0 port, USB 3.0 port, 4 Gigabit LAN ports, a Gigabit WAN port, the WPS button, reset button, power connector and finally the power button. Everything is laid out well and easy to access. D-Link also ensure the device comes with all the cables you need to get started as well.
Remember when I mentioned internet speed? Well, given that I only have access to NBN, which is 90Mpbs on a good day, I tested the DIR-X5460 through local Wi-Fi which is not dependent on the internet. At 4 metres away from the Wi-Fi router, I reached an impressive 904Mps and at a 15 metre distance, the device ranged just below 400Mpbs at 398Mpbs. Compared to my old modem router, there was a noticeable difference and at the 4 metre mark, it was 680Mps and at 15 metres, 202Mpbs.
So as you can see, the technology definitely makes a marked difference. Oh at 20 metres away, we could still access the Wi-Fi on the DIR-X5460 with a speed of 120Mbps. Bare in mind that these speeds are dependent on interference, how your house is designed and sometimes unknown element but the take home message is… Wi-Fi 6 works and compared to a non Wi-Fi 6 product, you should see an impressive difference. We also streamed 4K videos on four difference devices and had no issues whatsoever, including PS4 gaming and general net surfing at the same time.
Final Thoughts?
The DIR-X5460 is a very impressive next-gen device from D-Link that seriously increases your Wi-Fi connectivity in your home or office, even with obstacles such as walls and interference. It also has smart assistant controls plus parental controls to add to the overall functionality of this Wi-Fi router. The only thing missing is the modem component but if you need a powerful Wi-Fi router, it's hard to look past the D-Link EXO AX5400 Mesh Wi-Fi 6 Router.
Highly Recommended!
The DIR-X5460 AX5400 Wi-Fi 6 Routers are available now from www.dlink.com.au (RRP AUD$499.9)