Hardware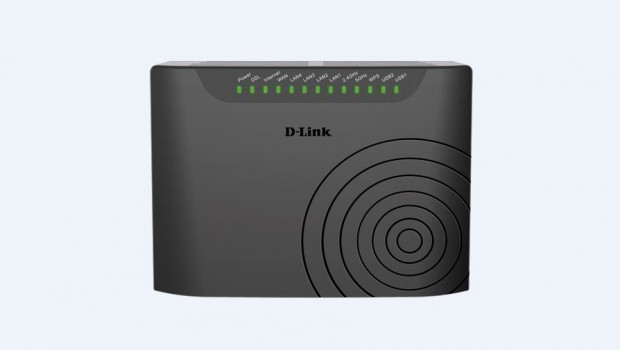 Published on April 1st, 2015 | by James Wright
D-Link Dual Band Wireless AC750 VDSL2+/ADSL2+ Review
Summary: Another great modem router from D-Link with good speeds and great wireless access to multiple devices
Dual Band Wireless AC750 VDSL2+/ADSL2+
Company: D-Link
Product Number: DSL-2877AL
Device: Modem Router Review
Price: 179.95AUD (March 2015)
Reviewer: James Wright
This compact little product from D-Link is the perfect wireless modem router for people with a myriad of wireless devices in their home or office that boasts combined dual-band speeds of up to 300Mpbs and 433Mpbs plus a wealth of other useful features.
Another highlight of the product is its simplistic installation process that removes the need for any complicated software which is ideal for those a little uncomfortable with setting up their own wireless networks, even if you don't own a computer! The product also has advanced WPA2 encryption, a built-in firewall and is NBN compatible as well plus the ability to connect 5 to 10 devices wirelessly.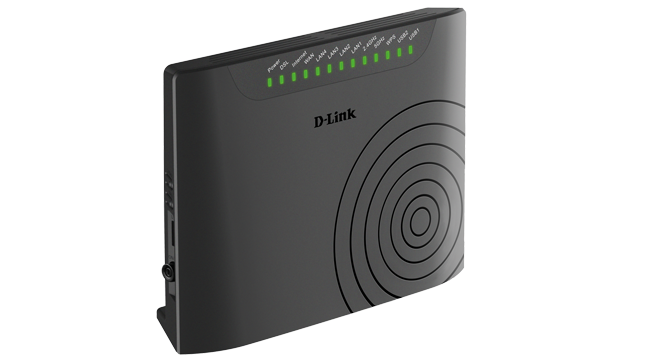 The first step to the install the Dual Band Wireless AC750 VDSL2+/ADSL2+ Modem Router is to unpack the device from the box and then connect it to your phone line and then a PC, Mac or laptop to set the device up. Once connected and powered, you simply enter the IP address of the modem router (192.168.1.1) via your browser in order to go through the wizard to setup your internet service provider.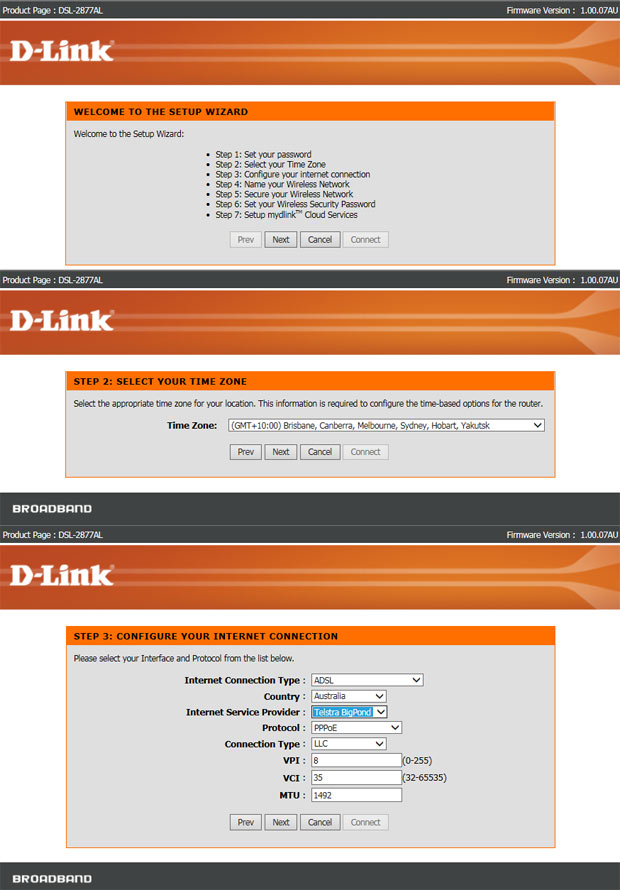 This includes setting up a password for the modem/router, time zone, wireless network name and setting up your mydlink account which can be skipped. But before you commence this process, you need to ensure that you have your internet service provider details which includes your user name and password and if you do get stuck, D-Link offers 24×7 support to support users with any issues that they may be facing.
However the wizard ensures that the bigger ISP's in Australia are included in the setup to make things easier and we tested this product with Telstra Bigpond. The only issue we did have using this system was that we needed to reboot the modem router to accept the settings.

Furthermore, D-Link even simplifies the process via their One Touch Setup App which is great for users with minimal computer experience. In order to use this feature you do need to download the D-Link One-Touch application for either your iOS or Android devices which allows you to connect directly to the product itself.
Apart from configuring your modem router, this app even allows you to check the D-Link website for the latest firmware drivers. Given that most modem routers need to be connected to some computer, the D-Link One-Touch app is a definitely a great step in the right direction for people who may not have these devices within their home or offices.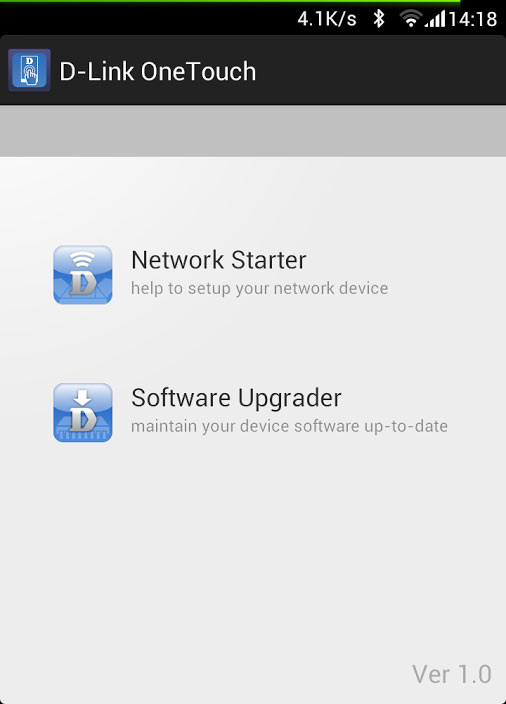 With that said, accessing the modem router directly via its IP address gives the user a plethora of more options and tweaking such as maintenance and other advanced features. Another feature of the product is that the Dual Band Wireless AC750 VDSL2+/ADSL2+ Modem Router comes with the very useful and popular mydlink lite app which allows you access to this device from anywhere in the world. It even informs you of what devices are connected to the modem router and definitely adds another layer of security and user access.
In terms of appearance, the D-Link Dual Band Wireless AC750 VDSL2+/ADSL2+ Modem Router is quite a stylish product with its grey appearance, D-Link logo in the middle and a swirl in the bottom right hand corner. So no matter where this product is, lounge room, kitchen or office, it will not look out of place. On the front the modem router, it has 13 LED's that inform the user on what the device is doing which includes power, whether a device is connected to one of the LAN ports or if WiFi is working or not.
On the back of the device, there is a DLS port, four Ethernet Lan ports, one WAN port, a reset button, USB 2.0 and a power port. On the left hand side, there are two buttons for 2.4/5G WiFi WPS (on/off), another USB port plus the on/off button. All in all, it's a well designed product and quickly gives the user access to all its features at a glance.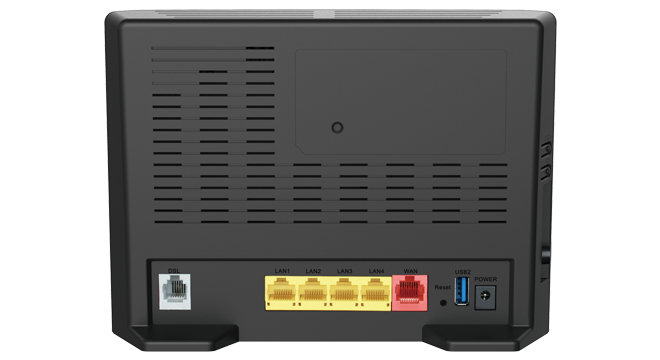 The display LED's on the front of the modem router are great for quickly informing the user what their network may or may not be doing. These LED's include (from left to right), Power, xDSL, Internet, WAN, LAN (4 LED lights), 2.4Ghz WiFi, 5Ghz WiFi, WPS and USB.
A green LED indicates that a particular aspect of the device is working such and a blinking light indicates data is being transferred or if there is no light, something may be wrong like red for no internet access. The WAN LED's also displays green for a Gigabit connection or amber for a 10/100 connection. Connecting a printer and a USB storage device via the modem router was also quite easy and allowed us easy access to these devices across our network.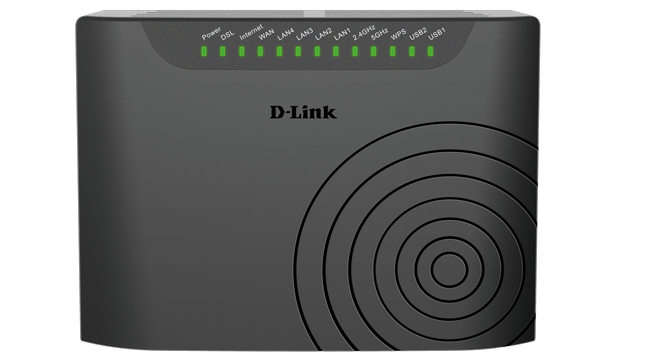 In terms of performance, we tested this device on an Apple Mac, a Toshiba notebook, iPad 4, Galaxy S5 and also a PlayStation 4. Accessing the modem router via the 2.5Ghz band gives the user combined speeds of up to 300Mpbs on the 802.11 n/g/b standard with the 5Ghz band supporting 802.11 ac/a with up to 433 Mbps.
Given that, it is very difficult to get these advertised speeds unless you tweak both the modem router and your wireless product which also needs direct line of site. With that said, we tested this product in terms of performance with a Wi-Fi Speed Test application that checks both the download rate and the link speed.
Direct line of site (20 cm from Modem Router) 2.4Ghz
Download 59.67 Mbit/s (Link Speed 144Mpbs)
Upload 69.07 Mbit/s (Link Speed 132Mpbs)
Behind one wall (12 metres from Modem Router) 2.4Ghz
Download 26.12Mbit/s (Link Speed 78Mpbs)
Upload 52.24Mbit/s (Link Speed 78Mpbs)
Direct line of site (20 cm from Modem Router) 5Ghz
Download 103.97 Mbit/s (Link Speed 351Mps)
Upload 104.33 Mbit/s (Link Speed 175Mps)
Behind one wall (12 metres from Modem Router) 5Ghz
Download 96.96Mbit/s (Link Speed 117Mps)
Upload 82.96Mbit/s (Link Speed 117Mps)
With a base speed in my office of around 100 Mbit/s with direct line of site and then the other side of the house with one wall, the speed only dropped slightly on the 5Ghz band. This drop was more noticeable on the 2.4Ghz band but considering the distance and speed, it was still quite acceptable.
That said, the D-Link Dual Band Wireless AC750 VDSL2+/ADSL2+ did provide us with a very stable connection with some decent speeds from all areas of the home, even outside from the front which allowed me to connect my Samsung Galaxy S5. I also like that this particular modem router from D-Link does not throttle the speed if one device is already downloading a big file as it will adjust the line accordingly.
Final Thoughts?

The D-Link Dual Band Wireless AC750 VDSL2+/ADSL2+ may not be the fasted modem router available but for its price, it gives the user access to a well-priced dual band wireless router. Personally, I believe that the D-Link Dual Band Wireless AC750 VDSL2+/ADSL2+ is a great product for a home or small office and with multiple wireless connections, our network was still quite accessible. The product does support two USB 2.0 ports which allows for file sharing and printers. However I would have preferred USB 3.0 but nonetheless, the D-Link Dual Band Wireless AC750 VDSL2+/ADSL2+ is a good product for the standard user.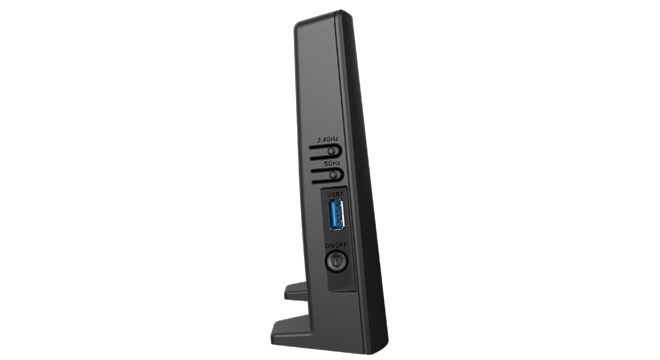 Specifications
Standards
2.4GHz
IEEE 802.11n
IEEE 802.11g
IEEE 802.11b
5GHz
IEEE 802.11ac
IEEE 802.11n
IEEE 802.11a
LAN/WAN
Physical Interfaces
VDSL/ADSL WAN Port
Gigabit Ethernet WAN Port
4 10/100 Ethernet Ports
USB 2.0 Ports
Reset Button
DSL Compliance
ADSL Standards
Multi-mode
Full-rate ANSI T1.413 Issue 2
ITU-T G.992.1 (G.dmt) Annex A/C/I
ITU-T G.992.2 (G.lite) Annex A/C
ITU-T G.994.1 (G.hs)
ADSL 2 Standards:
ITU-T G.992.3 (G.dmt.bis) Annex A/J/K/L/M
ADSL 2+ Standards:
ITU-T G.992.5 Annex A/L/M
VDSL Standards:
ITU-T G.993.2 (VDSL2)
ITU-T G.993.1-2004 (VDSL)
ANSI T 1.424-2004
ETSI TS 101 270-1 and TS 101 270-2
VDSL2 Bandplan: plan 997, plan 998
VDSL2 Profile: 8a, 8b, 8c, 8d, 12a, 12b, 17a
ATM/PPP Support
Multiprotocol over AAL5 (RFC 1483/2684)
Bridged and routed Ethernet encapsulation
LLC encapsulation
VC-based multiplexing
ATM Forum UNI3.1/4.0 PVC (up to 8 PVCs)
ATM Cell Format ITU-T Rec. I.361
ATM Adaptation Layer Type 5 (AAL5)
PPPoA (RFC2364)
PPPoE (RFC2516)
PPP Link Control Protocol (RFC 1661)
Internet Protocol Control Protocol (RFC 1332)
PPP Authentication Protocol (RFC 1334)
PPP Challenge Handshake Authentication Protocol (RFC 1994)
Microsoft PPP CHAP extensions (RFC 2433)
WLAN Specifications
802.11 n/g/b, up to 300 Mbps
802.11 ac/a, up to 433 Mbps
Internal Antennas
Wi-Fi Protected Setup (WPS)
Multiple SSIDs
Automatic rate adapting
WAN scheduling
Auto channel selection
WMM support
64-bit & 128-bit WEP
WPA-PSK & WPA2-PSK
MAC address filtering
Network Services
IPv4
DHCP server/client/relay
DNS relay
Dynamic DNS (DDNS)
Routing Information Protocol (RIP) v1/v2
Internet Control Message Protocol (ICMP)
Virtual server (Port forwarding)
Simple Network Time Protocol (SNTP)
802.1d MAC Bridge (up to 256*8 MAC addresses)
IGMP proxy v1/v2
IGMP snooping v1/v2/v3
QoS
IPP/ToS
DSCP QoS in 4-priority queues
Application QoS in 4-priority queues
Strict priority
VLAN QoS in 4-priority queues
QoS remarking based on IPP/ToS, DSCP and 802.1p
TOS transparency through NAT
Mapping to queue according to DSCP bits and physical port
802.1Q
NAT ALGs
PPTP
L2TP
FTP
RTSP (RealTime Streaming Protocol)
SIP v1/v2
IPsec
Universal Plug and Play Support
UPnP based auto-configuration
UPnP based port forwarding
UPnP IGD 1.0
Security
Attack Prevention
Port scanning & illegal packet attack
DoS Attack
SYN Flooding
Ping of Death
Teardrop
LAND attack
IP Spoofing
IP with zero length
Smurf Attack
TCP Null Scan
Stateful Packet Inspection (SPI)
Management Access Control for LAN/WAN sides
IP filtering
MAC filtering
URL filter
Demilitarized Zone (DMZ)
Device Management
Web configuration
Telnet management
Web UI/X-Modem/FTP/TFTP firmware upgrade
Diagnostic tools for DSL and IP Ping
One Touch Setup wizard
Mobile Apps
One-Touch Setup
mydlink Lite/Plus
mydlink Features
Remote Management
View current upload/download bandwidth
View currently connected clients
View web browsing history per client
Block/unblock client network access
Manage Wi-Fi network details
Advanced Features
VPN pass-through
Guest Network Support
UPnP™ Support
VLAN Tagging (NBN/UFB)
Multiple PVCs (for use with IPTV)
Wi-Fi WMM Quality of Service
IPv6
Dimensions
Weight
Operating Temperature
Operating Humidity
Certifications
Wi-Fi Certified
CE/C-Tick
RCM
Wi-Fi Protected Setup (WPS)