Hardware
Published on June 13th, 2019 | by Tory Favro
D-Link DCS-8600LH Full HD Outdoor Wi-Fi Camera Review
Summary: A great camera for the security conscious but a little lacking when it comes to the app that controls it. The requirement for power does take away some flexibility of the product.
Designed for ease of use, the D-Link 8600 is a robust unit that provides security for you and your loved ones without complex setup and installation. From opening the box of the unit through to setup, it was an easy process that took less than five minutes to get up and running. I am very confident that even folks who are not tech savvy could have this going in no time whatsoever.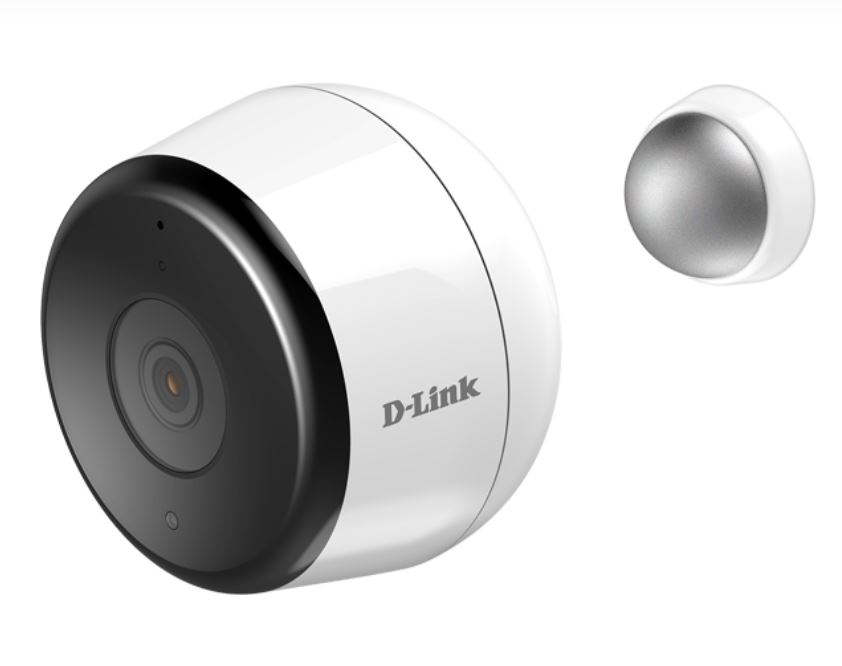 DCS-8600LH Features
The unit itself is a very solid camera very well encased to make sure weather is not going to get the best of it. It is rated IP65 which for normal people simply means that it can handle torrential rain, wind and whatever other horrid weather winter might throw at us. Best of all it can tolerate temperatures of -25 all the way through to an above Aussie summer temperature of 45 degrees. The cords and power supply also claim to be able to hold up to the conditions also. This review is being conducted in Geelong, Victoria, Australia and other than the extreme low, this environment is great for testing this device which operated without hiccup the whole time.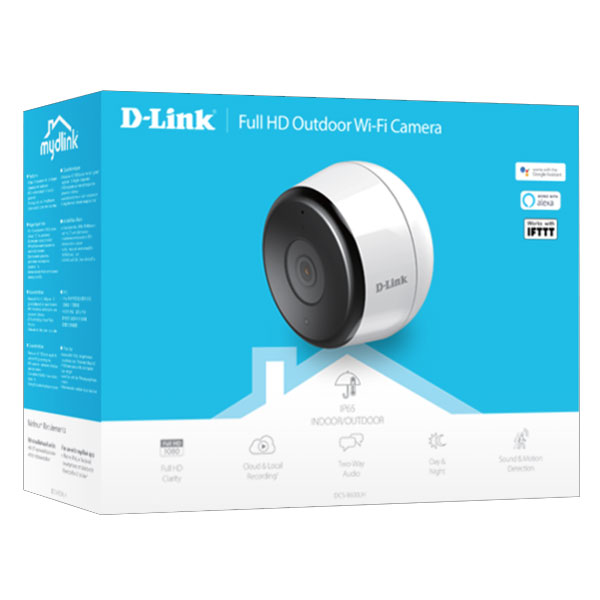 The 8600 is a cabled device which does make installation a problem in some areas and pits it a bit harshly against other alternatives such as the Arlo Pro 2 which is a battery operated unit. Other than this, I would confidently say that in terms of usage, it holds it's own against other brands without breaking budget. If that means that it has to be plugged in so be it. The actual unit is a little larger than some of the competition too and a bit weighty, however the included magnetic mount is more than capable of holding on the the camera and allowing multiple angles to record from including ceiling mounts. The mount is strong enough that to disengage it takes some effort which on the pro side means it is going to take some savage weather to do anything to your camera.
Within the box there is a short set of instructions with diagrams. You will need to set up a D-Link account and download the app from your app store of choice. I have other D-Link Lite cameras in the show and I did not like that I could not use the one app for them all. This is something that needs to be looked at. Also aside from the quick setup guide which is easy, the functionality of the camera's app is a little tedious and might take you a while to get the hang of.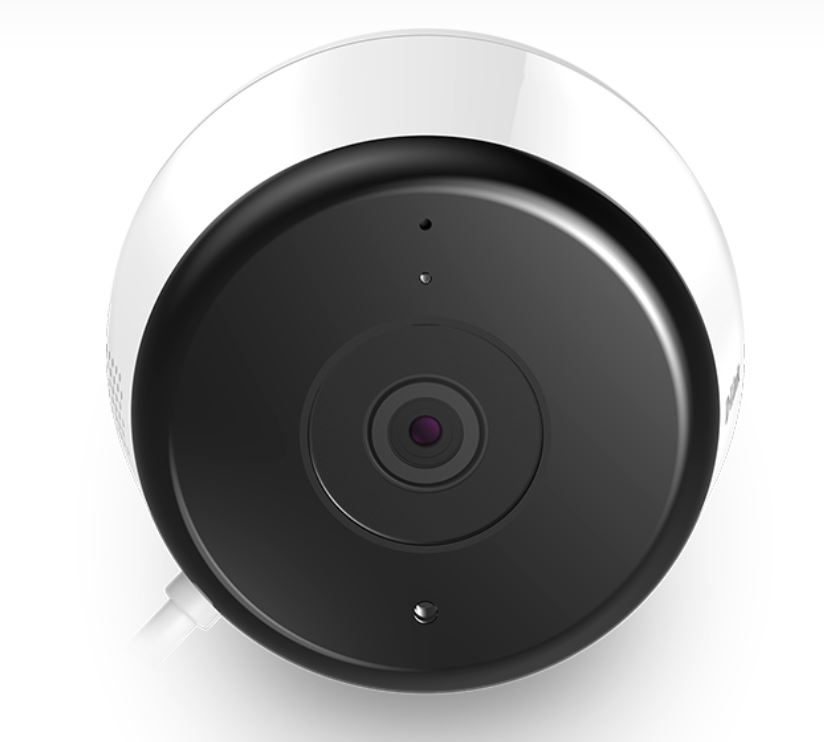 For those who might wish to have this in place of an electronic doorbell, the camera supports two way audio and tested well with clear audio coming out from the camera although a tad on the quiet side. It could be heard however and was simply activated by touching a button on the app. It was more than sufficient to communicate with others and also the mic has good pickup which allowed conversations.
Bear in mind this can be used remotely which is great for couriers and the like dropping things to your home. Or simply telling friends you are five minutes away. All interactions are uploaded to the cloud for one day free, or you can pay for additional storage. All incidents can easily be downloaded to your device.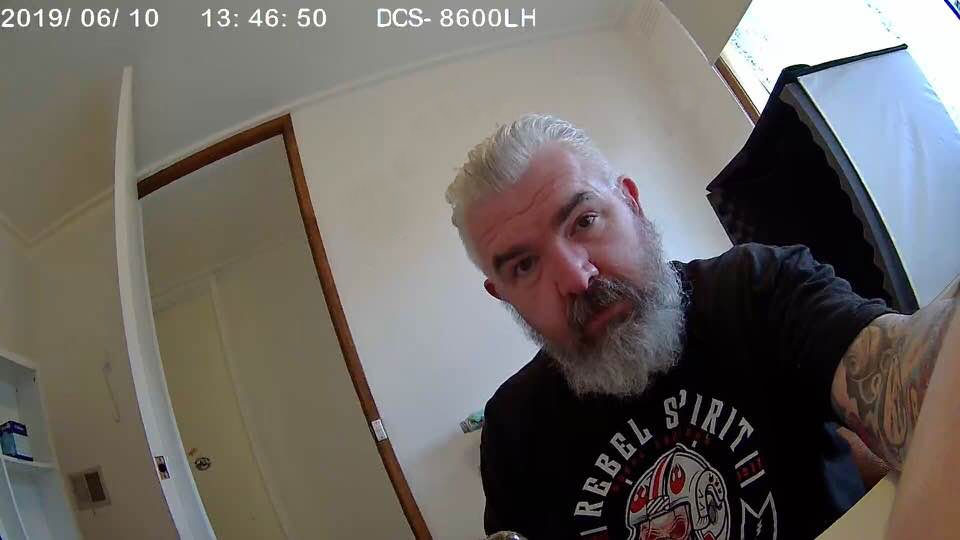 Nice and clear image from the DCS-8600! Shame about the subject matter!
Video and stills are crips and clear with the camera providing a nifty 135 degree viewing angle. Full HD means you can make out who is at your home or pick out features such as license plates or distinguishing features. The camera also has a very robust IR LED array getting clear images even in what you would assume to be total dark up to 7 metres away.
The 8600 connected easily to my home network, in fact within minutes the whole thing was set up and active. With the Wi-Fi module built in, there is no need to worry about wires and cables, as long as the wireless reaches you are good to go. The camera relies on the 2.4 ghz band so please remember this is if you have dual band options on your router to save time and worry about it not connecting. This is the most stable connection right now and more than enough to get good real time streaming from the unit. Video converts to both H.264 and MJPEG formats which for the uninitiated means it'll play on just about anything. Still shots save as JPEG. There is a micro SD card slot in the machine to facilitate continuous recording without relying on D-Links cloud service. This is used when manually recording, otherwise you can just record to your phone or tablet.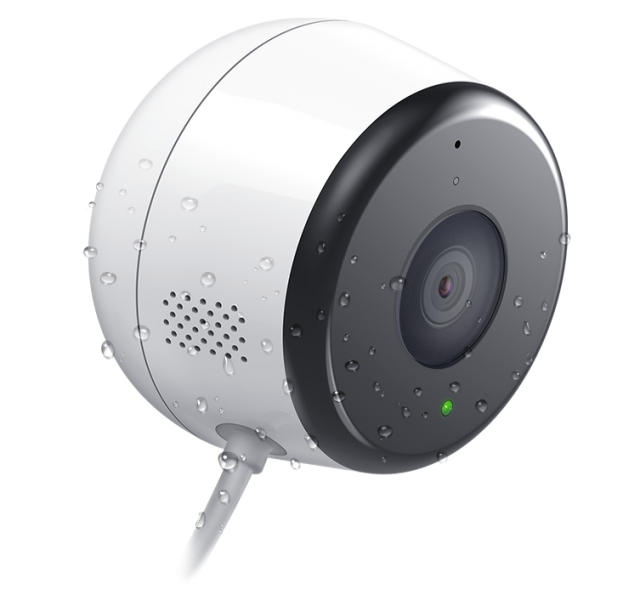 Other than the app I was hard pressed to fault this unit other than the weight which really surprised me. Ease of initial setup was a joy as previously mentioned, as well as it holding up to various rough weather conditions. Alerts were very prompt and triggered by motion or sound. Sensitivity settings can be configured to make sure you don't get an alert every time a tree sways in the breeze or birds fly past, but if that is your thing, you can watch them too. If you are worrying about plugging the unit in, the cable is a very long 7 metres but still not everyone has outside power, I hope the length is enough for users to even plug inside and run the cord out safely. This is a combined length of both the camera cord and power adapter.
Final Thoughts?
This is a great camera for those not able to wire up or who do not want to. Also great with it's wide angle view for those who might only need a single camera solution. I absolutely recommend it if you are security conscious and need something simple to set your mind at ease. Other cameras can be added down the track if you discover nuisance parts of the home or business that just one camera cannot attend to. Finally this camera can also be integrated as part of a smart  home setup utilising Alexa, Google and IFTTT (If This Then That).
Technical Specifications
Camera
Camera Hardware Profile
1/2.7" Progressive CMOS sensor
Minimum illumination:

B/W mode (IR LEDs on): 0 lux

Lens focal length: 3.3 mm
Aperture: F2.4
7 metre IR illumination distance
Angle of view:

Horizontal: 117°
Vertical: 59°
Diagonal: 135°

Built-in Infrared-Cut Removable (ICR) Filter
Built-in microphone and speaker
Image Features
Pinch to Zoom Digital zoom
Configurable sound detection level
Time stamp and text overlay
Configurable resolution
Configurable motion detection windows
Video Compression
H.264 streaming
MJPEG for still images
Video Resolution
Main Profile: 1080p (1920 x 1080) at up to 30 fps
Second Profile: 720p (1280 x 720) at up to 15 fps
Audio Support
Connectivity
802.11n/g/b wireless with WPA/WPA2 encryption
microSD card slot
Bluetooth 4.0
Network Protocols
IPv4, IPv6, ARP, TCP, UDP, ICMP
DHCP client
Bonjour
HTTPS
Features
Event Management
Motion detection
Sound level detection
Event recording to an SD card2
Event notification and snapshot/video clip download to mobile device
mydlink Cloud Recording2
Mobile Support
mydlink app for iOS and Android devices1,3
Physical
Weight
Camera: 290 grams ± 5%
Wall mount: 32 grams ± 5%
Power Adapter
Input: 100 to 240 V AC, 50/60 Hz
Output: 5 V DC 2 A (Micro-USB)
Cable length: 7m (Camera:3m, Power Adapter: 4m)
Power Consumption
Temperature
Operating: -25 to 45 °C
Storage: -25 to 70 °C
Humidity
Operating: 20% to 80% non-condensing
Certifications