Hardware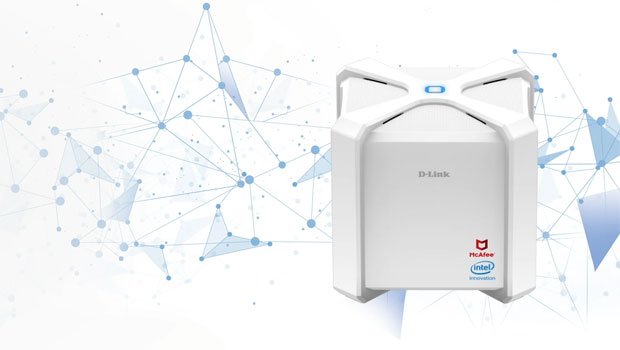 Published on March 22nd, 2019 | by Andrew Bistak
D-Link D-Fend AC2600 Wi-Fi Router Review (March 2019)
Summary: D-Link D-Fend AC2600 Wi-Fi Router is your virtual castle around your home to keep the darker elements of the internet out!
In collaboration with McAfee, one of the world's leading internet security firms, D-Link have launched their very smart and secure Wi-Fi router with the D-Fend AC2600 which protects all devices connected to this network thanks to its powerful firewall capabilities. Opposed to running separate firewall software on each devices, the D-Fend AC2600 Wi-Fi Router successfully does this in the background and if your home is the castle, this is the moat and the army around it.
Best of all, the ­D-Fend AC2600 protects the devices that may not have access to security such as SmartTV's, game consoles or your Wi-Fi security camera by preventing hackers from accessing it remotely, blocking compromised or 'fake' websites and ensuring that Malware does not get installed. Add in 24/7 real-time protection and access to McAfee's Global Threat Intelligence who also ensure that the D-Fend 2600 has the latest updates plus parental controls, including 5-years of updates to the router itself and this may be the best investment you make for your home security needs.
The D-Link D-Fend AC2600 Wi-Fi Router is also powered by an Intel GRX 350 dual-core 1.6 GHz processor which ensures smooth throughput speeds in your home (e.g. no lag) and it even has Smart Beamforming technology. Unfortunately with Wi-Fi, there are limitations and walls, including household appliances can impact on the strength of your connection. Unlike most Wi-Fi signals that send out a circular signal (omni-directional), Smart Beamforming has an intelligent algorithm to detect where your device is in order to send a focus beam to it that as a result, gives it the best connection possible. The router also uses the latest 802.11ac technology to ensure fast wireless speeds.
Another great feature of this product is that it comes with McAfee LiveSafe which protects your computers and smart devices while you're out and about in order to thwart viruses, malware, ransomware, spyware and unwanted programs, including multiple device protection for up to two years. Add in easy installation to your existing internet connection, including McAfee LiveSafe on your smart devices and your home will be protected in no time as it silently monitors and protects. In terms of router connection, D-Link give you access to five-years of complimentary protection to the secure home platform which means updates and protection to all devices connected to your network.
Unboxing Photos
As you can see from our photos, the D-Fend AC2600 Wi-Fi Router is a sleek and relatively unassuming router and it also looks impressive as well. The power button is located at the top of the device and on the back are four Ethernet ports, an internet port plus a WPS (Wi-Fi Protected Setup) button which is a one-push button to connect other devices to your network but just the push of a button.
Installation Process
The setup of D-Fend was a very easy process and the first thing you had to do was download the D-link Wi-Fi app for your smartphone and then go through the wizard after scanning in the QR code. The physical installation was to turn off your modem, connect the included Ethernet cable to this device and then the D-Fend. Next was to power-up the modem and wait until it establishes an internet connection. Once this is done, you then turn on your D-Fend and wait for the LED to turn a solid orange and then finish the wizard by giving your network a name, entering in a password for it and of an admin password.
Once installed, the app is very easy to navigate and is far superior than the My D-Link app and is a lot more intuitive as well. You can even test your internet connection and as you can see, we are receiving one of the highest NBN speeds available. Compared to our modem router, the Wi-Fi speeds were equally as good, whether this was with our awesome Huawei Mate Pro 20, Xbox One X, Toshiba notebook or Ring Video Doorbell, it was business as usual.
The main screen on the app informs you if your internet is secure, including how many clients are connected and I love how you can let others scan the QR code on your phone to connect to your network. The app also also allows for smart devices like Alexa or Google so you can ask these devices if your network is secure.
Parents will also appreciate its innate parental controls which can be controlled via the smartphone app. This includes creating user profiles, setting age-appropriate content, blocking websites, internet curfews and permissions to visit certain websites (e.g. Facebook) and even pausing the internet. All in all, it's a very intuitive app that allows users of all levels of tech to use the D-Fend with no issues. However if you do have an issue, you do have access to the excellent support services of D-Link.
Lastly, you have 2-years access to McAfee LiveSafe for unlimited devices which offers excellent total internet security to prevent viruses, malware and the like from infiltrating your PC or mobile system. This was a little fiddly to install as you had to run it from the D-Fend app and then share the link to the devices where you want this installed. However once you click on the link and install, it's easily one of the better internet security systems around.
Final Thoughts?
The D-Fend also comes with a recommended retail price of $499.95 that works out to around $100 per year plus you get access to McAfee LiveSafe which retails for $299.95. In conclusion, the D-Link D-Fend AC2600 Wi-Fi is a very clever smart product from this company which gives your home and its devices an additional layer of protection, especially those products that may be in danger from hackers or cyber criminals.
Recommended!
Specifications and features
D-Fend Security powered by McAfee
• Keep your kids safe online with comprehensive parental controls via the D-Fend1 app
• End-to-end protection with the McAfee Secure Home Platform2 that automatically protects every device connected to your network
• Free installations of McAfee LiveSafe antivirus software3 for your computers, tablets and smartphones
Performance and Connectivity
• 802.11ac wireless specification delivers blazing fast wireless connectivity with increased range and reliability
• One 10/100/1000 Gigabit Ethernet WAN port for fast-paced Internet access
• Three Gigabit Ethernet LAN ports per unit to give you high-speed wired connectivity
• One SuperSpeed USB 3.0 port to share media from a storage device
Voice Assistant Compatibility
• Command D-Fend and your router's functionality4 with your voice through Amazon Alexa
• Setup Wi-Fi guest zone and turn your wi-fi on and off without having to go into the UI