Hardware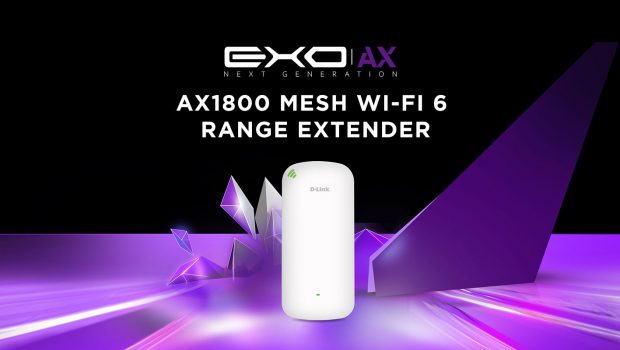 Published on July 18th, 2021 | by John Werner
D-Link AX1800 Wi-Fi 6 Mesh Range Extender Review
Summary: Fix your Wi-Fi connection issues and blackspots with the new AX1800 Wi-Fi 6 Mesh Range Extender from D-Link
If you own one of the 9 billion Wi-Fi connected devices that are currently being used around the world, then you'd know just how important having a strong signal is. The new AX1800 Wi-Fi 6 Mesh Range Extender from D-Link, extends your Wi-Fi network range without the need to change any of the settings on your connected devices.
Many people don't realise just how many items around the home and office can interfere or block Wi-Fi signals. Most people would be quick to blame their internet provider or other Wi-Fi users for their connection problems, but the truth of the matter is much more complex. Everything from brick walls, other wireless signals, electrical appliances (especially the microwave), and human bodies can impact your Wi-Fi speed and strength. One solution to fix these problems is to relocate your wireless modem/router to another part of the home or office. Unfortunately, not all of us are able to do so, and that's where the D-Link AX1800 Wi-Fi 6 Mesh Range Extender comes in.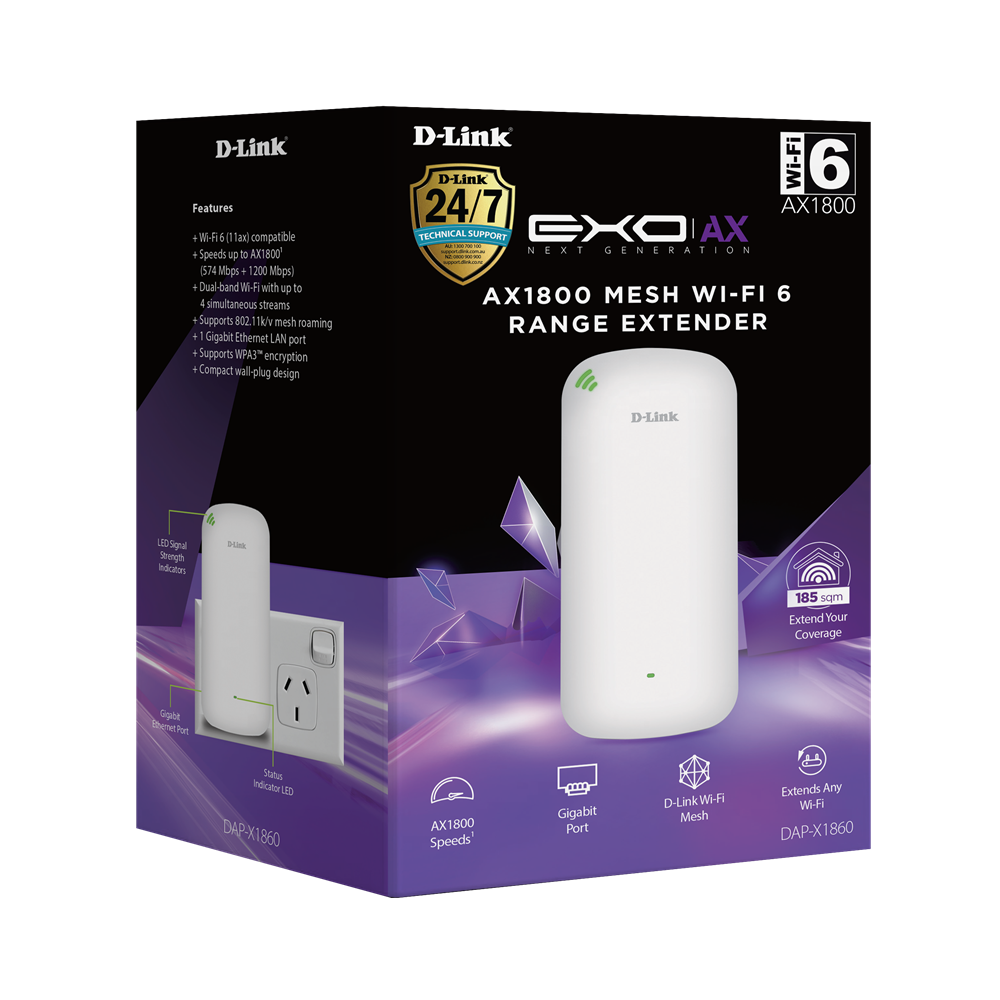 Not to be confused with a Wi-Fi signal booster that amplifies the signal in all directions in an attempt to make the signal stronger, the AX1800 creates a secondary Wi-Fi signal in a new location using the same username and password as the original Wi-Fi. Known as Mesh Network & Smart Roaming, the AX1800 lets devices such as your smart phone connect to the Wi-Fi to maintain their connection.
Setting up the AX1800 Wi-Fi 6 Mesh Range Extender is incredibly simple and whilst you have the option, you don't need to download the D-Link app in order to set up the device. In fact, you can set up the AX1800 just by synchronising it with your Wi-Fi or connecting it to your network with an ethernet cord. This is fantastic for people who might be renting or can't afford to get network cables installed.
In terms of size, the AX1800 Wi-Fi 6 Mesh Range Extender is rather large and needs to be plugged directly into a power board or wall socket. On one hand, this makes the device cable free and easier to manage, but on the other, it means that you possibly won't be able to have other appliances plugged into an adjacent outlet. The AX1800 also sits out from the wall due to it's size, meaning that you'd need to find a rather accessible power outlet in order to use it. If you're using a Wi-Fi connection rather than an Ethernet cable, it might take a few attempts to find the right spot to place the device where the incoming Wi-Fi signal is strong enough to create the extended Mess Network.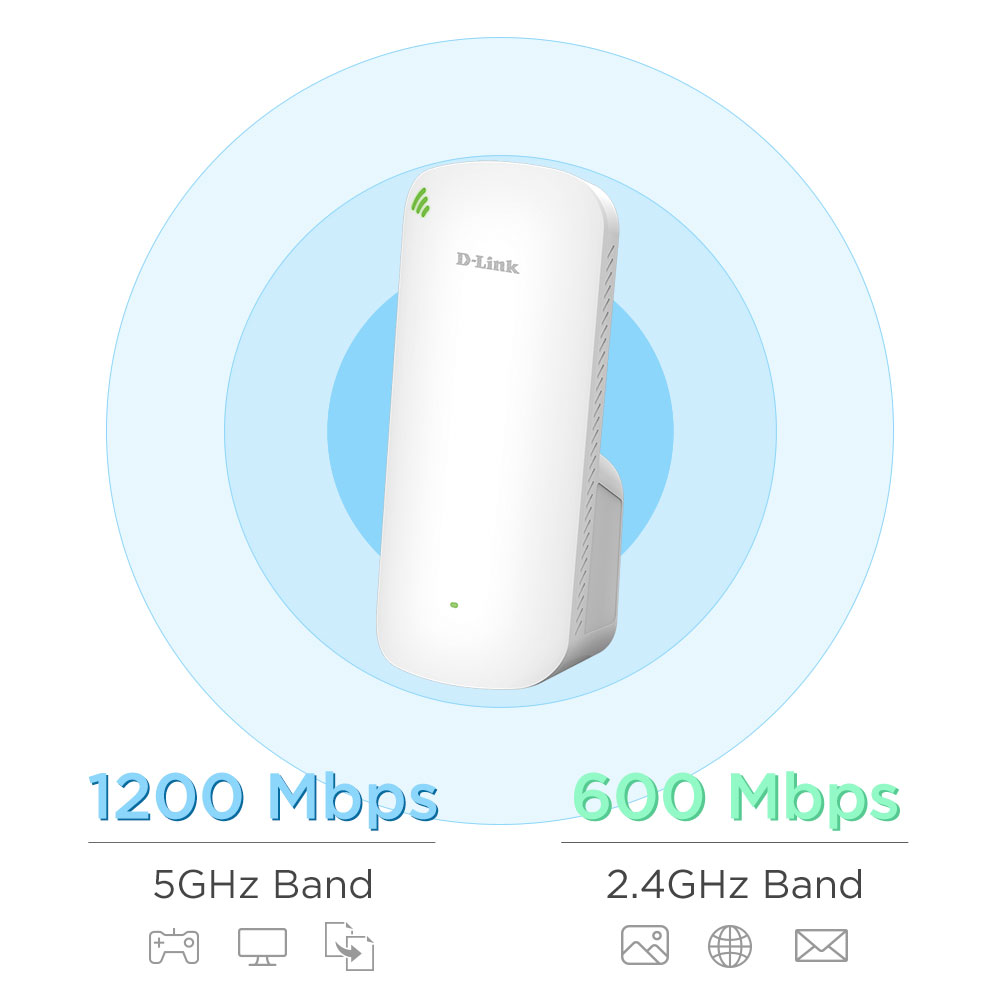 Located on the front of the AX1800 Wi-Fi 6 Mesh Range Extender is a Wi-Fi icon that lights up to signify the strength of the incoming Wi-Fi signal. Once you've connected the AX1800 to the network, the icon will show a red, orange, or green light to indicate what the incoming signal strength is. If you're using an ethernet cable to connect the AX1800 to the network, then the light will always be green. Otherwise, you'll need to relocate the device to another location until you find a spot that gives you the green light. It can take a few attempts to locate the perfect spot, but it will make all the difference in the long run. However, as mentioned previously, the size of the device might make it a bit difficult to find a suitable power point.
If you have decided to download the D-Link app, then there are a number of features that might be useful, especially if you find that you're still having issues with the Wi-Fi speed or own multiple AX1800 devices. Firstly, if you've setup the AX1800 and still find that you're experiencing speed issues, the app will list all of the devices which are currently connected. This way, you can try turning off your connected devices to help isolate anything that might be currently using the internet and slowing down the connection. This is really handy if you find that your internet speed issues are only occurring at certain times of the day. Chances are, you might have something downloading without your knowledge but having the tools to locate the problem will make a difference. Secondly, the app gives you control over when the AX1800 is active and setup scheduling for the hours you want it to extend your Wi-Fi signal. A good use of this could be for companies that don't want people accessing the network outside of office hours or parents who want to limit the children's internet usage. This way, you don't need to be unplugging any networking devices in order to manage your Wi-Fi network.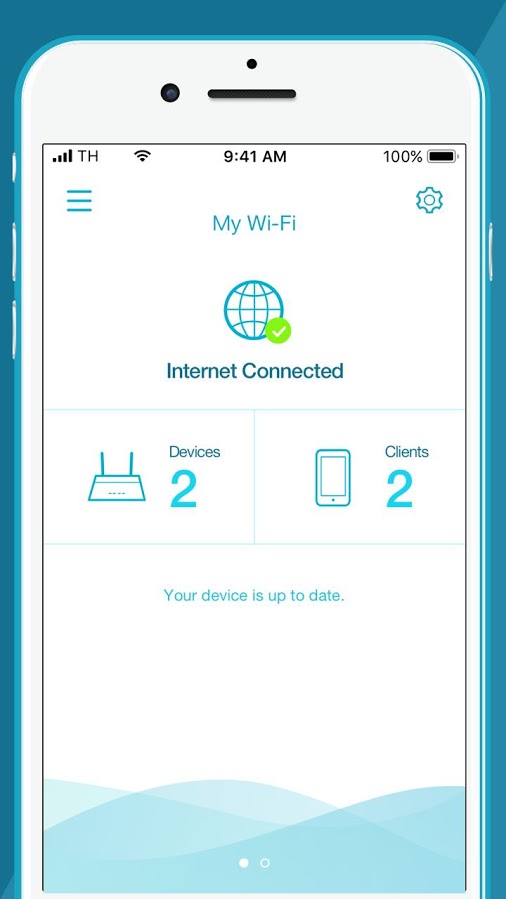 Final Thoughts:
The AX1800 Wi-Fi 6 Mesh Range Extender from D-Link is a powerful tool in fixing your Wi-Fi issues without having to resort to expensive renovations or compromising your network security. It's clear that this device was designed to be a one fits all solution without compromising on features or oversimplifying its user friendliness. The AX1800 is compatible with all Wi-Fi networks regardless of your provider or network hardware. Users don't need any advanced computer skills to be able to fully utilize the AX1800 and it is recommended for anyone wanting to have better control over their Wi-Fi network or want to fix an issue with their connection/speeds.