Hardware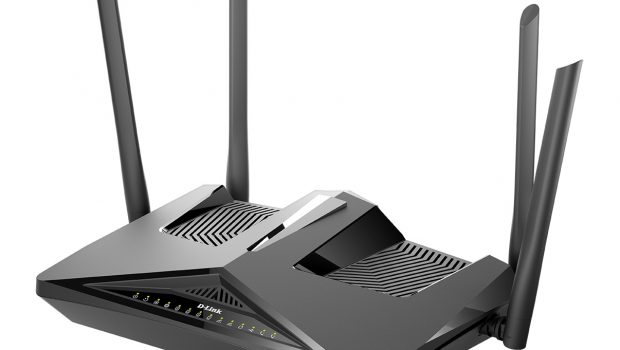 Published on August 23rd, 2022 | by Adrian Gunning
D-Link A/NZ launches AX1800 Wi-Fi 6 VDSL2 /ADSL2+ Modem Router with VoIP
D-Link has launched its DSL-X1852E, an AX1800 Wi-Fi 6 VDSL2 /ADSL2+ Modem Router with VoIP, providing universal DSL and NBN / UFB connectivity in Australia and New Zealand. The DSL-X1852E is an all-in-one Modem Router with VLAN tagging and enjoys AX1800 speeds with up to 1200Mbps on its 5GHz band, and 574Mbps on its 2.4GHz band. It also uses the latest WPA3™ 128-bit encryption, which replaces previous industry-standard encryptions on Wi-Fi devices and it also enables you to seamlessly test your Internet Speed and connection with its built-in Internet Speed test powered by Ookla®.
Providing super-fast speeds for all your wired devices, the DSL-X1852E sports a dedicated Gigabit Ethernet WAN port and four Gigabit LAN ports, as well as a USB port where you can connect an optional 3G/4G LTE USB Modem, such as D-Link's 4G LTE USB Adapter (DWM-222), for mobile broadband access or failover from your fixed Broadband service if required.
The DSL-X1852E also provides two FXS ports, allowing customers to connect up to two telephone handsets and utilise the Voice Over Internet Protocol (VoIP) to make calls using your Internet connection (where supported by your ISP)*, and it also fully supports all NBN (Australia) and UFB (NZ) connections.
The DSL-X1852E uses Wi-Fi 6's cutting-edge Orthogonal Frequency Division Multiple Access (OFDMA) technology where small data packets destined for multiple devices are transmitted together and never have to queue up again. This makes it ideal for smart homes filled with bandwidth hungry IoT devices each battling for airtime.
It also has two-way MU-MIMO technology which helps distribute the flow of data to multiple devices simultaneously.
The DSL-X1852E leverages these new multi-user versions of OFDMA and MU-MIMO for better efficiency of upstream and downstream transmissions, unlike previous Wi-Fi 5 technology where MU-MIMO could only operate simultaneously in downstream transmissions. This combination greatly increases capacity, coverage and performance in ultra-high-density environments.
With high-gain antennas, power amplifiers and beamforming technology all built-in, the DSL-X1852E provides a powerful way to extend your Wi-Fi signal reach and focus stronger Wi-Fi in the direction of your devices to ensure a faster and more reliable Wi-Fi experience.
The DSL-X1852E also conserves power by utilising Target Wake Time (TWT) which helps reduce battery consumption for connected devices by communicating with them and deciding when and how often the device requires data transfers. TWT increases the device's sleep time, therefore cleverly conserving energy and helping save battery life.
When nearby Wi-Fi could be interfering with your wireless signals and slowing things down, the DSL-X1852E and Wi-Fi 6 put an end to this with BSS Colouring Technology which makes transmissions more unique by 'colouring' them with their own unique code. This, in turn, means devices can decide whether to transmit signals or ignore them, based on their 'colour'. It also results in less interference, less Wi-Fi bottlenecks and enhanced range.
D-Link embracing Wi-Fi 6 into its Modem Router networking devices brings next-generation Wi-Fi technology into your home, giving the quantum leap in capacity, speed and range you need to handle all your Wi-Fi demands. This is what makes all-in-one Modem Routers like the DSL-X1852E the ideal device for high-performance, device-dense Smart Homes.
Virtual Private Networks (VPN's) have become a necessary and useful tool in today's malware-riddled world. To make using a VPN as easy as possible, the DSL-X1852E's VPN Wizard lets you configure LAN-to-LAN and remote access VPN connections, while its built-in passthrough feature also allows any internal devices connected to the router to establish outbound VPN connections. Simple, effective and all part of this clever, new Modem Router.
Finally, the DSL-X1852E has been thoroughly tested by multiple Internet Service Providers across both Australia & New Zealand prior to release to the wider market. With TR-069 Management and VLAN Tagging support built-in, the DSL-X1852E has been designed to support Service Provider networks from the ground up.
Key features of the DSL-X1852E
Integrated VDSL/ ADSL2+ Modem for universal DSL / NBN / UFB connectivity across Australia and New Zealand
The latest Wi-Fi 6 technology provides faster Wireless speeds, greater capacity and less network congestion
Speeds up to AX1800 (1200Mbps on the 5GHz band and 574Mbps on the 2.4GHz band)
One dedicated Gigabit Ethernet WAN port and four Gigabit LAN ports provide fast wired connectivity
Connect up to two phones to makes VoIP calls over the Internet (where supported by your ISP)*
OFDMA and MU-MIMO technology communicate more data to more devices while simultaneously reducing lag
BSS Colouring technology reduces interference, making more efficient use of Wi-Fi spectrum
Increased battery life of connected devices with Target Wake Time technology
Supports the latest WPA3™ encryption
Supports VLAN tagging for wholesale Service Providers (RSP's)
Supports TR-069 Management functionality for Service Providers
The DSL-X1852E AX1800 Wi-Fi 6 VDSL2 /ADSL2+ Modem Router with VoIP is available now from www.dlink.com.au (RRP AUD$349.95), www.dlink.co.nz (RRP NZ$379.99) and from all authorised D-Link partners and retailers in both countries.