Hardware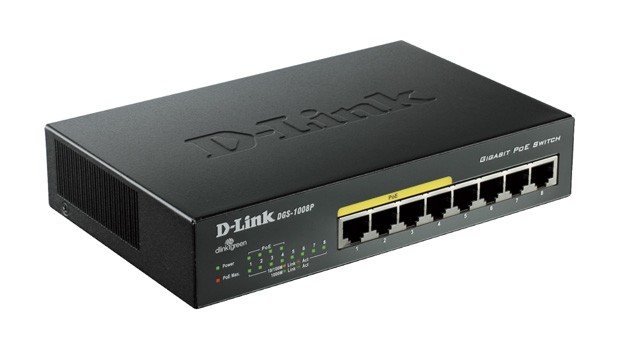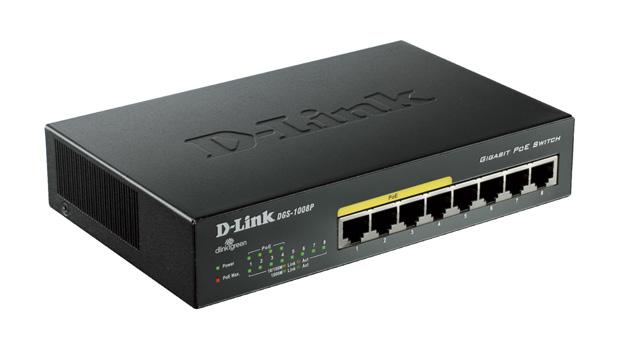 Published on December 28th, 2015 | by Tony Smith
D-Link 8-Port Gigabit Desktop Switch (DGS-1008P) Review
Summary: The D-Link 8-Port Gigabit Desktop Switch (DGS-1008P) is a great way to increase your network, particularly with PoE compatible devices!
This well designed product from D-Link is an 8-port switch with 4 PoE (Power over the Ethernet) ports to give users quick access to both network access and the internet. So whether you're connecting IP cameras, printers or computers to this product, this all-in-one product does it all and gives the user access to high speed network access.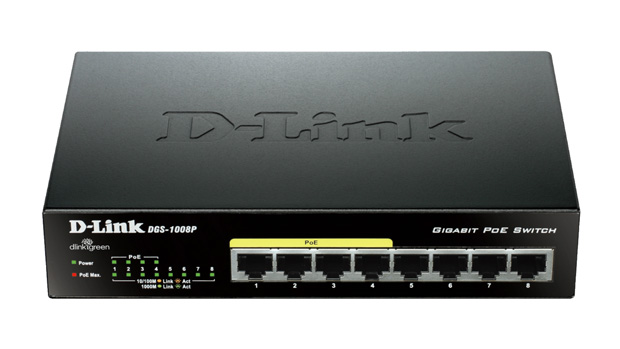 Product Highlights
4x Power-over-Ethernet Ports
8x Gigabit Ethernet Ports Total
4K MAC Address Table
QoS for Traffic Prioritization
Energy-Saving Green Technology
Auto MDI/MDIX Crossover
Plug-and-Play Installation
Compatible with Many Operating Systems
Best of all, it comes with 4 PoE ports that can supply up to 15.4 watts of power in order to attach IEEE 802.3af compliant devices which may include a wide variety of products such as VoIP phones or IP cameras. All in all, it supports up to 52 watts across the four PoE powers. Another interesting design feature is that the product is fanless that means it boasts ultra-quiet operation.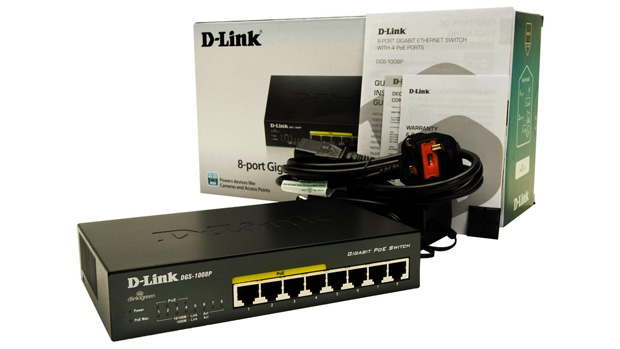 Inside the box, you get a quick installation guide, warranty booklet, power adapter, rubber feet and the DGS-1008P unit itself. The D-Link DGS-1008P is also a well-designed and very sturdy product, particularly with its metal case and overall, everything is well labelled and the input connections are quite accessible.
The front of the product (bottom left) has LED's to inform the user what is happening (e.g. power, PoE Max, 10/100M, Link, Act, 1000M) and to the right of this are the inputs that include 4 PoE ports (labelled yellow) and 8 Gigabit Ethernet Ports. On the back is a lock, power button and the port for the power adapter.
In terms of connections and the LED, the DGS-1008P goes green when it is connected to a 1000Mpbs device and flashes green when it is transmitting data. For slower devices, it will flash amber for a 10/100Mpbs device and when it blinks, it also means data is being transmitted. If it goes Red, it means that the port has failed or that the device is using over 45 watts.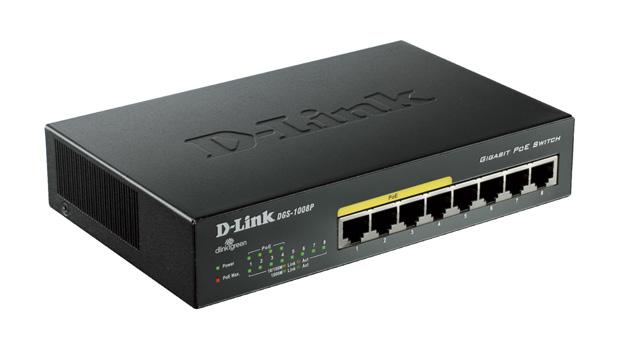 D-Link have even made the product "Green Friendly" which reduces power consumption and comes with a Link Status feature that automatically cuts power to devices that are no longer using the port. It can even detect cable length which reduces wasted energy use but ensures a strong connection to the user or users.
Features
Eight 10/100/1000Mbps Ethernet switch ports
Four of the eight Gigabit Ethernet ports can power compatible devices, such as IP cameras, IP phones, and wireless access points
Supports up to 52 Watts across the 4 PoE ports and up to 15.4 watts per port for individual usage
Built-in D-Link Green Technology tells the switch to power-off any ports that aren't used and also reduces the amount of power sent through a connected Ethernet cable when that cable is shorter
IEEE 802.1p QoS for Automatic traffic prioritization
Sends power to IEEE 802.3af PoE-enabled devices over standard RJ-45 Ethernet cabling
Up to 1Gbps of dedicated bandwidth per port and up to 2Gbps bandwidth in Full-Duplex Mode
Jumbo Frame support of up to 9720 bytes
Auto MDI/MDI-X Crossover for all Ports
IEEE 802.3x Flow Control
Compatible with virtually any operating system
Supports MAC address learning
Plug-and-Play installation
Limited lifetime warranty

So who is the product designed for? Although it can be used in the home and office, I would lean towards the business user more, especially if they want to run IP cameras and best of all, it supports plug and play technology which means no difficult setup or installation issues.
However if you do come across an installation problem, D-Link do offer assistance. We connected this product to our Router/Modem and then connected two network cameras, VoIP phone and two computers which allowed us to have fast connections on all devices. All in all, we had no issues with the 8-port gigabit desktop switch.
Final Thoughts?
The D-Link 8-Port Gigabit Desktop Switch (DGS-1008P) is a great unmanaged switch from this company that is ideal for users who have IP devices such as cameras or phones. Setup is easy and it boasts some decent speeds and increased network activity that is ideal for businesses or homes requiring additional ports.
Recommended!