Comics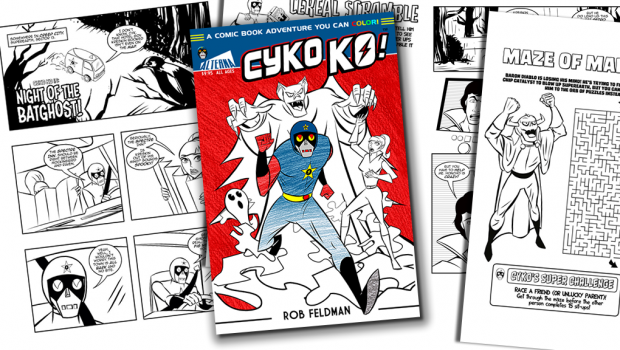 Published on May 20th, 2017 | by Dana Folkard
CYKO KO GRAPHIC NOVEL COLOURING BOOK!
In his first ever graphic novel coloring book, Cyko KO doesn't just break the fourth wall — HE DESTROYS IT!
Ever wonder what Deadpool would be like if he was created by Hanna-Barbera?  Well now you don't have to!  Based on the animated comic created by Rob Feldman, Cyko KO stars in his first ever graphic novel coloring book loaded with insane activities and crazy fun for the whole family…!
Rob Feldman, creator of Cyko KO and best known for his work on the web hit series 'Dr. Shroud' explains that it's not all about the coloring: "There's an original story entitled 'Night of the BatGhost, a real Scooby Doo type of mystery that has Cyko, Peachy Keen and their pet Meemop running all over the place. It has a real animated TV type of feel to it with the story-themed puzzles page breaks acting as commercials in a way. The bonus is that the puzzles have these challenges that pit your mind against an opponent's physical fitness. Good luck!"
Filled with 64 pages of awesomeness, Cyko KO: A Comic Book Adventure You Can Color! also includes perforated pages for easy display and coloring!
KICKSTARTER LINK: https://www.kickstarter.com/projects/robfeldman/cyko-ko-a-comic-book-adventure-you-can-color