Games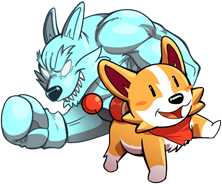 Published on June 16th, 2020 | by Adrian Gunning
Cute yet Deadly: ProtoCorgi Will Be Available Later This Year
Kemono Games and Koch Media announce the release window for ProtoCorgi, the bark 'em up featuring the cutest, yet deadliest Corgi in video game history. The game will be available in November 2020 on PC, and Nintendo Switch.
Meet Bullet, a C3 class (Cute Cyber Corgi or Cosmic Combat Corgi) cybernetic pup who might be adorable on the outside, but being fluffy is far from being his only purpose. He is a military experiment and armed to the teeth. He will need all his barking power to save his creator, the brilliant scientist Nixie, from the grasp of evil alien forces.
Today's trailer gives a glimpse of the destruction Bullet is capable of and the enemies this fluffy hero must face.
For players who want to get their bark on early, a new demo for the game is available now as part of the Steam Game Festival, Summer Edition.