Comics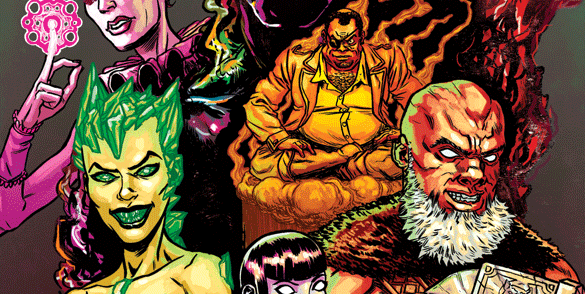 Published on July 19th, 2017 | by Pat Condliffe
CURSE WORDS #6 REVIEW
Summary: Curse Words #6 sees the series finds its rhythm.
Curse Words #6 is the first issue in the "Explosiontown" two parter. Soule and Browne take their foot off the accelerator for the first time and cruise for a bit to develop their characters. And this is a good thing! Ruby Stitch and Wizord stop fighting for a moment and consider their new positions. Ruby, now powerless after Sizajee has stripped her of her powers, is reassessing her allegiances. Wizord continues to demonstrate that he has one power in greater quantities than magic -naivete! Meanwhile, Sizajee and his dwindling minions have a party.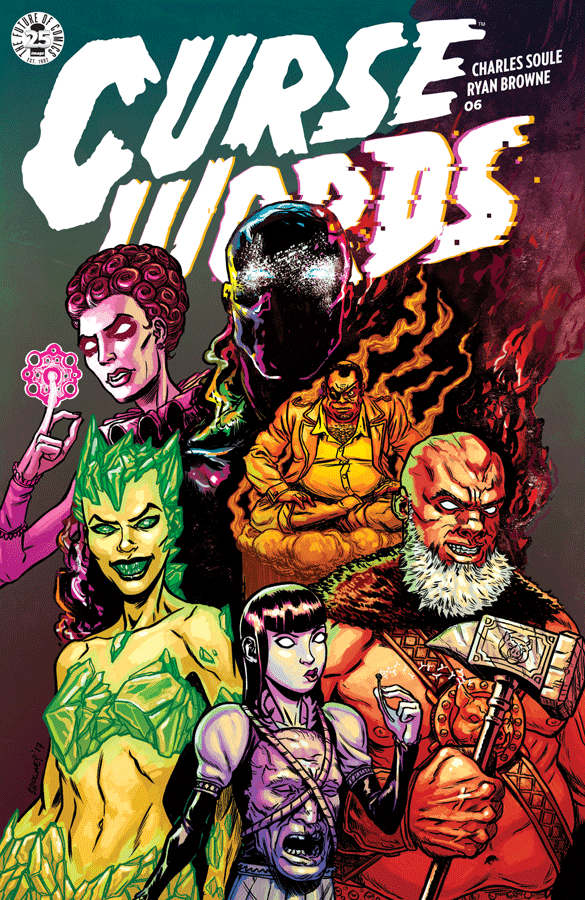 Things begin with Sizajee demonstrating that he's what every magical tyrant should be – dapper AF! Rocking a sharp dinner jacket, he and the other nobles of Hole World are having a picnic. They are still surprised at Ruby Stitch losing to a power depleted Wizord. The nine are now down to six. Hole World is becoming unbalanced and Sizajee's iron grip on power is now somewhat less iron.
Sizajee is facing problems on two fronts. On earth, Wizord still evades his attempts to dispatch him. While in Hole World, the Tigers are mobilising and putting up a stiff resistance. Somehow, they've gained access to some military equipment that looks more than a little earth-like. Much to Sizajee's chagrin it's effective against magic too. The remnants of the council of nine aren't happy either. The six's discontent bubbles over at Sizajee's BBQ where they squabble over who should go after Ruby and Wizord and who should take possession of the lands left behind. Corwall's sister Violet demands succession for her brother's lands.
Back on earth, Ruby Stitch, Margaret, and Wizord are catching up. Ruby is wary of Wizord. She's only too aware of Wizord's shortfalls and the problems that stem from his idealism and naivete. She's definitely unimpressed with his gesture of conciliation and his plan to topple Sizajee. Similarly, Margaret isn't hugely fond of her new form. She's concerned about its limitation and has an eagle eye on something mysterious and practical instead. Wizord faces a problem on another front, too. The people of earth, especially those with power have grown weary with Wizord's destructive battles. So far LA, New York, and Vegas have taken a hit. They're not keen to see more colourful carnage and so they dispatch a solution.
Curse Words #6 sees the series finds its rhythm. Things have been all action and rushed exposition till this point. We've learned about Wizord and a little of Margaret, but everyone was a caricature. By sacrificing action for an issue, Soule and Browne bring depth to the narrative and begin to develop a series that doesn't need to hang off its peculiar hero and even more idiosyncratic sidekick. Slowing the narrative doesn't sacrifice the tension of the story or beauty of the drawings. The vivacious colours we've grown accustomed to drip opulently off every page. Browne can certainly make the most brutal demise a thing of beauty.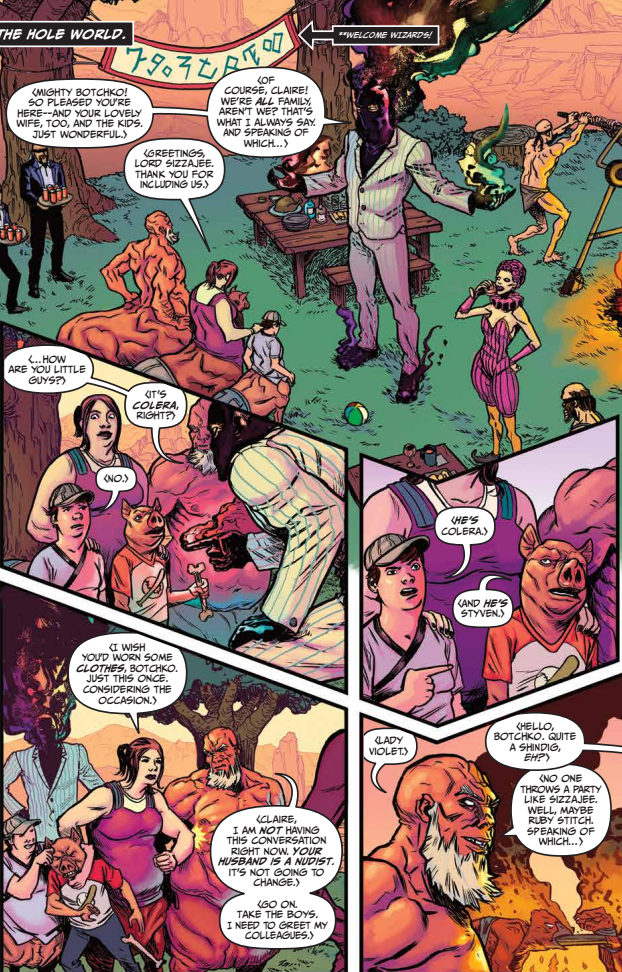 By taking the pedal off the metal, Curse Words #6 allows everyone to stop and catch their breath. Soule and Browne flesh out the characters and their worlds. In doing so they bring some proper tension and drama to a series that was previously just gonzo madness. And to top it off, it's still effin' stunning to look at!
Summary: Taking time out from action and mayhem gives Curse Words the depth it lacked without sacrificing its gorgeous craziness!
4.5 psychedelic executions out of 5
---
COMIC DETAILS
CREATIVE TEAM: Charles Soule, Ryan Browne
PUBLISHER: Image Comics
PUBLICATION DATE: July 19, 2017
REVIEWER: Pat Condliffe