Comics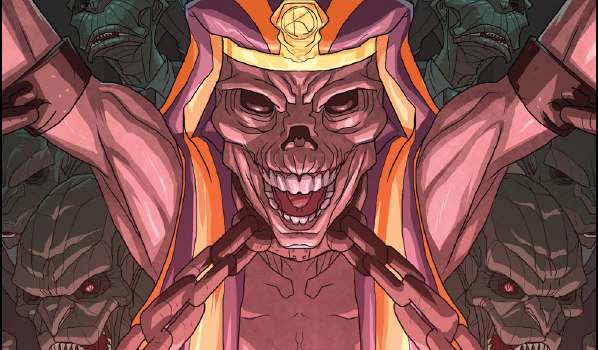 Published on November 3rd, 2016 | by Lyla Saudi
Cryptocracy #5 Comic Book Review
Summary: Grahame and Temple fight for the right to lead the Mars family but the stakes are high because if Grahame loses... Bela dies.
Bugbears. Laser guns. Lizard men. This issue has it all! When tragedy strikes the all-powerful Mars family, rival siblings Grahame and Temple square off to determine who will take over the family leadership. Meanwhile our conspiracy theorist podcaster Bela discovers her listeners are not who they seem to be and Hum (our other-worldly assassin)…well Hum is always up to no good as always in Cryptocracy #5 written by Van Jensen and illustrated by Pete Woods.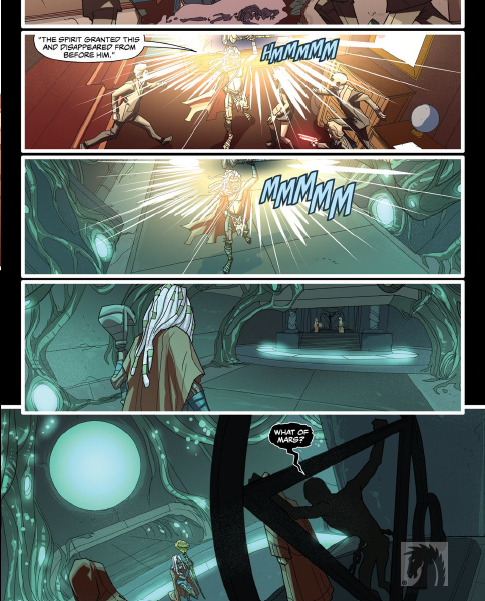 Behind all the deaths which have ruined the ruling families on this earth is Hum, who was seen quickly vanishing after obliterating Nick's (the ruling elder of the Mars family) body to dust and bones.
With the question of leadership hanging in the air, wannabe successors Grahame and Temple, match off in an ancient ritual that will challenge their strength, endurance and agility for the right to become the next ruling elder.
Above the surface, back in the world that we know, Bela's leak about the hidden secrets of the nine families that control the world is spreading like wildfire. Protesters are rioting, war is raging and everyone is out looking for her. And Hum… after tricking Bela into being the source of the leak and no longer having a purpose for her, sends in his hoard of reptoids (well-dressed lizard men) to kill her. But when Grahame and his trusty bugbear assistant (and lovable character) Jason step into save her, she soon realises that, well, they are actually there to kill her as well.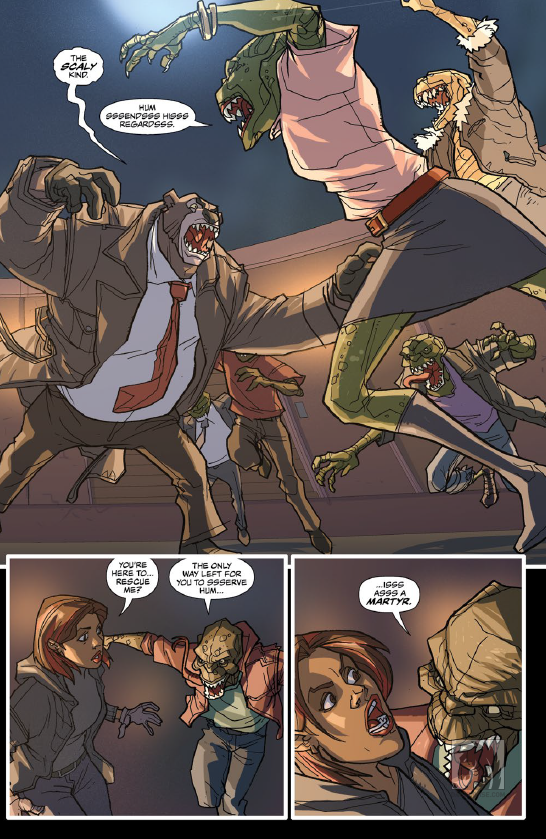 Writing
Van Jensen has rolled together all the elements of the previous issues that I have enjoyed into this one issue. It has cryptid creatures (the Grays are too cute), references to real world conspiracies (the blue mustang statue at the Denver International Airport), evolving relationships between Grahame, Jason, Temple… and (finally) Bela. Not to mention all of the action too! There was a lot of story explored in this issue but it never felt overwhelming or rushed. With very minor complaints with the unrealistic nature of one scene (the ritual for the spear of Mars), and what felt like a glazing over of Nick's death (given the emotional connection Grahame had with him), the story was fantastic, and brilliantly led to a must read issue complete with an unexpected cliffhanger to finish.
Artwork
Again Pete Woods is a master at mirroring the artwork to compliment the story. In previous issues I found the action fighting scenes to be a bit cluttered and confusing, but that was certainly not the case here.  The layout of the panels flow smoothly, are easy to follow, and the vibrant and consistent colours, which were a feature of previous issues, adorn every page. If I have to pick a fault, and I guess as a reviewer that's my job, I did find the font used by the Grays (cryptid aliens) hard to read.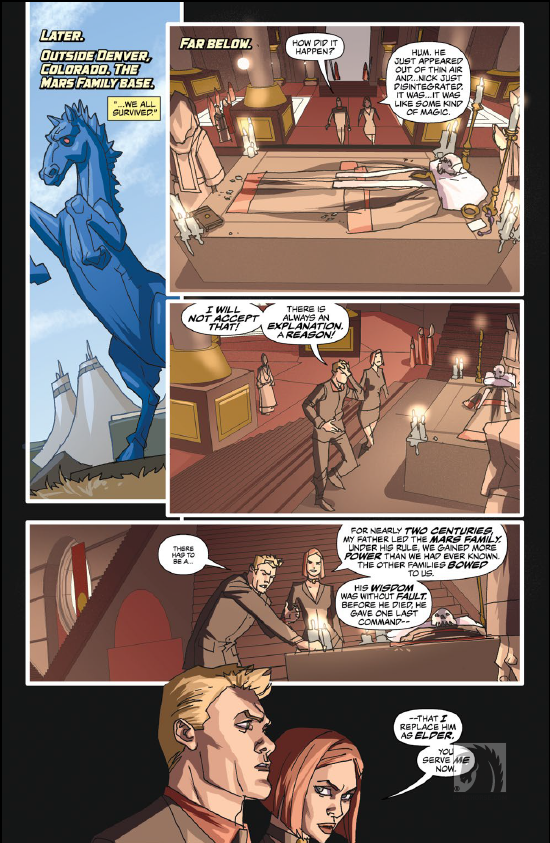 Final Thoughts?
This issue has knocked it out of the park for me and I would have to say that Cryptocracy #5 is my favourite of the series. You definitely will not be disappointed with this one, it is truly a must read. So stop waiting and order your copy today!
Comic Details
Publisher: Dark Horse Comics
Writer: Van Jensen
Artist: Pete Woods
Cover Artist: Pete Woods
Genre: Science-Fiction, Action/Adventure
Publication Date: 2nd November, 2016
Format: FC, 32 pages, ongoing