Comics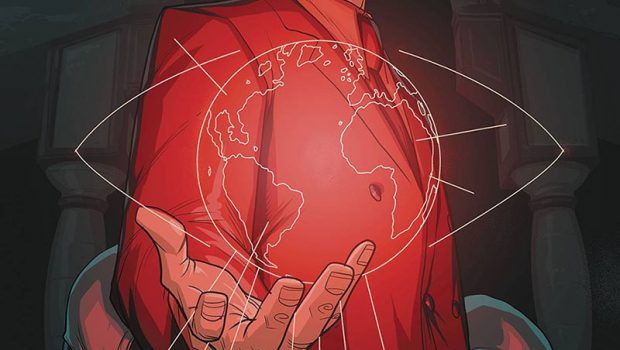 Published on June 13th, 2016 | by Lyla Saudi
Cryptocracy #1 Comic Book Review
Summary: Viewing the world from the eyes of those who secretly rule it for us.
Nine families rule our world. Secretly hidden and operating from the shadows, no one knows they even exist. Of course there are conspiracy theories about them – Is there an Illuminati? Is there a New World Order? Are we being brain washed? The answer, of course, is yes! Written by Van Jensen (The Flash) and illustrated by Pete Woods (Deadpool), Cryptocracy shows us the world from the perspective of the conglomerate that rules it and every one of us.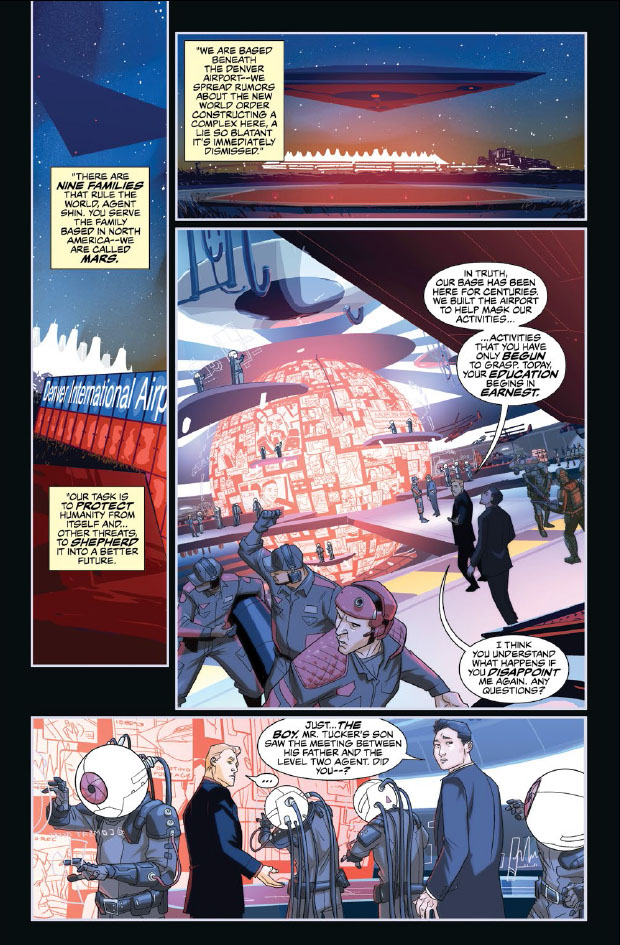 The story follows Grahame, one of the leaders of the nine families. There is no government level conspiracy that his family are not behind. From cover ups and murder to blackmail and having little aliens wipe your memory clean, Grahame and his team of cryptozoological creatures are behind it all.
With each of the nine families ruling their own part of the world they have nothing to fear, they are in control, they have no enemies, well, except each other. And it is here where Grahame, who is in the middle of already managing a Roswell grade cock-up after a mission to stop the unveiling of the secrets of dark matter, has his perfectly controlled world starting to turn sour.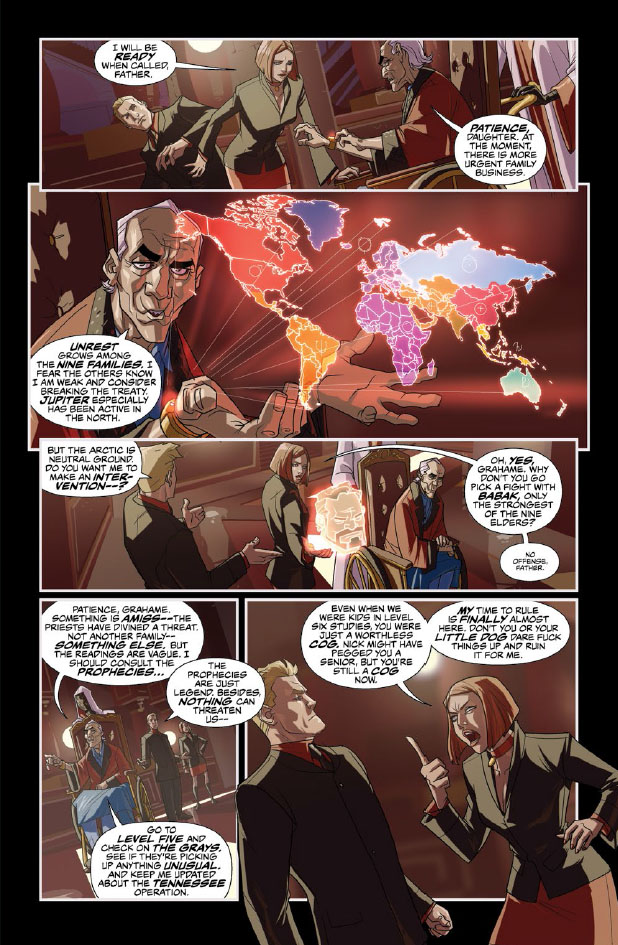 As news spreads that the elder leader of Grahame's family is on the verge of dying, as siblings rival for power, and the next elder leader must be nominated, suddenly the family appears weak. The unrest has already been growing amongst the other eight ruling families, they seek more control and now the treaty that unifies them all is about to break.
And if that isn't enough for Grahame to deal with then let's add a new enemy into the mix, a hit man. With the intent to hunt down and destroy each of the nine families, will they all band together to stop him or will it be up to Graham and his team to save his family and save humanity.
Writing
Van Jensen covers a lot of ground in this first issue but he does it well. Right from the start you are plunged into the heart of story where there is a lot of information and characters to take in, but each character is intriguing and the story is unique and relatable. It has a good balance of sci-fi, action and humour and I liked how Jensen found clever ways to reference conspiracy theories without making them the main focus of the narrative.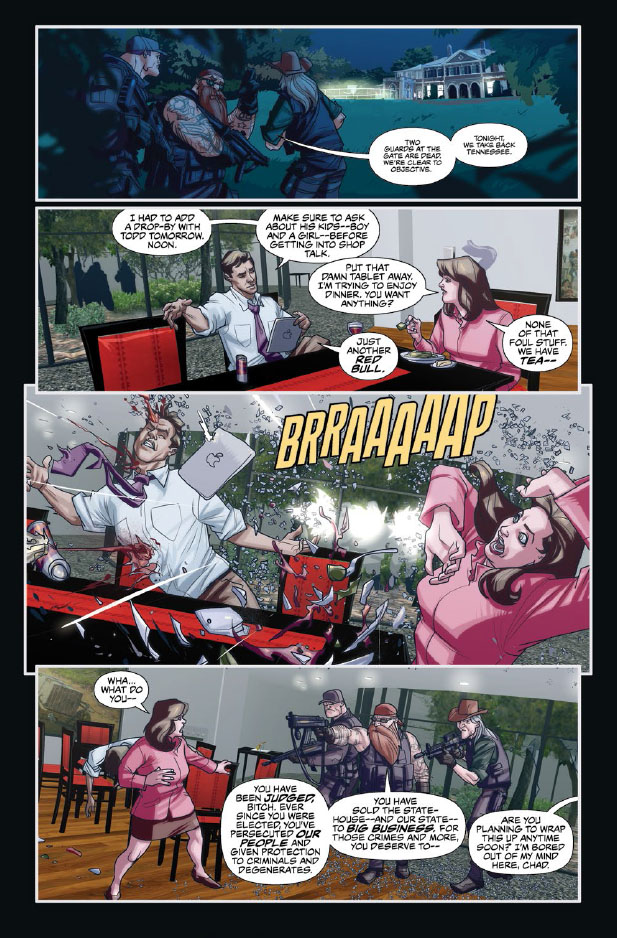 Artwork
The artwork is beautiful. There is a classic and simple panel structure but each one is packed with a lot of striking detail that makes each page pop. Pete Woods uses a great selection of different fonts and speech bubbles for the different species of characters and the colours that are used to depict different scenes and events is fantastic. Some of the action panels may have been a bit confusing to initially understand but that is only a minor issue.
Final Thoughts?
This story has a unique take on your traditional sci-fi and government conspiracy stories. Although a little heavy with the information in the beginning it was not overwhelming. I enjoyed all the twists, loveable characters and fantastic artwork. It made every page fun and exciting to read.  Van Jensen and Pete Woods have a winner on their hands here with a great start to the series.
Comic Details
Publisher: Dark Horse
Writer: Van Jensen
Artist: Pete Woods
Cover Artist: Pete Woods
Genre: Action/Adventure, Science-Fiction
Format: Full Colour, 22 Pages, Ongoing Series
Release Date: June 29th, 2016