Games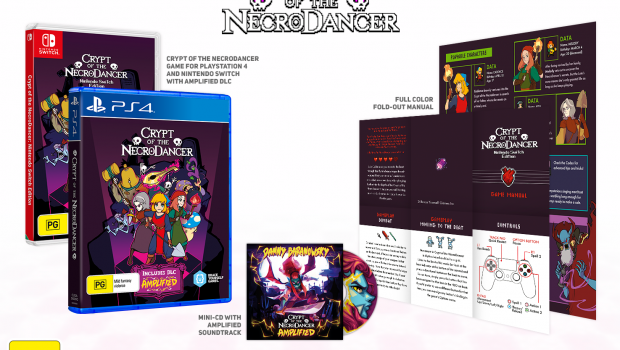 Published on April 9th, 2021 | by Adrian Gunning
CRYPT OF THE NECRODANCER PHYSICAL EDITION NOW AVAILABLE
From the creators of Cadence of Hyrule, Crypt of the NecroDancer is an award-winning hardcore rhythm-based dungeon crawling game. After 5 years, you can finally deliver beatdowns to the beat again. Reclaim your still-beating heart with a glorious physical edition of Crypt of the NecroDancer, including the "AMPLIFIED" DLC for the Nintendo Switch and PlayStation 4!
Along with the game and "AMPLIFIED" DLC, the physical edition contains:
Full-colour manual
Mini-CD of the original NecroDancer and "AMPLIFIED" DLC OSTs never before released physically, with music by Danny Baranowsky feat. FamilyJules and guest artists, and art by the talented Anailis Dorta
Join Cadence once again as you move to the beat through this rhythm-based roguelike adventure! Find your enemies' weaknesses and unlock new characters while plunging further into the depths of the Crypt of the NecroDancer to reclaim your still beating heart – or be doomed to dance forever in this dungeon.
Players must move to the beat navigating randomly generated dungeons while battling dancing skeletons, zombies, dragons and more, while grooving to the game's award-winning Danny Baranowsky soundtrack. You can even team up with a friend in local co-op mode!
Crypt of the NecroDancer is now available at Australian retailers on PlayStation 4 and Nintendo Switch.