Comics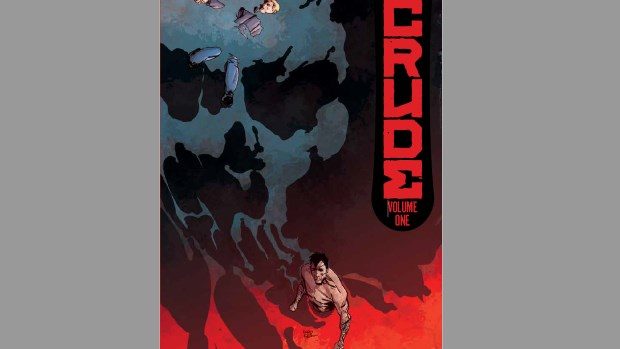 Published on December 8th, 2018 | by Chris O'Connor
Crude Volume 1 TPB Comic Review
Summary: A father hiding his life from his son and a son hiding his life from his father leading to tragic consequences.
Crude is very similar to Taken, but change Liam Neeson's character to a Russian and rather than an abducted daughter, a murdered son. That rough similarity (a highly skilled killer father seeking justice for their child) is something no doubt many parents can relate to… at least the desire to seek justice… obviously we don't all have a "unique set of skills". But Piotr (the main character) learns so much about his son while seeking revenge that he is left questioning his choices in life.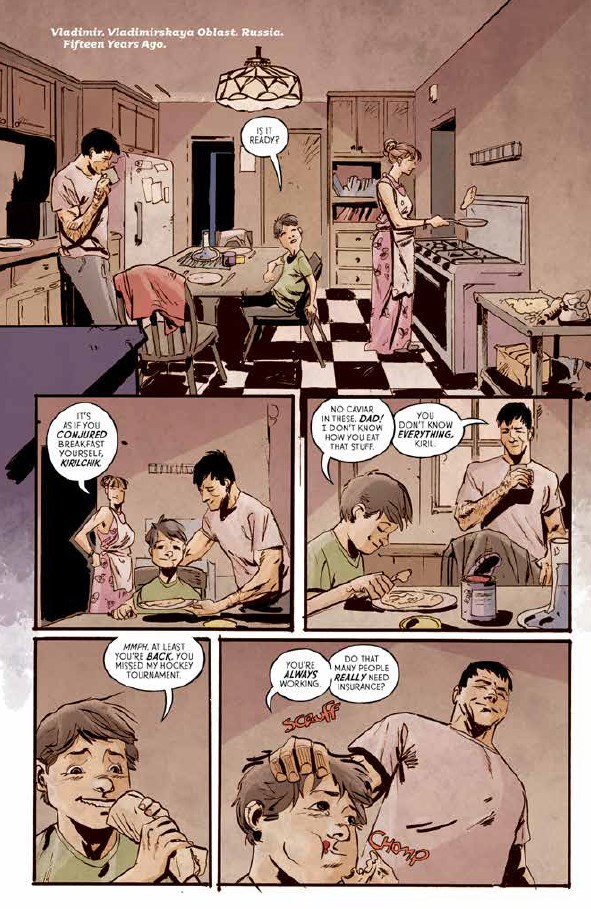 Writing
There's a great deal more depth here than simply a revenge story. There are layers to the story that give it much more texture and help to do that often tricky thing of making a killer seem almost likeable. The very opening sets the tone of mystery and hidden lives but that is then echoed later in the story to great effect. I won't ruin some of the deeper elements of the story but I will say that the revelations later in the book are quite touching and play against stereotype in such a powerful way that it drives home the core idea even harder. A parent is linked to their child and any harm to their child is harm done to them, love will take a parent places they might not normally go but they will try and do all they can for their child (even if they later feel they could have done better).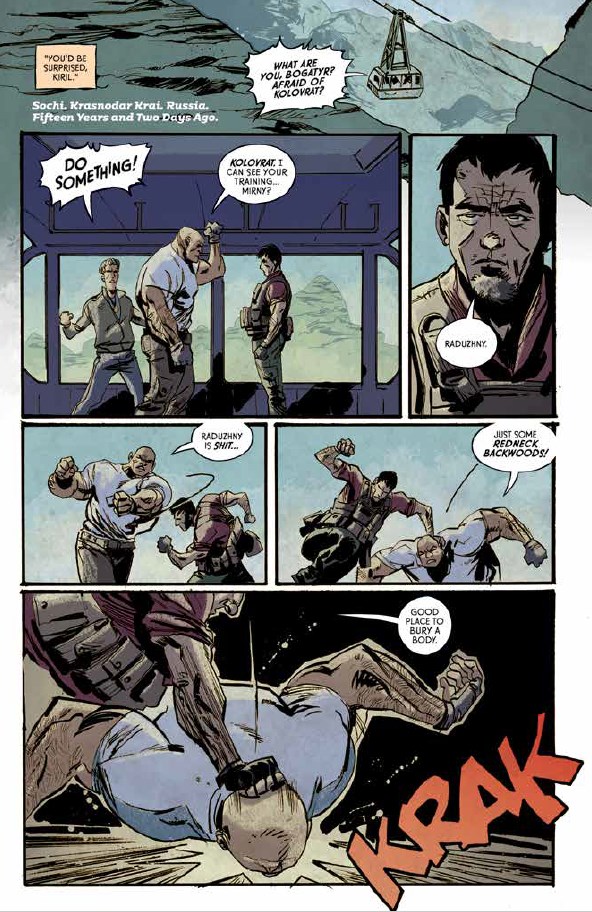 Artwork
Colour is used sparingly throughout Crude but how it is used is important. There are no pages awash with block colours… the colours though few per page are imbued with subtle shades so that the images don't just fade into the background… they have clear delineation. The minimal colour also works very importantly to keep the mood subdued throughout… we are after all talking about pretty inhospitable locations with quite unpleasant circumstances.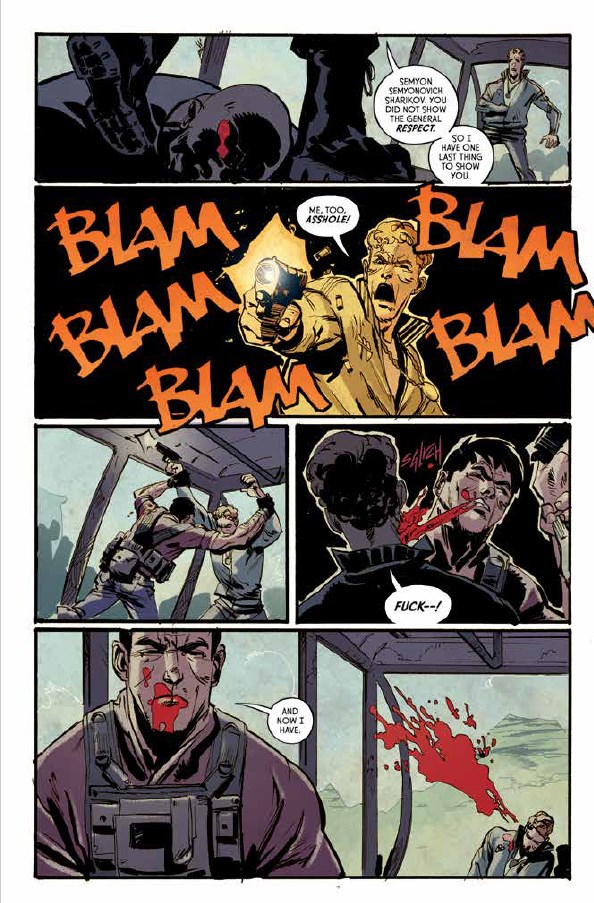 Final Thoughts
It would be easy to simply say Crude is an alternative to Taken… but there is arguably more depth to Crude. Taken works well as a simple action film with an understandable premise… but Crude takes that basic set up and adds more flourishes to give more life to the characters. As a parent I can understand the desire to seek justice for your child when they have been harmed and it instantly gives Piotr a strong motivation for all of his subsequent actions. But to have that path of killing filled with moments of learning and realisations as well makes this story far more compelling.
If you like a good action story with a bit of heart… give Crude a look.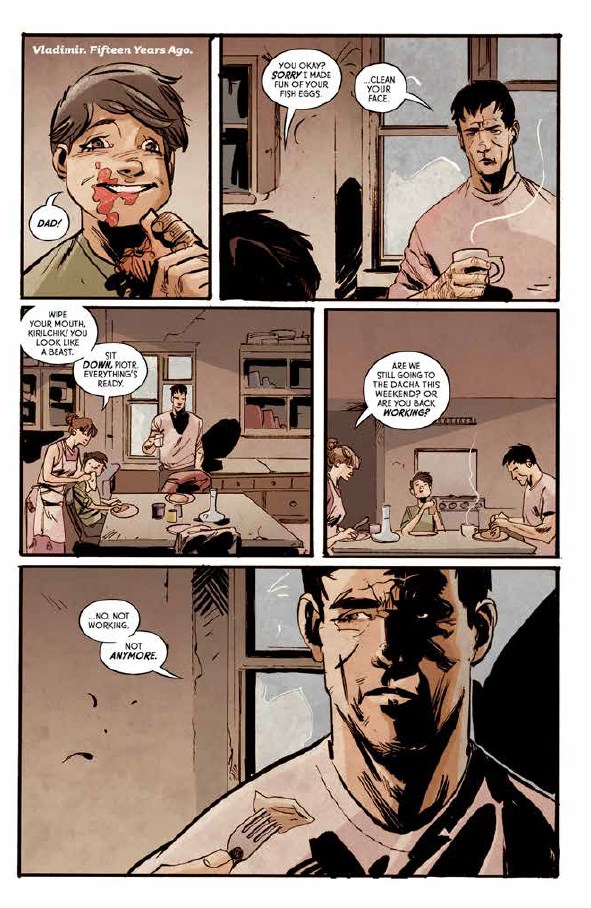 Publisher: Image Comics
Writer: Steve Orlando
Artist: Garry Brown
Colourist: Lee Loughridge
Cover Artist: Garry Brown
Genre: Action, Thriller
Format: 140pgs, FC, TPB
Release Date: 21st November, 2018