Hardware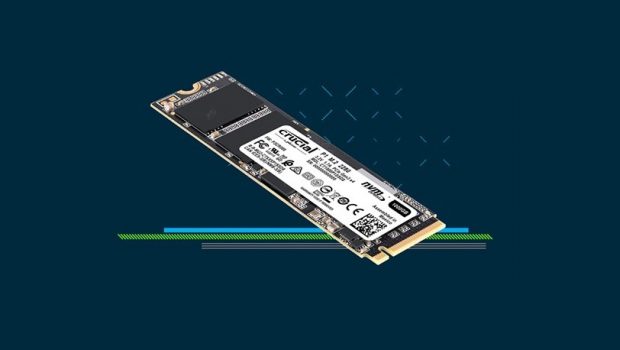 Published on November 21st, 2018 | by James Wright
Crucial P1 NVMe SSD Review (Nov 2018)
Summary: The Crucial P1 NVMe SSD provides some excellent performance at a very affordable price.
As 'Orange is the new Black' so are the new NVMe SSD's that delivers unparalleled performance in terms of speed courtesy of a new communication protocol dubbed non-volatile memory express which replaces the aging AHCI technology. It also incorporates the latest solid state drive technology. According to Crucial, their new P1 NVMe SSD can offer insane speeds of up 2,000MB (Read) and 1,700MB (Write) which crucify non NVMe SSD's or traditional hard drives. Sure these speeds are not a constant, however for everyday use or gaming, it's a zippy little device.
The Crucial P1 NVMe SSD is available in three sizes that include 500GB (CT500P1SSD8), 1TB (CT500P1SSD8) or 2TB (CT2000P1SSD8) which 2000GB. Needless to say, these drives are ideal for both gamers and PC enthusiasts or users who just want the luxury of accessing their data at supersonic speeds, including ultra-fast boot-up times.
I feel the need – the need for speed!
Peter 'Maverick' Mitchell – Top Gun
All kidding aside, these drives have considerably less problems in terms of data corruption and to give the user an additional piece of mind, these units are backed by Crucial' s 5-year limited warranty. It even has adaptive thermal protection and has a mean-time-failure (MTTF) of 1.8 million hours which will probably outlast your PC. They are also powered by the latest flash (Micron 64-layer 3D QLC) and controller (Silicon Motion SM2263ENG) technology with a form factor of M.2 2280 plus it has excellent power consumption.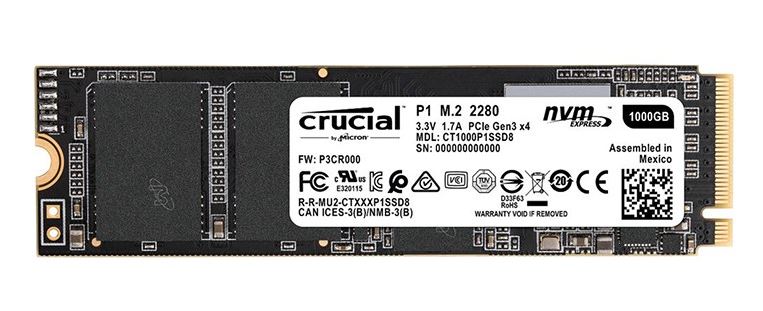 Crucial P1 1 TB Specifications
Brand: Crucial
Model: CT1000P1SSD8
Capacity: 1000 GB (931 GB usable)
Controller: Silicon Motion SM2263ENG
Flash: Micron 64-layer 3D QLC
DRAM:  Micron DDR3L 1 GB
Endurance:  200 TBW
Form Factor: M.2 2280
Interface: PCIe Gen 3 x4, NVMe 1.3
Device ID: CT1000P1SSD8
Firmware: P3CR010
Warranty: 5 years
Installation is extremely easy and if you want to maximise this drive to its fullest, you can install the Crucial Storage Executive software from this company which allows you to update the firmware of the drive and has useful features like tracking the health of this device and even a secure erase function… and if you have existing data, the P1 comes with the excellent Acronis True Image program which allows you to clone information from one drive and then place it onto the new drive which once again is very easy.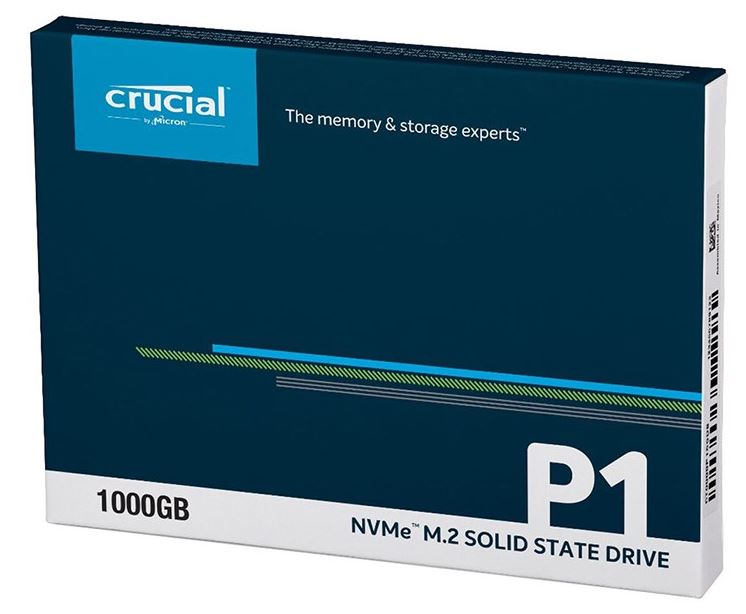 Before we jump into our benchmarks, the P1 was tested on an Intel Core i7-7700K 4.2 GHz system with 32GB DDR4-3200 RAM plus the latest version of Windows 10 thanks to a certain CPU manufacturer. It is a fresh system with all the latest Windows 10 updates and no other software installed. Compared to our previous SSD unit, boot-up went from 28 seconds to a speedy 16.2 seconds.
The first benchmarking tool we used was AS SSD Benchmark (ver 2.0.6821) which is a great comparison tool for SSD's and their newer NVME SSD siblings. According to AS SSD, the P1 scored a read speed of 1889MB/s and a write speed of 1595MB/s. Given that most SSD's are around the 500MB/s mark, the P1 really flies.
PCMark8 from the creators of the highly popular graphics card benchmarking program 3DMark attempts to simulate real-world scenarios and the P1 scored nicely in the middle of other NVMe's with a bandwidth score of 520.83 and a total storage score of 5071. Another useful testing app is DiskBench which scored an average of 298MB/s of transfering files of different sizes and according to other results, the P1 is right in the middle. The last test was through the classic CrystalDiskMark which is a highly popular and easy to use benchmarking tool. For a sequential read (Seq Q32T1), the P1 had an average of 1930MB/s with a write of 1679MB/s which mirrored the advertised results of Crucial.
Final Thoughts?
It's great that Crucial have joined the NVMe fray in order to increase the competition, drive costs down and more importantly offer end-users an affordable drive with impressive read and write speeds. Although there are other NVMe's on the market which are faster, Crucial have delivered a drive that has enough grunt and power to play with the bigger players but at a considerably cheaper price (from $330AUD online) and that my friends is where the Crucial P1 NVMe SSD shines!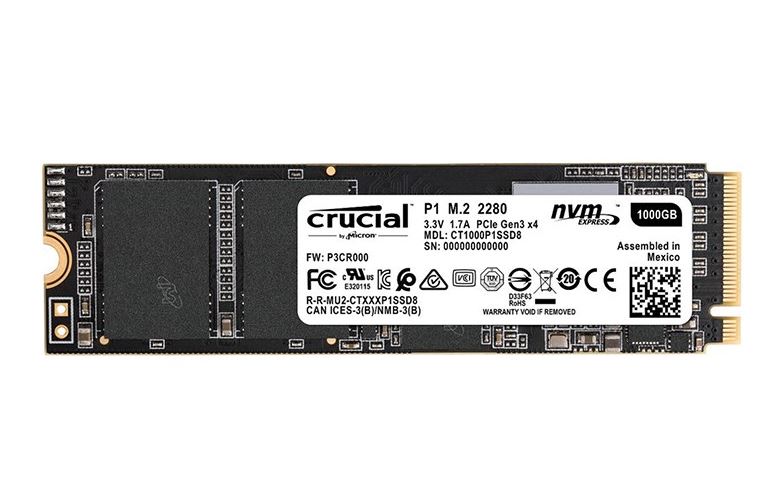 To celebrate the release of the Crucial P1 NVMe M.2. Solid State Drive and courtesy of Crucial, we are giving away a 1000GB unit! To enter, click here!