Hardware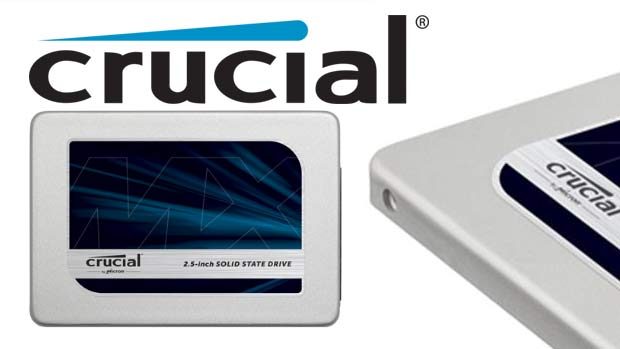 Published on July 17th, 2016 | by James Wright
Crucial MX300 Solid State Drive Review (750GB)
Summary: The Crucial MX300 Solid State Drive (750GB) is a great direction from this company that provides affordable storage with some grunt to boot!
Crucial have once again come to the rescue of gamers and PC enthusiasts from around the world with their affordably priced MX300 Solid State Drive (CT750MX300SSD1) that is not only 13 times faster than a traditional hard drive but more durable, energy efficient and uses groundbreaking 3D NAND flash technology. 3D NAND technologies allows designers to stack memory cells vertically in multiple layers to boost overall performance (including cooling) and lower latency.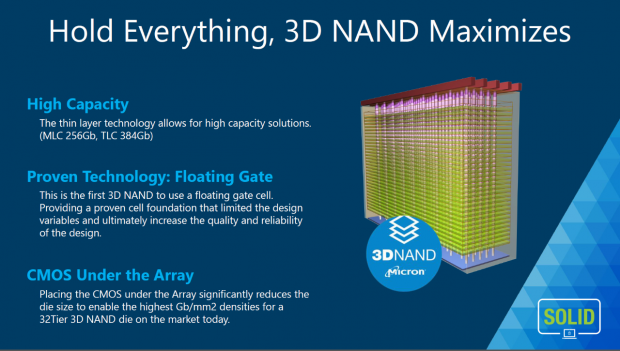 According to tests performed by Crucial (we'll also do our own tests later on), the MX300 boasts speeds of up to 530MB/s (read) and 510MB/s (write) to give users almost instant access to their files which is a must have feature for gamers. Ironically, this drive is only available with a 750GB Limited Edition model which may deter some users but for us, it's still a great buy as it's also one terabyte.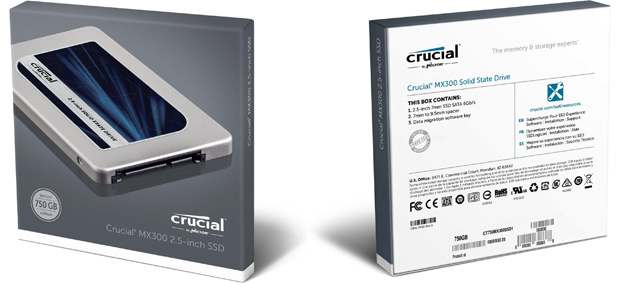 Key Specifications
Form Factor: 2.5 inch 7mm SSD
Capacity: 750GB
Read Speed: 530 MB/sec
Write Speed: 510 MB/sec
Warranty: 3 Years
Condition: New
Inside the box, it contains the 2.5″ 7mm SSD SATA 6Gb/s drive, a 7mm to 9.5mm spacer and also a data migration software key (Acronis) which basically helps the user move data from one unit to another. The only additional thing you need are the data and power cables. Compared to older drives, installing the MX300 into either a laptop or a desktop is very easy due to its size and how lightweight the drive is.
Once installed, our system's BIOS automatically picked up the MX300 as did Windows 8.1 and Windows 10. Crucial also give the user access to another software tool called Storage Executive which basically checks the health of the drive, allows you to update its firmware, set encryption and other useful features like secure erase.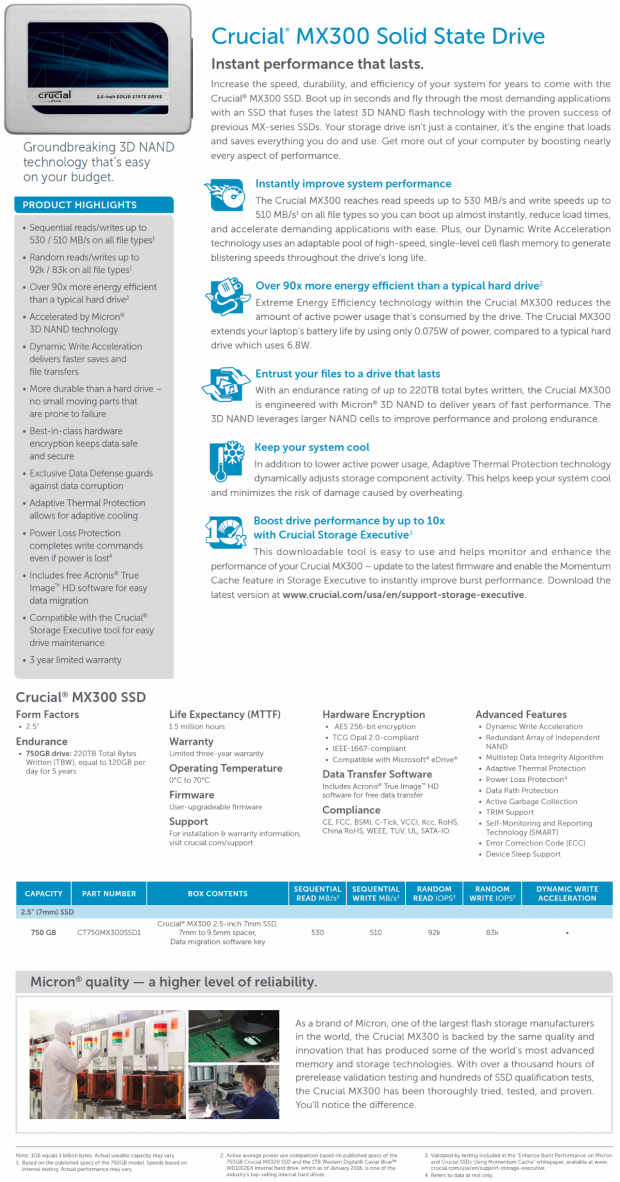 Benchmarks
Before we get to benchmarks, these tests can be subjective and even biased depending on a plethora of external factors like operating system, what's inside your PC and what software is installed. Even the wrong piece of hardware incorrectly installed can cause a bottleneck in performance.
However in order to be as neutral and fair as possible, all our tests are done on a system with the bare minimal of software installed and is powered by an Intel Core i5-4670k CPU with 32GB of Kingston HyperX RAM which are readily available for users.
The first test used on this drive was ATTO Disk Benchmark that is a no frills and quite user friendly tool that is used by professional across the globe to test the speed of their drives.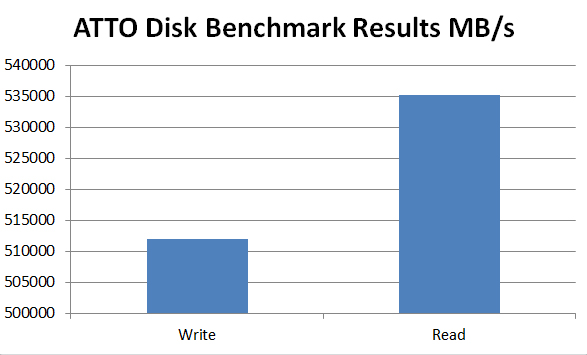 As you can see from ATTO Disk Benchmark results, these speeds of 512Mb/s for write and 535Mb/s for read does mirror the speeds provided by Crucial. However ATTO Disk Benchmark is only a snapshot of the drive.
Next up was CrystalDisk Benchmark, another favourite tool of testers which scored similar results for its Sequential Q32T1 test which was 534.8 (Read) and 511.2 (Write). CrystalDisk Benchmark also gave us the following results;
Seq Q3T1 [Read 534.8 / Write 511.2]
4K Q32T1 [Read 379.2 / Write 327.8]
Seq [Read 456.3 / Write 510.9]
4K [Read 29.2 / Write 145.3]
The next step in testing was AS SSD Benchmark which is a much more conservative program and does parallel more real-world use.
Seq [Read 491.7 / Write 485.6]
4K [Read 27.3 / Write 125.7]
4K-64Thrd [Read 356.2 / Write 295.9]
Acc.time [Read 0.038 / Write 0.055]
AS SSD Benchmark also has a program and game test with this tool scoring program use at 320.77MB/s and gaming at 420.0MB/s. This test is a little strange as gaming scored faster than software use but nonetheless, I'd be happy for an average speed of 420.0MB/s. The final test was PCMARK 8 which bordered more on real-world tests with an average score of 267MB/s.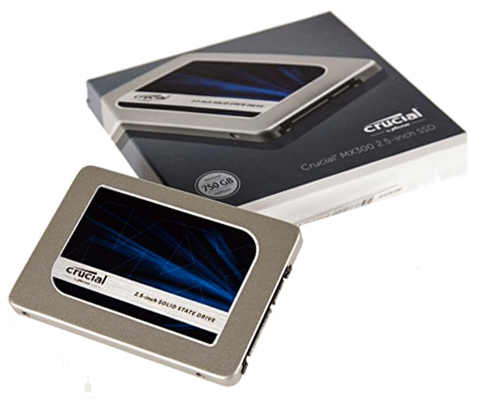 Final Thoughts?
The MX300 drive from Crucial is a very decent SSD with its main competitor still the Samsung SSD 850 Evo which just gets the edge on this device. However, given the price, size and speed, the MX300 is still a viable option for gamers and PC enthusiasts from around world that comes with a 3-year warranty a whopping 750GB that should keep most users out of trouble when it comes to space.
Product Highlights
| | |
| --- | --- |
| Brand | Crucial |
| Form Factor | 2.5-inch internal SSD |
| Total Capacity | 750GB |
| Warranty | Limited 3-year |
| Specs | 750GB 2.5-inch internal SSD • SATA 6.0Gb/s • 530 MB/s Read, 510 MB/s Write |
| Series | MX300 |
| Product Line | Client SSD |
| Interface | SATA 6.0Gb/s |
| Device Type | Internal Solid State Drive |
| Unit Height | 7.0mm |
| Form Factor | 2.5-inch (7mm) |
| Package Content | Crucial MX300 2.5-inch 7mm SSD, 7mm to 9.5mm spacer, Data migration software key |