Hardware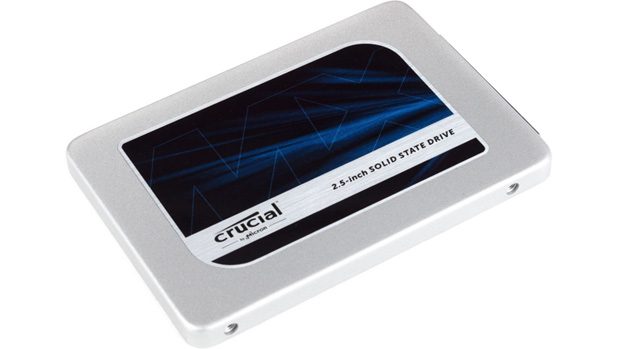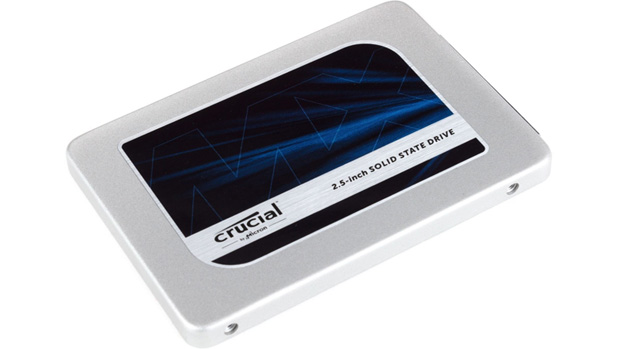 Published on October 1st, 2016 | by James Wright
Crucial MX300 1050GB Review (CT1050MX300SSD1)
Summary: The Crucial MX300 1050GB is a great midrange contender from this company that offers good speeds, great tools and overall a perfect solution for those looking for space and performance on a budget!
Crucial are the masters of affordable solid-state drives and their latest line is the MX300 (CT1050MX300SSD1) which is a 2.5″ (7mm) unit which also comes with a 9.5mm adapter. The first drive in this series was the 750GB which was a special edition unit but now it comes in five different sizes that include 275GB, 525GB, 750GB, 1050GB (Reviewed) and 2TB. The drive also comes well-packed from Crucial with everything you need to upgrade.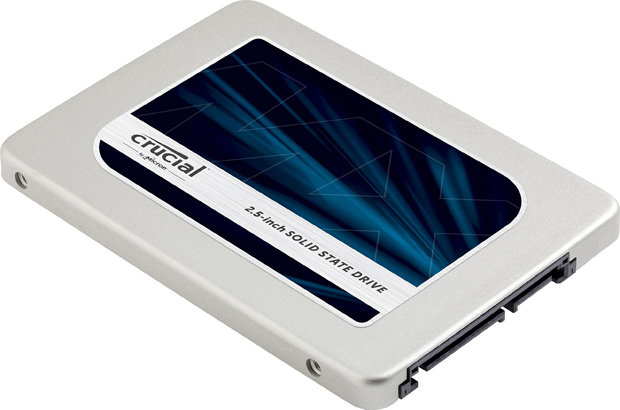 If you've been following hard drive evolution over the years, you may have noticed that this drive does not follow the standard 256GB configurations (hence the slightly unusual sizes) which is due the larger 3D TLC NAND. Add in some very respectable read (530MB/s) and write (510MB/s) speeds plus a generous 3-year warranty plus Acronis® True Image™ HD which allows for data migration and you have everything you need to upgrade your existing PC or starting from scratch.
Product Specifications
Brand: Crucial
Form Factor: 2.5-inch internal SSD
Total Capacity: 1TB
Warranty: Limited 3-year
Specs: 1TB 2.5-inch internal SSD • SATA 6.0Gb/s • 530 MB/s Read, 510 MB/s Write
Series: MX300
Product Line: Client SSD
Interface: SATA 6.0Gb/s
Device Type: Internal Solid State Drive
Unit Height: 7.0mm
Form Factor: 2.5-inch (7mm)
Package Content: Crucial MX300 2.5-inch 7mm SSD, 7mm to 9.5mm spacer, Data migration software key
One of the highlights of the Crucial MX300 is Micron® 3D NAND technology which extends the life and performance of the drive by stacking the cells more efficiently on the SSD. Other features include, hardware encryption, adaptive thermal protection and data defense to protect your data, especially from data rot plus power loss protection, adaptive thermal protection to help cool the SSD. Furthermore, laptop users will be pleased to know that the drive only uses just 0.075W of power and the endurance rating of this drive is 220 TBW.
Available via a download (www.crucial.com/usa/en/support-storage-executive), users can install the very useful Crucial Storage Executive which is a handy little tool to not only monitor your drive's health but also assist with overall performance. By loading this software on your PC, it keeps you informed of the latest firmware releases and monitors the data on the SSD. Another interesting feature of Crucial Storage Executive is a cache features which in theory speeds up accessing certain data on your drive. It basically stores data in its cache which speeds up performance. Other features of this software include firmware updates, encryption options and a secure erase.
The design of this 2.5″ (7mm) form factor SSD is quite a sturdy and a compact unit that mirrors the previous builds from Crucial, including its branding and colouring. To find the model and serial number of the drive, this is located on the back of the unit itself.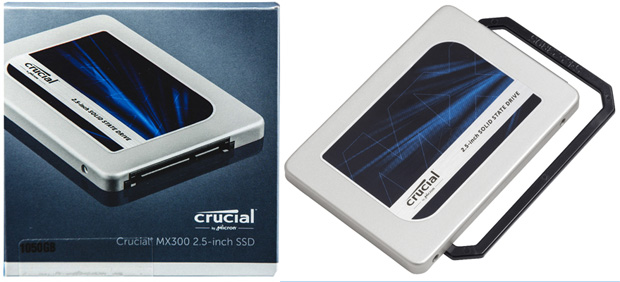 The only additional thing you need to install this drive are the data and power cables and these can be purchased from all good computer stores. Once installed, our system's BIOS automatically picked up the MX300 as did Windows 10. The power and SATA connectors also appear quite firm and all in all, this is a well designed and built drive from Crucial.
Moving on from aesthetics, let's talk about benchmarks which measures the performance and more importantly the speed of the drive. Just be aware that benchmarking can be subjective and all our tests are done on a new system with the latest updates for Windows 10. Our PC was powered an Intel Core i5-4670k CPU with 32GB of Kingston HyperX RAM which are parts that readily available for users.
Benchmarks
Our first test for the 1050GB MX300 was ATTO Disk Benchmark (available for free) that is a no frills and quite user friendly tool that is used by professional across the globe to test the speed of their drives. From the scores below, the drive scored a respectable 513Mb/s for write and 534MB/s for read which mirrored the benchmarks from Crucial.
CrystalDisk Benchmark is another favourite tool of testers which scored similar results for its Sequential Q32T1 test which was 533.1 (Read) and 512.4 (Write). CrystalDisk Benchmark also gave us the following results;
Seq Q3T1 [Read 535.1 / Write 511.9]
4K Q32T1 [Read 379.9 / Write 328.9]
Seq [Read 457.7 / Write 511.0]
4K [Read 29.9 / Write 145.9]
Following these two benchmark tools, we used AS SSD Benchmark that is a much more conservative program and does parallel more real-world use.
Seq [Read 490.3 / Write 484.9]
4K [Read 26.9 / Write 124.3]
4K-64Thrd [Read 355.1 / Write 294.3]
Acc.time [Read 0.036 / Write 0.051]
Furthermore AS SSD Benchmark has a program and game test that scored 321.23MB/s for programs and 421.9MB/s for gaming. As a gamer, the speed for accessing data is very respectable and I would be happy to play games with that benchmark score. Our final test was PCMark 8 which is considered an industry standard for PC benchmarking that testes all facets of your PC, including hard drives and for us is more of a real-world test. The MX300 1050GB scored an average of 268MB/s that puts this unit right in the middle of the pack of its competitors.
Final Thoughts?
The Crucial MX300 1050GB SSD is a strong mid-range consumer drive and whether you're a gamer or PC enthusiast, the features and performance of the drive delivers quite well. It's great that Crucial continue to think outside the square in order to offer the end-user an affordable product which some really useful add0ons like data protection, migration software and adaptive thermal protection which helps to cool this drive.
Some of its benchmarks were a little inconsistent at times, however testing can be subjective but overall, it's a good contender, even though there are other drives such as the Samsung 850 Evo which does shave off a few more seconds from its read/write speeds. Add in a 3-year warranty for some additional piece of mind and if you're looking to upgrade on a budget, we could happily recommend that you check out the Crucial MX300 1050GB, especially if you're looking for space.
Recommended!