Hardware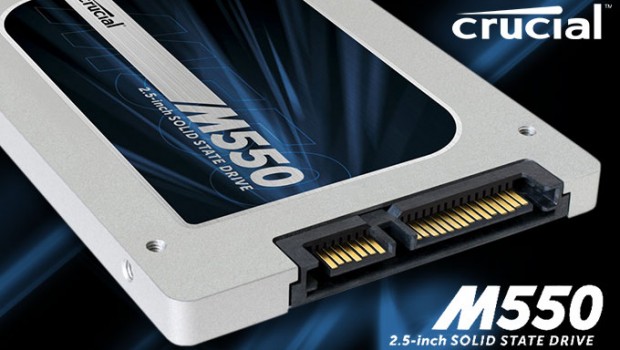 Published on April 10th, 2014 | by Admin
Crucial M550 256GB Review
Summary: The Crucial M550 256GB is definitely a noticeable improvement over its predecessor thanks to the new controller and technological tweaks.
Crucial M550 256GB
Developer: Crucial
Product: SSD (Solid State Drive)
Size: 256GB (Also available in 128GB, 512GB and 1TB)
This new hard drive from Crucial boasts a 2.5 inch 7mm SSD SATA 6Gb/s that also comes with a 7mm to 9.5mm spacer for different case configurations. The unit also comes with a 3-year warranty and boasts a sequential read speed of 550MB/s and a sequential write of 500MB/s which is an improvement over its predecessor.
This SSD also boasts a Micron 20nm 64GB with 128GB NAND plus a new Marvell 88SS9189 controller which assists in the overall performance of this drive and gives its competitors a true run for their money. Another impressive feature is that this SSD offers 256-bit hardware encryption plus adaptive thermal protection to prevent this drive from overheating. The drive is also 20 times faster than traditional plater-based hard drives!
M550 Specifications
NAND Technology: 20nm 64Gb/128Gb MLC
Controller: Marvell 88SS9189
Interface: SATA 6Gbps (SATA III)
Types/Capacities

2.5":  64/128/256/512/1024GB
mSATA: 64/128/256/512GB
M.2:  64/128/256/512GB

DEVSLP: <3mW
Sequential Read (up to): 550 MB/s
Sequential Write (up to): 350 to 500 MB/s
Advanced Features: Native Write Acceleration, Redundant Multistep Data integrity Algorithm, Ada Protection, Active Garbage Collection, Sleep Support
Three-year warranty
In terms of design, the M550 boasts a Spartan yet sturdy design with its metallic casing and definitely gives the illusion that it is stronger than other designs. At the front of the case is the power and SATA connections and this SSD has some great power consumption features that ranged above average when compared to other drives on the market.
At idle, the drive was around 0.96 watts and 4.82 watts at full usage. We installed Windows 7 on the drive (fresh install) and according to BootRacer which checks the boot-up speed of the drive, the Crucial M550 scored an impressive 11.82 seconds which was quicker than the Samsung 840. In terms of the Samsung 840, this is one of the fastest SSD's on the market.
Benchmarking
The first test was PCMark 7 which is a complete PC benchmarking solution for Windows 7 and Windows 8. It includes 7 tests combining more than 25 individual workloads covering storage, computation, image and video manipulation, web browsing and gaming. Specifically designed for the full range of PC hardware from netbooks and tablets to notebooks and desktops, PCMark 7 offers complete Windows PC performance testing for home and business use. It has also a comprehensive hard drive test.

The PCMark 7 Secondary Storage Suite scored a very impressive 5,520 which is definitely on the higher end of the spectrum and was just under the Samsung 840 Pro. We also tested the unit with CrystalDiskMark, another popular disk benchmark software package. The Sequential Read speed pushed 530MB/sec and 501MB/sec for Sequential Write.
Another test was ATTO which is a popular and free benchmarking tool. These tests almost mirrored the advertised speeds from Crucial with a sequential read speed of 552MB/s and a sequential write of 485MB/s. SiSoft SANDRA 2014 produced similar results to ATTO with a write speed of 486.4 and a read speed of 544. It should also be noted that hard drive tests are reliant on what's inside your system that includes CPU, memory, graphics card, operating system and a variety of other factors.
Final Thoughts?
The Crucial M550 256GB is definitely a noticeable improvement over its predecessor thanks to the new controller and technological tweaks. It's also a drive that boasts low power consumption and almost reaches the heights of Samsung's current market star, the SSD 840. Best of all, it's cheaper than the Samsung SSD and is almost just as quick. Crucial should be commended on this drive and if you're looking for a replacement SSD or a secondary SSD than you really should check out this beast!