Hardware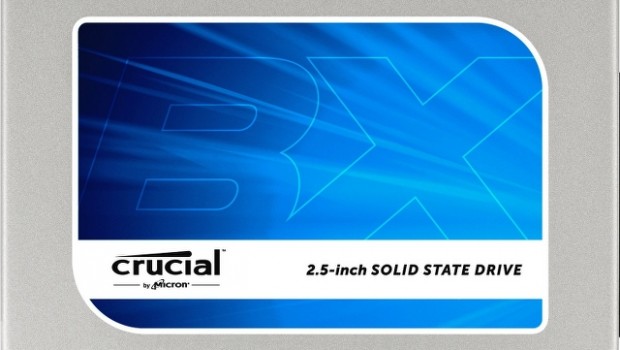 Published on November 10th, 2015 | by admin
Crucial Launches Next Generation BX200 SSD Hard Drive Replacement
New affordably-priced SSD enables users to enjoy their computers again, loading apps in seconds and making long wait times a thing of the past
SYDNEY, 10 November 2015 – Crucial, a leading global brand of memory and storage upgrades, today announced the new Crucial® BX200 solid state drive (SSD), which offers substantial yet affordable performance gains compared to a standard hard drive. The drive, designed for consumers and SMBs, allows users to load applications in seconds, boot up almost instantly, and accelerate every day applications.
Key Messages:
• BX200 SSD allows users to load applications in seconds
• Compared to hard drives, computers will boot up almost instantly
• Applications will accelerate in speed
The new BX200 provides sequential read and write speeds up to 540 MB/s and 490 MB/s respectively on all types of data, as well as random read and write speeds up to 66k and 78k IOPS respectively. Additionally, when compared to a typical hard drive, the new BX200 is more than 13 times faster [i] and 40 times more energy efficient [ii] for almost instantaneous access to data, resulting in longer battery life and a cooler, quieter system. The new drive utilises a Silicon Motion SM2256 Controller and is coupled with Micron verified firmware, allowing users to upgrade their existing infrastructure at an affordable price, which is a great alternative to buying a whole new system.
Micron Consumer Products Group Marketing Manager APAC Mathew Luu explained, "The new Crucial BX200 SSD is an ideal solution for consumers whose computers are slowed down by an old or inadequate hard drive. This SSD is the perfect blend of performance and value, allowing a user to get more done and have more fun. Installing a BX200 will help users enjoy their computers again."
Robert Fan, vice president and general manager of Silicon Motion U.S.A., said, "We are excited about our latest partnership with Crucial on the new BX200 SSD. Our high-performance and low power consumption SM2256 controller combined with Micron 16nm TLC NAND helps make the BX200 reliable, fast, energy efficient and affordable."
Available now in a 2.5-inch form factor, the Crucial BX200 SSD is offered in 240GB, 480GB and 960GB[iii] with MSRPs of AUD$159/NZ$169, AUD$289/NZ$309 and AUD$539/NZ$569, respectively.
For channel enquiries go to http://www.bluechipit.com.au/ or http://www.leadersystems.com.au/.
For end user enquiries in Australia go to Scorptec
(http://www.scorptec.com.au/), JW Computers (http://www.jw.com.au/), mWave
(http://www.mwave.com.au/), Umart (https://www.umart.com.au) and PLE (https://www.ple.com.au/) and in New Zealand PB Tech (http://www.pbtech.co.nz/).
The new drive is supported by the Crucial Storage Executive tool, is backed by a limited three-year warranty, and is compatible with both PC and Mac® systems. The BX200 also comes standard with Acronis® True Image™ HD data migration software that moves all files, operating systems, settings and programs from an existing hard drive to the newly installed SSD. For more information about Crucial SSDs, please visit www.crucial.com