Hardware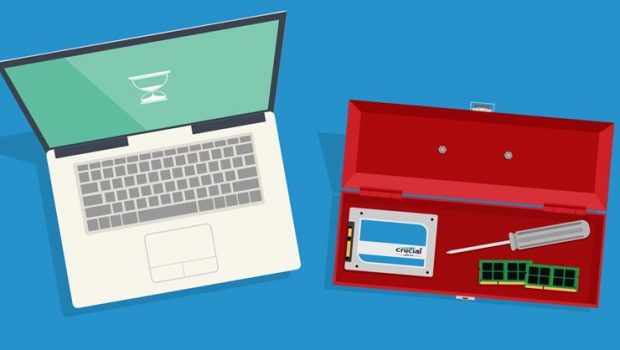 Published on August 23rd, 2016 | by admin
Crucial Launches Easy Fix For Slow Computers
SYDNEY, 23 August 2016 – According to Crucial when your computer begins to slow down, and unresponsiveness and long load times become the norm, there is now an undisputed and particularly easy way to solve the problem.
Micron Consumer Products Group Marketing Manager APAC Mathew Luu explained, "The minutes you're losing matter, and you don't want to spend lots of time and money to solve the problem – you just want a computer that works as it should. Fixing a slow computer can seem like a daunting proposition, but it's not; if the problem isn't a virus or malware, just add more memory and an SSD. These adjustments, which don't require advanced computer skills, can be done in minutes and instantly deliver lasting results.
Memory and your storage drive (either a hard drive or an SSD) are small components inside your system, but you use them to do almost everything. Every time you press the power button, double-click an icon, save a document, move your mouse cursor, or hit a key on the keyboard, you're using memory or storage. When your memory or storage aren't able to keep up, you end up waiting on each and every one of these actions, which adds up.
Crucial DRAM Sr. Product Marketing Manager Jeremy Mortenson said, "Anyone who owns a computer has at some point had to deal with it slowing down. It's a familiar problem, but how do you solve it? In most situations, aside from a virus or malware infection, an SSD and memory upgrade is one of your best bets for instantly delivering tangible, reliable results."
Memory is the pool of resources your system uses to get things done. The more memory you have, the more resources your system has at its disposal, meaning it can do things faster – and handle more things at once. Loading files and apps stored on an SSD is like flipping a light switch – it's almost instant. When performing everyday storage tasks, SSDs are on average 6x faster than hard drives.*
Mortenson continued, "Dealing with a slow computer can be excruciating. But there is hope – a memory and SSD upgrade can be one of the best ways to solve this problem. Get a lot of the time back that you spend waiting, and alleviate the stress that comes with it."
The new technology in SSDs is what creates the major difference in performance. Since SSDs access data on cutting-edge flash memory chips rather than on outdated spinning platters, they operate at faster speeds, consume less power, and are more durable than hard drives because they don't rely on small moving parts that are prone to failure.
Mortenson added, "SSDs beat hard drives in all phases of the performance game. Comparing a hard drive to an SSD is like comparing a horse-drawn carriage to a car. The difference is that real, and it's transforming everything in the computer industry."
The time spent waiting on a slow computer is frustrating – and it adds up. You don't have to make monumental changes to fix a slow computer, just a few small, sustainable changes that deliver immediate and lasting results. The time you're losing matters and now you can get it back with a simple and straightforward memory and SSD upgrade.
Jeremy Mortenson concluded, "Working smarter, not harder, is the key when you want to fix a slow computer. Don't overwork yourself by trying gimmicks or perpetually restarting your computer – go for a simple memory and storage upgrade. These are your best, and smartest, bets for truly solving the problem."
* Performance times based on internal lab testing conducted in August 2015. Each task was executed and timed after the system had undergone a fresh boot so that other factors and applications didn't affect the reported load and boot times. Actual performance may vary based on individual system configuration. Test setup: 1TB Crucial MX200 SSD and 1TB HGST Travelstar® Z5K1000 internal hard drive, both tested on an HP® Elitebook® 8760W laptop, Intel® Core™ i7-2620M 2.70GHz processor, 4GB Crucial DDR3 1333 MT/s memory, BIOS Rev. F50 (5 August 2014), and Microsoft® Windows® 8.1 Pro 64-bit operating system.