Hardware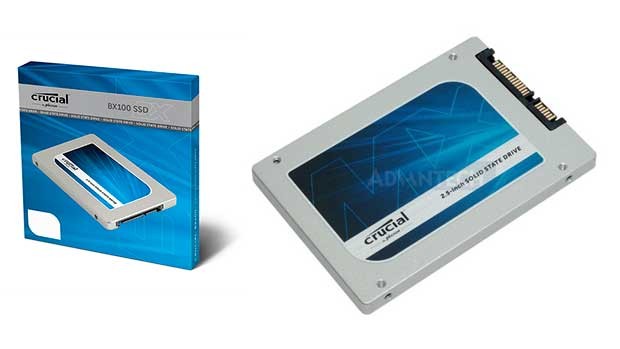 Published on July 24th, 2015 | by James Wright
Crucial BX100 SSD Review
Summary: The BX100 SSD is an affordable entry level hard drive with some good performance, features and support from Crucial
The BX100 from Crucial is an affordable priced SSD (Solid State Drive) from this company that comes in four sizes that include 120GB, 250GB, 500GB (reviewed) and 1TB. In terms of specifications, it is an entry-level drive but it offers users some decent performance that challenges entry to mid-level SSD units. Sure, it may not be the fastest SSD on the market but even Crucial know that sometimes value for money is far superior then performance and thankfully this hard drive delivers in that aspect.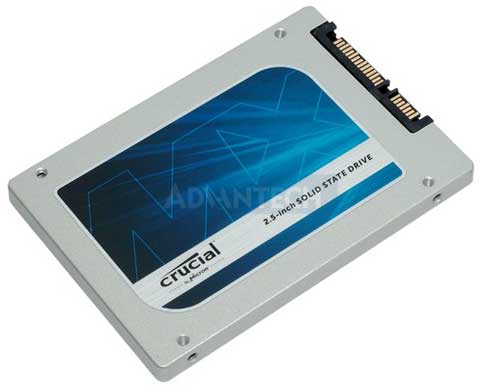 Specifications
Capacity: 500GB
Part Number: CT500BX100SSD1
Box Contents: 2.5″ (7 mm) SSD 7 mm – 9.5 mm spacer
Sequential Read MB/s: 535
Sequential Write MB/s: 450
Random Read IOPS: 90k
Random Write IOPS5: 70k
Compared to traditional drives, the Crucial BX100 is up to 15 times faster and has a reliability rating of 1.5 million hours thanks to its internal architecture and flash memory technology. The BX100 also uses a Silicon Motion SM2246EN Controller with a Micron 16nm 128Gbit MLC NAND to power this SSD. It even has a very green friendly footprint with excellent power consumption at just 4 watts. Add in a 3-year warranty with a recommend retail price of around $249AUD and the BX100 definitely ticks some right boxes.
Another highlight of the product is that it comes with a great little app called Storage Executive which basically monitors your drive's health and even has the ability to check for firmware updates, temperate and capacity. It even monitors the read/write information, including errors and has a great little function called "Sanitize Drive" which provides a factory reset securely your data.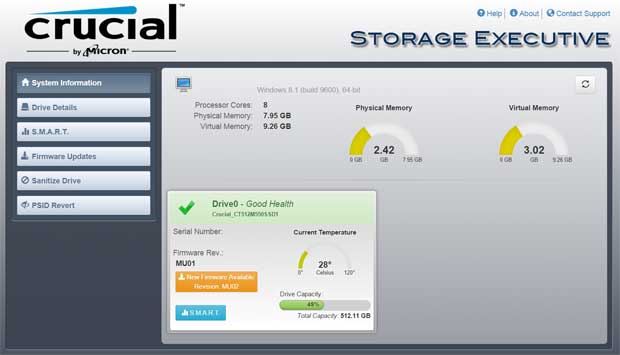 For installation, the box contains a 7mm to 9.5mm spacer, however at an additional cost, Crucial also offer a SSD Installation Kit. This kit comes with a USB to SATA cable, SATA cable, Adapter bracket mounting screws, 2.5″ to 3.5″ adapter brackets and Acronis True Image to help clone your existing drive's contents to the BX100 SSD. In relation to benchmarking, we tested this unit on our Intel Core i7 Extreme Edition CPU 5960X which boasts a speed of 3Ghz with eight-cores that had the latest updates for Windows 7 with 16GB of RAM.
It should be noted that benchmarking is very subjective but it can help determine the performance of a drive. We tested the BX100 with a variety of tools that included Iometer, CrystalDiskMark, AS SSD Benchmark and StorageMark 2012. However during our real-world tests such loading programs, booting into Windows 7, running Microsoft Office, Photoshop and gaming, we did notice that the drive performed rather well in these areas. Once again, this drive is an entry level SSD that is ideal for users on a budget with a few speed tweaks here and there to set it apart from its competitors.
With our benchmarking, we tested the sequential write and read speeds of the BX100 in order to measure large blocks of data in terms of MB/s or megabytes per second. Another test is the 4K test which measures the other end of the spectrum with smaller blocks of data. This then allows us to measure the two extremes.
After our benchmarks, the Crucial BX100 SSD definitely sits in the low to mid level when it comes to performance but all tests mirrored similar results when it comes to read/write times. If you have a basic system, occasional play games or if you're a on a budget, this hard drive is still a great option. We also tested the unit with StorageMark 2012 for both Productivity and Gaming with the SSD performing better with the gaming setting. All in all, it's a good entry level drive that boasts excellent power consumption levels which gives the high-end drives a run for their money when it comes to everyday running costs.
Final Thoughts?
After testing this drive for just over a week, it's good that Crucial is offering the other end of the market an affordable SSD alternative with some great specifications and decent performance, given the speeds. Add in the excellent software tool called Storage Executive plus a 3-year warranty and there's actually nothing negative about the BX100.
For more information, please visit http://www.crucial.com/usa/en/storage-ssd-bx100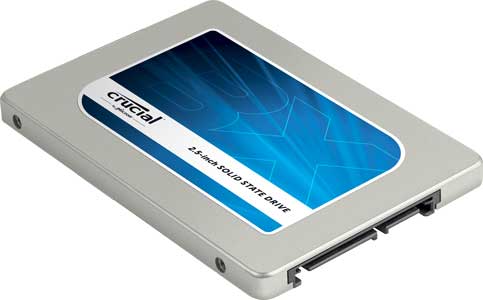 Crucial BX100 Specifications
Capacities:
Form Factors: 2.5-inch, 7mm
Sequential reads: 535MB/s
Sequential writes: 185 to 450MB/s
Random reads (IOPS): 87k to 90k
Random writes (IOPS): 43k to 70k
Life Expectancy (MTBF): 1.5 million hours
Endurance: 72TB total bytes written (TBW), equal to 40GB per day for 5 years
Operating Temperature: 0°C to 70°C
Firmware: User-upgradeable firmware
Advanced Features:

Thermal Monitoring
Data Path Protection
Active Garbage Collection
TRIM Support
Self Monitoring and Reporting Technology (SMART)
Error Correction Code (ECC)

Warranty: 3 years