Hardware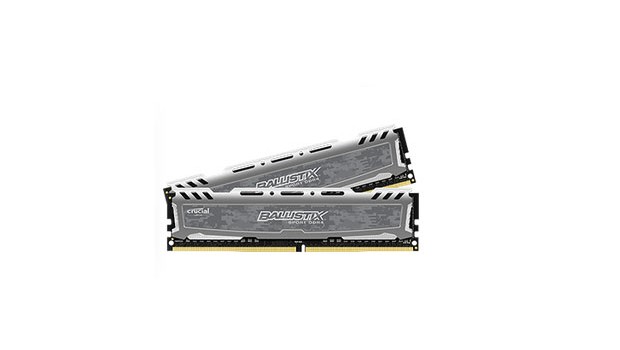 Published on April 1st, 2015 | by James Wright
Crucial Ballistix Sports DDR4 RAM Review
Summary: Great value RAM but not that great at overclocking
Company: Crucial
Product: Ballistix Sports Memory
RAM Type: BLS8G4240FSB (DDR4 – 2400 UDIMM 1.2V)
Size: 8GB
Reviewer: James Wright
This RAM kit from Crucial has been designed for gamers to upgrade their gaming rig and comes in a variety of different sizes and configurations. We tested one 8GB DDR4 2400 UDIMM 1.2V configuration in our Intel system. The RAM also boasts 2400Mhz with a CAS Latency of 16-16-16 that is unbuffered, NON-ECC at 1.2 volts.
For the uninitiated, DDR4 (double data rate) is basically some of the fastest fourth generation of RAM available for PC users. Not only is this RAM faster but it also supports a lower voltage that minimises the bottleneck footprint on your PC and if you're into gaming or design, DDR4 RAM is definitely the way to go.
Another highlight of the RAM is the build itself which is quite sturdy and looks quite professional. I love the gun metal grey included on the RAM which definitely gives it this sporting look to it. Although for most users, they will not see the RAM again once it has been installed into their gaming systems.
The Ballistix Sport even comes with a lifetime warranty which is professionally packed by Crucial with a blurb on the back stating the difference between Crucial's Sport, Tactical and Elite series of RAM. Installing the RAM into our test machine was a breeze and thankfully it's been design to fit in a wide variety of cases that may have space problems.
We tested the Ballistix Sport with AIDA6, the Ultimate System Information and Benchmark utility and with the standard setting of 2400Mhz, the program scored the RAM at 46821MB/s – Memory Read, 47012MB/s – Memory Write and 51312MB/s Memory Copy. By overclocking the RAM to 2600Mhz, we did notice a slight jump but really not worth overclocking. Personally I would prefer stable RAM opposed to system crashes. Memory latency was also around 82.1.
With overclocking, games like Tomb Raider, Diablo III or Battlefield had slight increases but once again, the differences were very minimal. So what does this mean? Well for us, it means that the Ballistix Sport performs exceptionally well at its stock settings and does give its competitors a run for its money, however for those overclockers, this RAM is probably not the best choice. It's more for gamers who want a stable system and then they can forget about the RAM once it's installed.
Final Thoughts?
Once again Crucial's Ballistix Sport providers gamers on a budget with a great alternative that offers decent speeds at its stock settings. Overclocking is possible but in our opinion, it was not worth pushing the memory for a very slight speed increase that for most would not be noticeable. Nonetheless, it's a well designed product that suits a variety of gaming configurations and cases.
Specifications
Brand:

 

Ballistix
Form Factor:

 

UDIMM
Capacity:

 

16GB kit (8GBx2)
Warranty:

 

Limited Lifetime
Specs:

 

DDR4 PC4-19200 • 16-16-16 • Unbuffered • NON-ECC • DDR4-2400 • 1.2V •
Series:

 

Ballistix Sport