Hardware
Published on April 10th, 2016 | by James Wright
Crucial Ballistix Sport 16GB Kit (4 x 4GB) DDR4-2400 UDIMM Review
Summary: The Crucial Ballistix Sport 16GB Kit (4 x 4GB) DDR4-2400 UDIMM is great value for money plus performance!
Crucial have released their new Ballistix Sport DDR4-2400 RAM (BLS2C8G4D240FSC) that targets gamers and performance enthusiasts which not only comes with a limited lifetime warranty but has been designed for speed and performance. You can even overclock this RAM from Crucial in order to give your system a speed boost.
More importantly, Crucial have ensured that the memory remains quite stable in order to get the best out of your system so when the action heats up on the battlefield or just everyday PC usage, users can rest assured that everything will tick along thanks to its design that include elements such as heat spreaders to ensure that the RAM does not overheat.
Highlights
Speeds start at 2400 MT/s
Faster speeds and responsiveness than standard Crucial DDR4 memory
Ideal for gamers and performance enthusiasts
Four channel memory architecture maximizes data rates
Digital camo heat spreader available in white and gray
Easy plug-and-play installation
Intel xMP 2.0 profiles for easy configuration
Optimized for the latest Intel x99 platforms
Limited lifetime warranty
Compared to some other RAM, the appearance also screams gamer which is ideal for those users with windowed cases as they do stand out and come in two colours, either white (reviewed) or grey. Furthermore, installation of the Crucial Ballistix Sport is very easy and we just inserted the RAM into our test machine that had the system automatically detect it and was ready to be used immediately at the advertised speed of 2400Mhz.
The RAM also come well packed from Crucial and out of the box, they are quite a sturdy set of RAM that doesn't appear cheap or flimsy. Also, everything is well placed on the modules that include the heat spreaders which does make for installing this RAM into your system a relatively flawless process, unless you have your CPU fan in the way which can cause a few hiccups. All in all, the design is quite streamlined.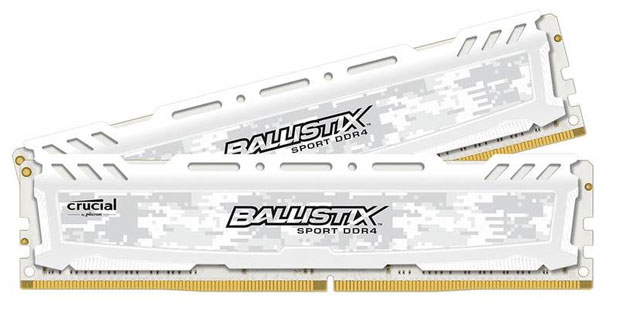 Given that, the RAM have been designed for Intel X99 systems and we tested the Ballistix Sport on our Intel Core i7-5960X (4.0GHz) system. Installing the RAM did require a slightly firmer push to install them into our motherboard but this was nothing new.
Once installed, we tested the RAM on a variety of different programs, including non-gaming elements such as Microsoft Excel, Adobe Photoshop and After Effects with a noticeable difference in terms of performance. Whereas our old RAM had a slight pause for larger files that were manipulated by our PC, this seemed to have improved with these Ballistix Sport DDR4 modules. It should be noted that the Ballistix Sport are not the fastest RAM on the block but given its features and medium levels of sports, it's great value for money.
Although the base timings of the RAM is 16-16-16-39 2T at 1.2V, it can be overclocked and we managed to push the Ballistix Sport to run from the standard 2400Mhz to 2531MHz 12-12-12-31 1T at 1.3v which was a 5% increase that is a slight boost.
We also managed to get the RAM to 2666MHz with settings of 13-13-13-30 at 1.30V, however we found it wasn't as stable as 2531Mhz. Overclocking is a careful dance and whereas we couldn't get the RAM stable at 2666Mhz, we have seen other users manage this but more than likely, it's dependent on the motherboard and lots of trial and error.
As you can see from our benchmarks below, the Crucial Ballistix Sport definitely mirror medium RAM modules but more importantly, they can be overclocked for additional speed benefits.
AIDA64 Memory Benchmark
In terms of gaming, we tested the RAM on games such as Rise of the Tomb Raider, StarCraft II Legacy of the Void and Star Wars Battlefront which had a slight speed improvement but nothing too noticeable. At times, we did get around a 2% increase in some frame rates. Given that the speed of the DDR4 is 2400Mhz, it's definitely great value for money, especially for those users who may be on a budget and looking to upgrade.
Final Thoughts?
In terms of value for money the Crucial Ballistix Sport is definitely on the mark that is not only affordably priced but offers some decent performance for gaming, photo manipulation and day to day computer use.
Product Details
Series: Sport LT
Memory Type: DDR4
Capacity: 16GB (8GBx2)
Multi-Channel Kit: Dual Channel Kit
Tested Speed: 2400MHz
Tested Latency: 16-16-16-39-2N
Tested Voltage: 1.2v
Registered/Unbuffered: Unbuffered 
Error Checking: Non-ECC 
SPD Speed: 2400MHz 
SPD Voltage: 1.20v 
Height: 44 mm / 1.73 inch 
Warranty: Limited Lifetime 
Features: Intel XMP 2.0 (Extreme Memory Profile) Ready  
For more information, please visit http://www.crucial.com/usa/en/bls4k4g4d240fsa