Blu-ray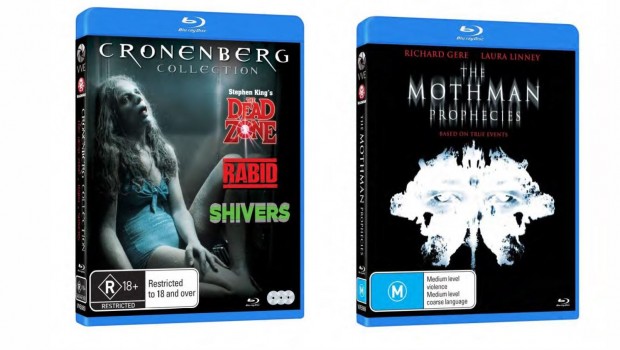 Published on April 11th, 2016 | by admin
CRONENBERG COLLECTION HEADLINES MAY HORROR FROM VIA VISION
Monday, April 11, 2016 – Via Vision Entertainment is pleased to announce the release of The David Cronenberg Collection. The 3-disc Blu-ray set will feature early classics Shivers, Rabid and The Dead Zone, two of which have never been locally available before on Blu-ray. In addition to this release on May 6 Via Vision will also issue on Blu-ray the supernatural thrillers The Mothman Prophesies and The Seventh Sign – the first time in the world the latter has been offered in high definition.
Now regarded as one of the premier filmmakers on the planet, David Cronenberg has mined the terrors inherent in the rituals of modern urban living like no other. The David Cronenberg Collection showcases three of his signature early movies. In Rabid a young woman, adult film star Marilyn Chambers, in an inspired bit of stunt casting, undergoes plastic surgery after a horrific motorcycle accident. The treatment by experimental medical practitioners soon turns her into a blood-thirsty maniac.
Shivers, very much its forerunner, delves into high rise apartment living where a parasite, developed by a doctor who is trying to create more sensual beings, infects the residents turning them into mindless sex maniacs. It's a theme and setting attuned to consumer life after the sexual revolution and still well ahead of its time. The chilly tone, droll humour and inferred terror make Shivers a low budget landmark of the genre.
The Dead Zone, an adaptation of Stephen King's bestselling novel, is a critically acclaimed classic with Christopher Walken as a wretched figure cursed with a second sight. He's a kind of paranormal detective challenged with keeping people of a community safe as he attempts to avert tragedy and impending horrors.
Starring Richard Gere and Laura Linney, The Mothman Prophecies is a creepy supernatural thriller in which a widowed reporter is drawn to a small town in West Virginia where there have been increasing rumours of strange occurrences including news a dark winged figure has been haunting Point Pleasant. There is little to explain the terrifying visions, however, with the help of a local sheriff Gere goes looking for answers fearful that the Mothman might have something to do with the death of his wife. Mark Pellington (Arlington Road) directs.
F.X. Feeney writing in The LA Weekly observed "sharp, fastball compositions and nerve splintering cutting style are of a piece with such intelligence, devilishly mixing shock with optimism." "The scariest movie," wrote Lisa Alspector in the Chicago Reader, "I have ever seen." Rounding off the horror releases for the month Demi Moore and Michael Biehn headline The Seventh Sign, an occult thriller about the end of days. Growing evidence suggests the seven seals have been broken inducing the prophecies in the Book of Revelation. A pregnant and increasingly distressed wife starts putting together the clues convinced a strange new tenant in her apartment is the second coming of Christ. Nominated for Best Film at Fantasporta.