Games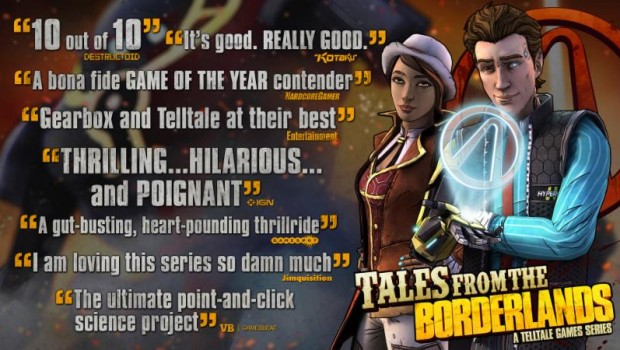 Published on October 22nd, 2015 | by admin
Critically-Acclaimed 'Tales from the Borderlands' Reaches Epic Conclusion
SAN RAFAEL, Calif., October 21st, 2015 — Leading and award-winning developer and publisher of digital entertainment Telltale Games, in collaboration with award-winning developer Gearbox Software, creator of the beloved Borderlands franchise, and publisher 2K, today announced the release of 'The Vault of the Traveler,' the season finale episode for the critically-acclaimed Tales from the Borderlands: A Telltale Games Series.
The episode is available now on PC and Mac from the Telltale Online Store, Steam, and other digital distribution services, and on the PlayStation®Network for PlayStation 4 and PlayStation 3. It is also available today on the Xbox Games Store for Xbox One® and Xbox 360, and on Thursday, October 22nd for compatible iOS and Android-based devices via in-app purchase. The acclaimed first episode, 'Zer0 Sum,' is also available free to download on consoles and mobile devices.
After playing the finale, GamesRadar+ awarded the game with a perfect 5 out of 5 score, calling it, "HILARIOUS, HEARTFELT, AND HIGH-OCTANE," while Entertainment Weekly said, "THE FINALE SUCCEEDS SCENE AFTER SCENE." IGN.com called it, "SPECTACULAR" in their 9 out of 10 Editor's Choice review, while GameSpot awarded it the same rating, noting its, "MASTERFUL STORY IN AN EQUALLY MASTERFUL PACKAGE." GamesBeat
awarded it a 9.5 out of 10 rating, saying it, "CEMENTS THE SERIES AS TELLTALE'S BEST WORK," while Kotaku called it, "FANTASTIC, A TRULY TITANIC SEND-OFF."
Set on the unforgiving world of Pandora after the events seen in Borderlands 2, Tales from the Borderlands is a five part episodic game series full of Borderlands' trademark humor following two adventurers on their quest for greatness.
In the final episode of the season, The Vault of the Traveler, all hell breaks loose. Jack is now in control of Helios' systems, and he's ready to reclaim his rightful place as king of Hyperion (with or without you). It's a mad dash to get out of the chaotic space station alive, as everyone scrambles to grab the final Gortys piece and high tail it back to Pandora. Can you guide our ragtag team through perilous corporate dangers in hopes of getting some sweet alien riches? Loyalties will be tested, secrets will be revealed, and explosions will be in large supply in this climactic chapter of Tales From The Borderlands.
Tales from the Borderlands – Episode Five: The Vault of the Traveler is rated 'M' (Mature) for Violence, Blood and Gore, Suggestive Themes, Language, and Use of Alcohol. The series is published digitally by Telltale Games in partnership with Gearbox Software and 2K.