Comics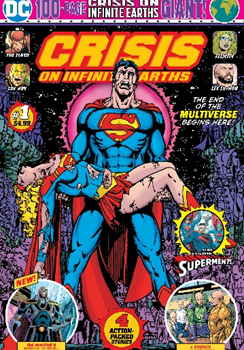 Published on December 6th, 2019 | by Adrian Gunning
CRISIS ON INFINITE EARTHS 100-Page Giant Coming from DC on December 15
Fans of both comic books and the CW's superhero shows are anxiously awaiting the debut of the Crisis on Infinite Earths television event scheduled for December and January. An event of this size and depth is bound to raise as many questions as it answers, and DC will be ready with a helping hand with the first of a two-issue series of CRISIS ON INFINITE EARTHS 100-Page GIANT comic books, sold in participating U.S. Walmart stores.
Featuring an iconic cover image by original CRISIS ON INFINITE EARTHS artist and co-creator George Perez, the book is expected to arrive in participating Walmart stores by December 15, 2019. The on-sale date follows the airing of parts one through three of the CW crossover on December 8 (Supergirl), December 9 (Batwoman) and December 10 (The Flash).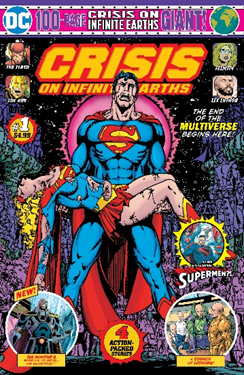 The book features a 24-page main story co-written by comics icon and Crisis comic co-creator Marv Wolfman and CW producer Marc Guggenheim, who serves as showrunner and executive producer of the Crisis on Infinite Earths crossover event, with art provided by Tom Derenick (pencils), Trevor Scott (inks), John Kalisz (colors) and Wes Abbott (letters). Wolfman and Guggenheim also contribute an eight-page back-up story with pencils by fan-favorite Superman and Titans artist Tom Grummett, inks by Danny Miki, colors by Chris Sotomayor and letters by Wes Abbott. The debut issue also features a full reprint of the first issue of Wolfman and Perez' CRISIS ON INFINITE EARTHS #1 as well as an excerpt from issue #7 of the landmark maxiseries.
"The story that we're attempting to tell with our interpretation of CRISIS ON INFINITE EARTHS is so ambitious, we couldn't confine it to five hours," said Guggenheim. "I'm incredibly excited that we're getting the chance to tell an 'in canon' story that ties directly into the crossover narrative. The comics will enable us to include characters and concepts that couldn't be included in the crossover, plus the chance to collaborate further with original Crisis architect Marv Wolfman is just icing on the cake."
The second GIANT comic will arrive in participating U.S. Walmart stores by January 19, 2020, and hit comic book retailers on February 26, 2020. Issue #2 will also feature the main and back up stories co-written by Wolfman, Guggenheim, with art by Derenick, Scott, Andy Owens, Hi-Fi and Abbott on the main story, with Grummett, Miki, Sotomayor, and Abbott on the back-up story. Reprinted content will also be included, in the form of issue #8 of CRISIS ON INFINITE EARTHS, plus excerpted content from DC UNIVERSE: LEGACIES #6.
"The combination of all-new stories by Marv and Marc, along with content from one of the most monumental events in DC history makes these titles the perfect companion to this reimagining of Crisis on Infinite Earths," said Nancy Spears, VP, Sales. "These books will engage both fans of the TV show and the original story alike and are sure to be true collectors' items."
Part one of The CW's Crisis on Infinite Earths television event debuts with Supergirl on Sunday December 8 at 8/7c, followed by part two on Monday, December 9 with Batwoman at 8/7c and part three with The Flash Tuesday, December 10 at 8/7c. Fans can stream each episode for free the day after air on The CW App. For more information visit the website at www.cwtv.com/shows/crisis-on-infinite-earths.