Hardware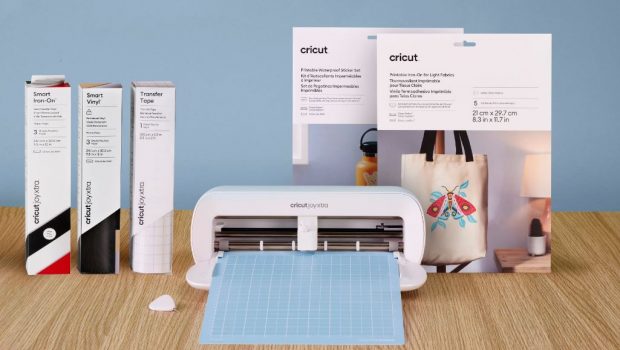 Published on August 30th, 2023 | by Adrian Gunning
Cricut Unveils Joy Xtra – Making it Easier Than Ever to DIY
Cricut, Inc. the leading creative technology company and DIY design platform, today announced its newest smart cutting machine — Cricut Joy Xtra™. Available in Australia on the same day as its global release on September 8, Cricut Joy Xtra™ will launch as part of a specially curated bundle that includes all the tools and materials needed for those who are looking to jump into the world of customisation immediately. Aspiring makers, small businesses, and side hustlers can get started making pro-looking stickers, labels, customised t-shirts, and more, straight out of the box.
Created for those who are looking to jump into the world of DIY, the Cricut Joy Xtra™ smart cutting machine cuts, writes, draws, and foils to make popular projects like full-colour stickers, custom cards, t-shirts, vinyl decals, and more. Create custom gear, merch, personalised gifts, labels and unique upcycled décor and clothing, with new printable materials and Cricut's user-friendly design platform.
Cricut Joy Xtra™ has been designed with versatility top-of-mind. It is compact and lightweight enough to take on-the-go, whilst its attractive matte white finish and stylish curved frame allow it to be proudly out on display at home, in the classroom, or at the office.
Perfectly sized and equipped with built-in tech, it can write, cut, foil, and includes a sensor to enable popular Print then Cut functionality. This means anyone can create professional-looking, vibrant full-colour stickers, labels, tags, custom t-shirts, hoodies and business merchandise, signs, cards, and so much more with ease. Its A4 material size means Cricut Joy Xtra™ can perfectly cut out printed images on any standard inkjet printer.
Cricut Joy Xtra™ comes with a variety of new accessories and materials, including the addition of new notable premium printables including Printable Sticker Paper, Printable Vinyl, Printable Waterproof Sticker Sets, and Printable Iron-On all in convenient A4 size.
Create pro-quality stickers for planners, water bottles, laptops and phone cases, school folders, and more with new Printable Waterproof Sticker Sets. Plus, new Printable Iron-On, will be available for light and dark fabrics, to create professional custom clothing and merchandise. With Printable Vinyl, users can make more durable custom stickers for journals, home décor, and home organisation and more!
Powered by Cricut Design Space, the central design platform where millions of users discover, create, customise, and share projects, Cricut smart cutting machines empower users to design, make, and personalise creations thanks to enhanced software features and regular new updates. Built with user experience in mind, Cricut Design Space supports the most popular designs and new printables.The addition of Cricut Joy Xtra to the product portfolio creates opportunities to expand the design platform for all machines, like the introduction of "Create Sticker" coming in late 2023 — a new feature for paid Cricut Access subscribers allowing makers to easily design professional-looking, full-color stickers. Get inspired, design from anywhere, and make almost anything — for fun, for friends and family, for business or school.
"Our mission with the Cricut platform is to inspire and empower makers," said Ashish Arora, Cricut CEO. "We have more than eight million members who discover, make, and share their creations with one another, and they bring their designs to life through our platform with innovations like Create Sticker."
"From concept to design to creation, Cricut provides the holistic ecosystem of tools, from intuitive design software to creative hardware, to bring making to life, so anyone can truly make anything they can imagine," said Nicola Dow Smith, Regional Head of Cricut.
"Whether you are an established small business, market stall casual, pop-up gift store, or looking to create a brand or side-hustle, Cricut Joy Xtra™ will take your brand logo and packaging from, oh to woah!"
"If you are a teacher with a busy classroom, keen to create personalised, timely learning resources for your class on the fly, the Cricut Joy Xtra™ Starter Bundle has got you covered.  If you are a Uni student upcycling clothes or a parent creating last minute dress-ups or making creative customised gifts for friends and family or to sell, the Cricut Joy Xtra™ Starter Bundle comes packed with all you need to bring your creations to life," she added.
Cricut Joy Xtra™ features: 
The fits-in-any-space, looks-good-anywhere smart cutting machine. Cricut Joy Xtra™ cuts, writes, draws, and foils to make popular projects like full-colour stickers, custom cards, t-shirts, vinyl decals, and more.
Sticker-making made easy.
Easy Printables Sensor™ recognises and precision-cuts around inkjet-printed images to create stickers and so much more.
Compatible with new printable materials.
Compatible materials include new printable materials and new Smart Materials designed especially for Cricut Joy Xtra™
No design experience required.
Our user-friendly Cricut Design Space platform, access to thousands of easy-to-edit images and pre-designed templates, makes the process of creating easy.
Cuts 50+ materials.
Eliminate the need for scissors with the ability to precision-cut over 50 materials like vinyl, iron-on, printable materials, cardstock, and more.
Project Capabilities.
With Smart Materials, Cricut Joy Xtra™ can cut a single image up to 1.2 metres (4') long or repeated cuts, like stars and hearts, up to 6 metres (20') long. Additionally, with Cricut Joy Xtra™, you can now create projects up to 21cm x 29cm (8.5" x 11") on a machine mat.
Foils, writes, and draws.
Works with the Cricut Joy Foil Transfer Tool and Cricut Joy pens and markers. With Cricut Joy Xtra™, you can foil, write, and draw in a variety of fonts, styles, and line weights.
Cricut will guide you through every step.
Live workshops and on-demand courses available at Cricut Learn (https://learn.cricut.com).
Plus, a dedicated Member Care team for technical support.
Pricing and availability:
Cricut Joy Xtra™ Starter Bundle will be available exclusively from 8th September for RRP $429 at Harvey Norman. Additional retailers ranging from October. Imagery here.
Cricut Joy Xtra™ Starter Bundle inclusions:
Cricut Joy Xtra™ Smart Cutting Machine
Cricut® Printable Waterproof Sticker Set – A4 (6 ct)
Cricut® Printable Iron-On For Light Fabrics – A4 (5 ct)
Cricut Joy Xtra™ Transfer Tape (3 ft)
Cricut Joy Xtra™ Light Grip Mat
Cricut Joy Xtra™ Smart Vinyl™ – Permanent Sampler, Classics (3 ct)
Cricut Joy Xtra™ Smart Iron-On™ Sampler, Elegance (3 ct)
For additional details on Cricut Joy Xtra™, technical specifications, the new printable accessories, as well as other tools and accessories, please visit cricut.com