Hardware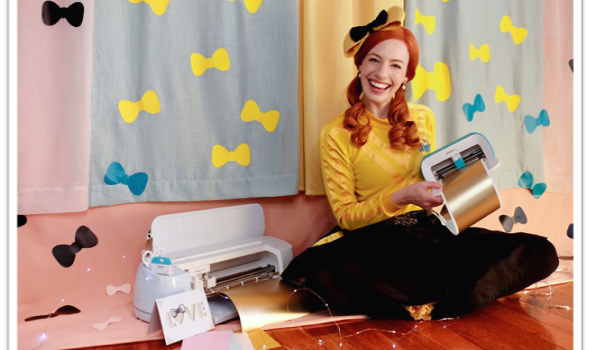 Published on September 21st, 2021 | by Adrian Gunning
Cricut Forms 'Bowtiful' New Partnership with The Wiggles to Celebrate Shared Passion for Creativity
Cricut, the creative technology company that has brought precision cutting machines to millions of households worldwide, has today announced an exciting new partnership with iconic Australian children's music group, The Wiggles. Brought together through a shared love of self-expression and creativity, the partnership will come alive through beloved Yellow Wiggle, Emma, and a raft of initiatives that will include enabling Australians to make their own Wiggles-approved creations on Cricut machines at home for the very first time.
When she is not performing as Emma Wiggle, Emma Watkins is herself a passionate crafter, personally having a hand in the design of many of the props used in her self-titled Emma series. She is already familiar with Cricut, as many Australian families have gifted a range of personally crafted items to Emma Wiggle and other members of The Wiggles whenever they perform in concerts around the country. Embracing all that is possible on the recently launched Cricut Maker 3 and the Cricut Joy, Emma will be bringing this new relationship with Cricut to life by re-creating a range of items for Emma Series 3, due to air shortly.
It is also an exciting time for fans of Emma and The Wiggles, who can now make Wiggles-themed creations at home on their Cricut cutting machines. A range of instantly recognisable designs will be made available on Cricut Design Space app, a vast online library of images and designs available for Cricut customers. This includes Emma Wiggles' signature yellow bow, her costume, her bow-noculars, and more.
"The Wiggles are so excited to be working with the team at Cricut. We love creating and have seen first-hand all the amazing things you can do with its smart cutting machines. I'm looking forward to joining this wonderful Cricut community of creators, who share the same vision as me and The Wiggles by inspiring, educating and promoting positive self-expression," said Emma Watkins.
"To say this will be a hands-on relationship is an understatement! I'm already using Cricut regularly for upcoming shows and scenes, and working with the team to ensure some fun, easy to make Wiggles creations are added to Cricut Design Space so we can make many 'Bowtiful' memories together."
Cricut has grown in leaps and bounds across Australia and the world in recent years, as personalisation and creativity is embraced by people across all walks of life. Cricut is the leader in creative technology and continues to introduce innovations that redefine what is possible to create at home including beautiful, tailored decals, personalised t-shirts for your family or friends, handmade gifts and so much more.
"We believe in DIY magic anywhere, any time, and The Wiggles have been creating magic for 30 years now across Australia and around the world. It was clear when speaking to both Emma and The Wiggles family more broadly that we have so much in common, and we are delighted to take this positive energy and share it with the ever-growing Cricut community in Australia and globally," said Nicola Dow-Smith, ANZ Regional Director at Cricut.
"Whether it be creativity through music or through crafting, Australians are turning to hobbies that fulfil their need for self-expression, as well as their yearning to create and to share with their family and friends. "
In addition to Cricut Design Space assets and use of Cricut cutting machines, Cricut and The Wiggles will also work on a range of promotions, social media integrations and appearances that will continue to reinforce the shared values and this exciting new partnership. Stay tuned!