Events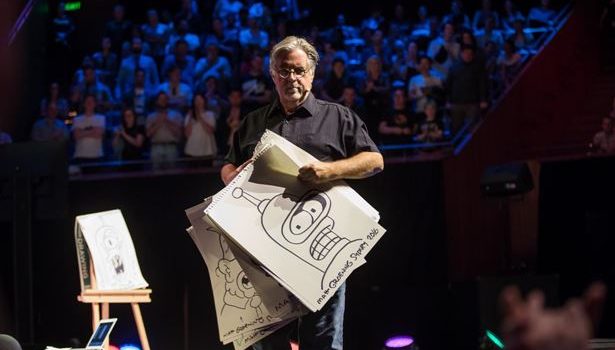 Published on November 5th, 2016 | by admin
Creator of The Simpsons Matt Groening shares rare home movies and gives cartooning class at the Sydney Opera House
Sixteen years ago, Bart was booted out of Australia. This year, Homer finally met Sammy the Seal. Tonight in front of over 2,000 people in the sold-out Concert Hall, Matt Groening shared his favourite moments behind The Simpsons, gave a lesson in cartooning live on-stage, revealed what they were thinking when they wrote the infamous episode Bart vs. Australia, as well as unseen, intimate home movies filmed by his father Homer that inspired the yellow family.
Sydneysiders will have their last chance to see Matt at 4pm this Saturday 5 November at GRAPHIC festival as he takes the stage with Lynda Barry – Eisner Award-winning cartoonist, his college friend, and "his biggest inspiration". Tickets are still available.
This year The Simpsons celebrates its 28th season and 600th episode, reigning as the longest-running scripted show in television history. Superstar critics Matt Zoller Seitz (NY Mag, Vulture) and Alan Sepinwall (HitFix) crowned it "the greatest show in TV history".
WATCH: Homer Simpson vs. Sydney Opera House
Make a day of it at GRAPHIC's final day (Saturday), including: