Hardware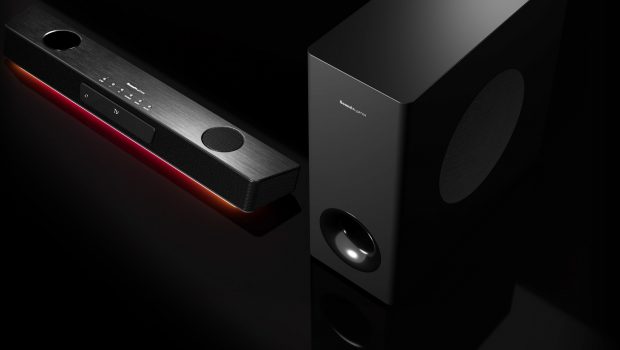 Published on November 22nd, 2022 | by James Wright
Creative Sound Blaster Katana V2X Review
Summary: Creative Sound Blaster Katana V2X is like an audio blade that cuts sharp audio!
Welcome to the new Creative Sound Blaster Katana V2X that delivers gamers and movie lovers alike an undeniable impressive soundbar and subwoofer audio experience for your PC or for that matter, your TV and all consoles (Nintendo – Xbox – PlayStation). In Australia, the Creative Sound Blaster Katana V2X is priced at $499AUD (November 2022) and builds upon the success of their previous soundbar, the Katana V2.
The new audio blade is here…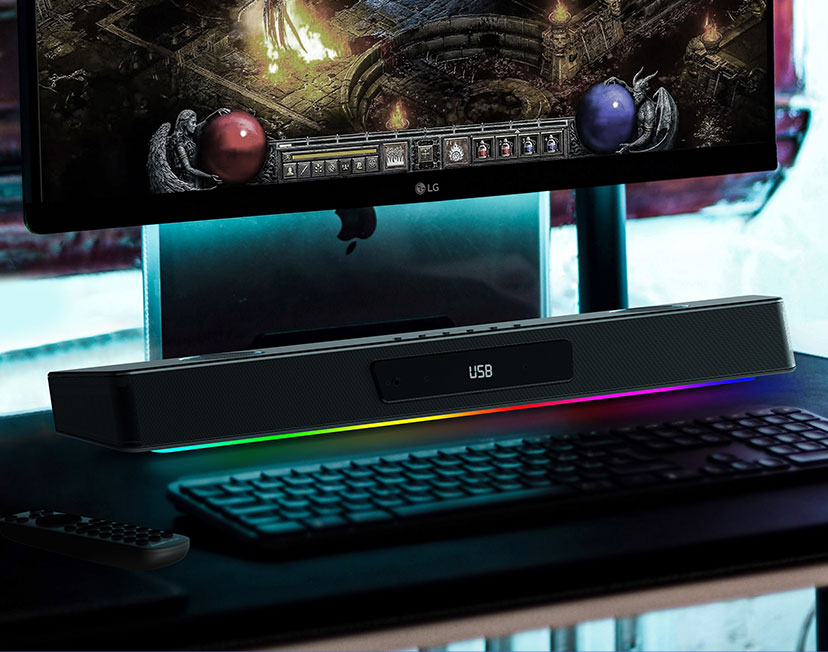 Creative Sound Blaster Katana V2X Specifications
Drivers
2 x 63 mm (2.5″) mid-range drivers
2 x 19 mm (¾") tweeters
1 x 165 mm (6.5″) subwoofer driver
Power Output
Up to 126W RMS (252W Peak)
Frequency Range
Dimensions
Soundbar: 600 x 95 x 62 mm (23.6 x 3.74 x 2.44 inches)
Subwoofer: 150 x 367 x 367 mm (5.9 x 14.4 x 14.4 inches)
As you can see from the above specifications, the Creative Sound Blaster Katana V2X definitely meets the criteria for literally all your audio needs.
In terms of design, the soundbar really channels those gamer aesthetics, particularly with its RGB lighting and comes with all the main inputs and connectivity options that includes HDMI ARC, Optical, USB-C, AUX in/out plus Bluetooth 5.0 for wireless. Another highlight of this subwoofer (besides its bass) is its size, that is considerably smaller then some of its competitors but still packs an audio punch. Gamers will also appreciate the Battle Mode and the Scout Mode which both enhances in-game audio cues, including directional sound and acoustic placement.
Controls are located at the top of the soundbar, including a headphone jack on the front. There is also a display panel in the middle of the soundbar that displays what mode you are in (e.g. music, movie or TV)  including two beam forming microphones. All inputs are on the back of the unit such as HDMI ARC, Optica, AUX, USB-C and a USB-A port which are quite accessible in terms of plugging in new devices.
Unboxing Gallery
According to Creative, the subwoofer of the Sound Blaster Katana V2X is 40% smaller than the Katana V2 that measures at 116 x 250 x 423mm with the soundbar measuring at 600 x 95 x 62 mm which is also slightly smaller to the previous unit. While the build quality is excellent, the unit is designed with a double-wall chassis construction which reduces vibrations that can interfere with audio. As soundbars have been designed to be loud, you can connect headphones into the unit which deliver all the audio features of the Creative Sound Blaster Katana V2X to the listener thanks to their SXFI technology.
The main difference between the two, albeit a moot point for us is that the subwoofer on the V2X has a smaller 5.25" driver opposed to the 6.5" driver on the V2. The V2X also comes with Creative's patented tri-amplified five-driver design with Super X-Fi technology to create 5.1 virtual sound. Creative also state that their tri-amplified five-driver design is split into mid-range drivers, tweeters and subwoofer drivers to deliver smoother audio as they are individual components. Additionally, it has an integrated Dolby Audio decoder for movies and streaming services.

Image for illustration purposes only
To further enhance your audio, there is a companion app available called SXFI which allows you to adjust the audio settings, equalizer, "profiles" and ability to tweak the RGB lighting. Like other RGB lighting, the user has access to 16.8 million colours with the app offering a plethora of lighting presets such as Aurora, Pulsate and Wave. Oh… the unit comes with a remote control to easily change the audio source, tweak the RGB lighting or even access the custom functions that can be stored on C1 of the C6 customizable buttons.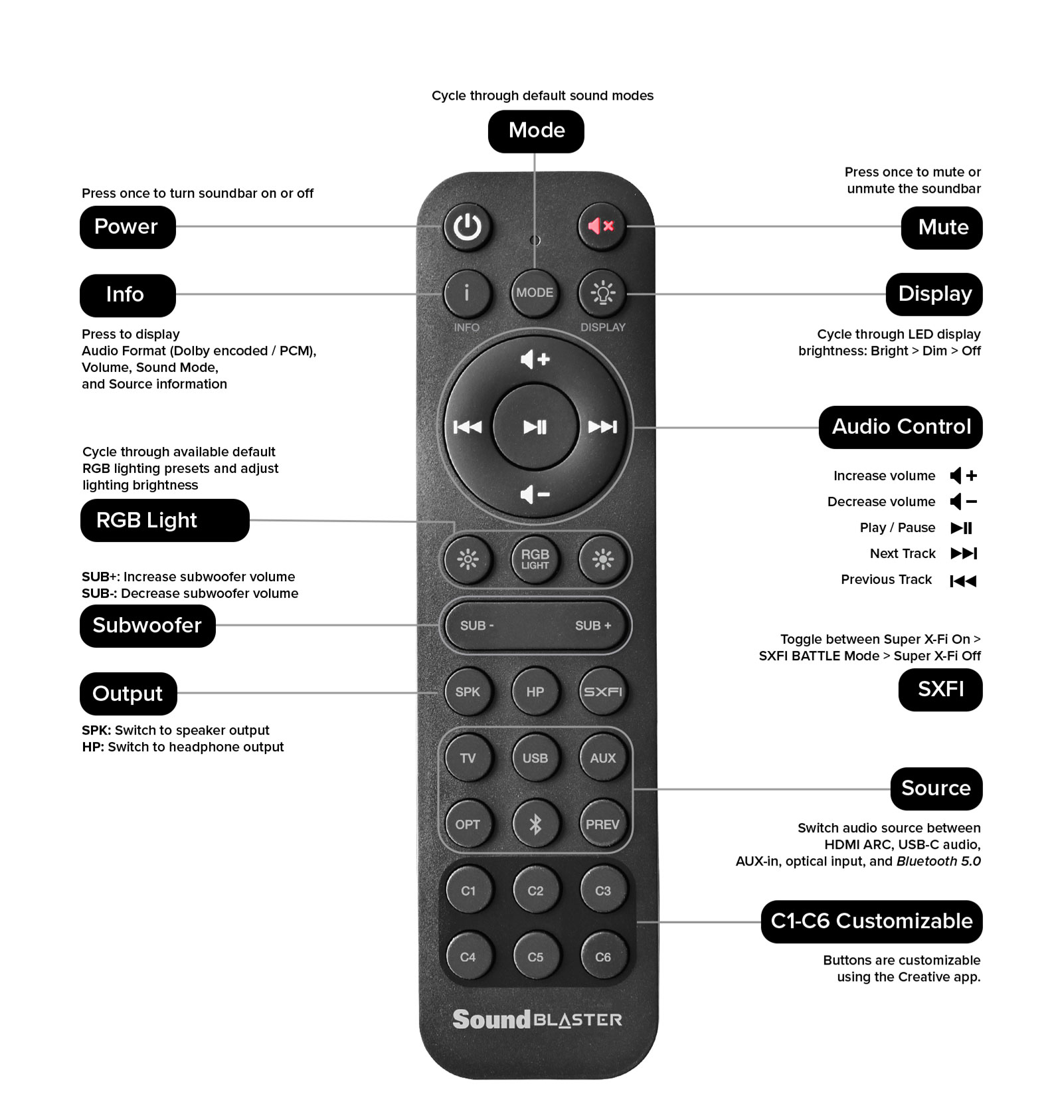 Box contents
Remote Control
Power Adapter
Optical Cable
USB-C to USB-A Cable
Wall Mount Brackets
To setup the Creative Sound Blaster Katana V2X, you simply remove it from the box, attach the subwoofer to the soundbar and then the soundbar to your intended machine, whether that's your PC/Mac, console or TV via the included cables. If possible, you would want to use HDMI ARC or an optical connection for better audio. Some TV's may require you to update the audio output in the settings. While you can place the soundbar on your desk, TV stand, it can be wall mountable which increases the install options.
Audio
We tested the Creative Sound Blaster Katana V2X on an Xbox Series X (HDMI Arc) and a PC (Optical). Our first impressions on this soundbar was that the audio quality was well balanced, smooth and deep. Given its price point, Creative should be commended on the overall audio produced by the V2X and not surprising, they have been in the sound business for a very long time. Although I must admit I was ready to experience a hollow tinny sound that thankfully was not the case at all.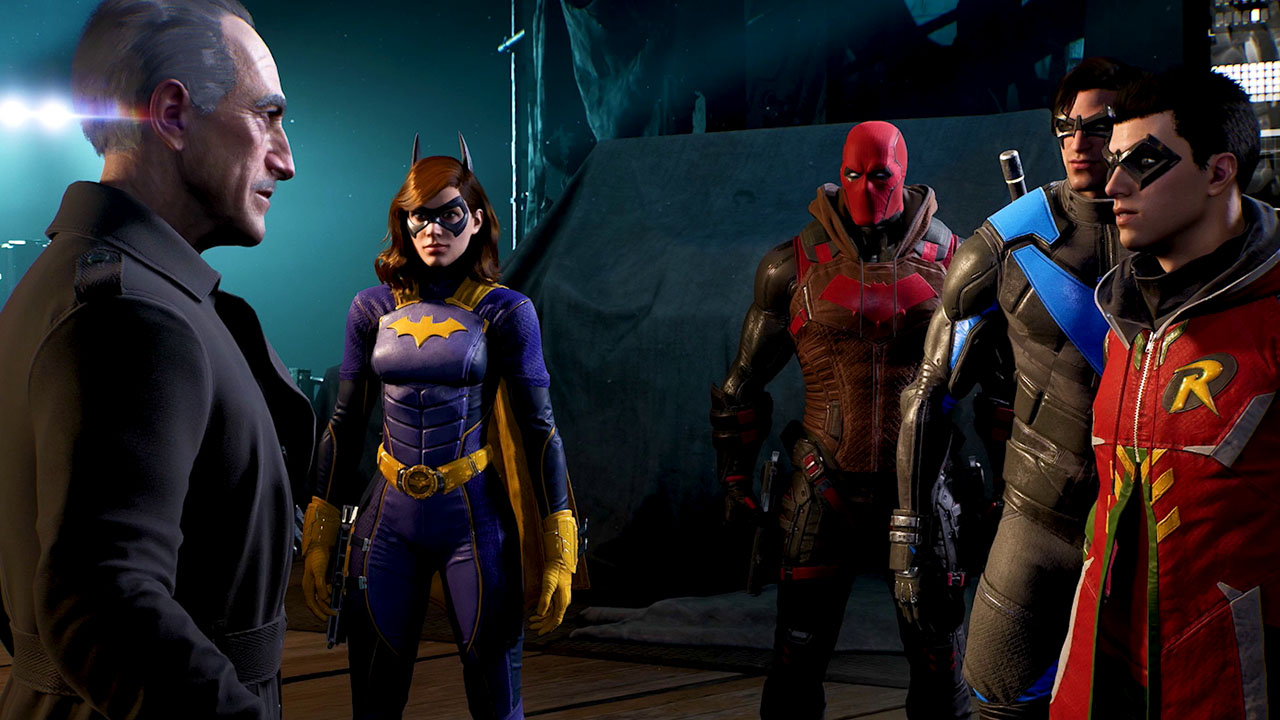 For gaming, the Katana was trialed with the following games on the XSX – Gotham Knights, A Plague Tale: Requiem, Call of Duty Modern Warfare II and Overwatch. All games performed extraordinary well, especially A Plague Tale: Requiem for its background audio ambience (those thousands of rats are creepy sounding) and equally, Call of Duty Modern Warfare II that is made even better thanks to the V2X directional audio abilities.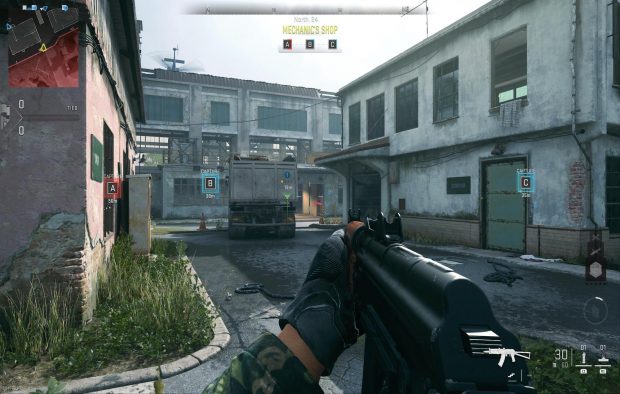 Equally, films and streaming services such as Disney+ and Netflix sounded phenomenal, including music like Taylor Swift's new album Midnights. It should also be noted that the sound system is quite loud with booming bass, so family, housemates and family beware. Pairing to Bluetooth is also an easy process with decent audio, so no issues there whatsoever. A great all-round audio experience on multiple devices!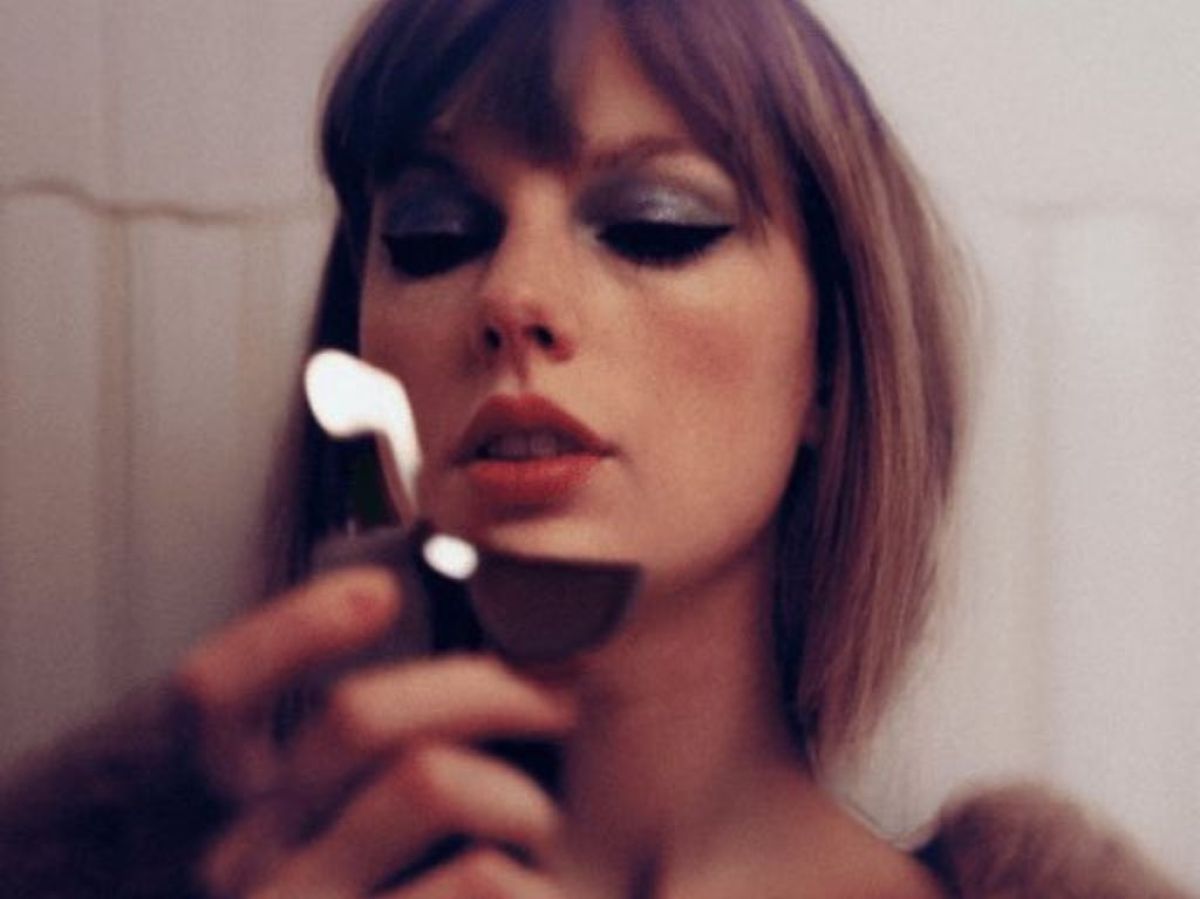 Final Thoughts?
If you're looking for a powerful soundbar with subwoofer that is quite reasonably priced and delivers excellent sound across multiple platforms, then the Creative Sound Blaster Katana V2X is the perfect audio system for your PC, consoles and Bluetooth devices. Best of all, setup is easy and it comes with a comprehensive app to fine-tune the device to ensure excellent audio from streaming to playing games and everything in-between.
Recommended!