Films
Published on August 30th, 2018 | by Debbie Zhou
Crazy Rich Asians – Film Review
Reviewed by Debbie Zhou on the 30th of August 2018
Roadshow presents a film by Jon M. Chu
Produced by Nina Jacobson, Brad Simpson and John Penotti
Screenplay by Peter Chiarelli and Adele Lim, based on Crazy Rich Asians by Kevin Kwan
Starring Constance Wu, Henry Golding, Gemma Chan, Awkwafina, Nico Santos, Lisa Lu, Ken Jeong and Michelle Yeoh
Music by Brian Tyler
Cinematography Vanja Cernjul
Edited by Myron Kerstein
Running Time: 120 minutes
Rating: PG
Release Date: the 30th of August 2018
Like the game strategies employed by its smart, instinctive leading lady, Crazy Rich Asians takes no chances in foregoing the winning move, thereby paving the way for a beguiling rom-com that takes an indulgent ride East and into some of Singapore's most lavish households. And it's not the only thing that it lands with a smashing dollar sign. Jon M. Chu's film is the first Hollywood studio film since The Joy Luck Club (1993) to feature an Asian-American cast. The pay-off, both in representation, story, and consequent box office figures, is immense.
Based on Kevin Kwan's best-selling novel, Crazy Rich Asians centres on seemingly normal, couple, Rachel Chu (Fresh off the Boat's Constance Wu), who is an NYU economics professor, and Nick Young (newcomer Henry Golding). That is, until Nick invites Rachel as his date to his best friend's wedding in Singapore, and it's revealed that he is, in fact, heir to one of the wealthiest families on the island. They're 'comfortable', Nick claims, but the first-class ticket, his grandmother's estate guarded by armed security, and the property that stretches across acres of land says otherwise: his family is rich, really crazy rich. It's a fish‑out‑of‑water story, and Rachel is plunged into this wild set of family politics and affluent-people drama, that forces her to re-evaluate where her relationship with Nick fits within this unfamiliar but copiously lush, and, at times, ridiculous lifestyle.
Rachel's lack of abundant wealth is only the tip of the iceberg from what separates herself from Nick and his peers: her identity as an Asian-American also sticks out like a sore thumb from the English-boarding school Singaporean elite. Their money derives from old China, and Rachel, with her packed Tupperware boxes for her economy flight, couldn't be more different. She speaks in broken Chinese, greets Nick's mother with a hug and only begins to learn the art of dumpling-making at the Young family table. 'You are Chinese, here, here but not here', her mother tells her, pointing to what her Chinese appearance belies: a second‑generation immigrant raised by a single mother and under Western influences.
It's this nuance of Asian identity, Chinese and Singaporean, that Jon M. Chu's sleek and enjoyable direction strikes so finely. Along with Peter Chiarelli and Adele Lim's charming script, the film retains a level of authenticity that works also as a love letter to the differences of cultures that Hollywood often clumps into one. The ranging accents and dialects, Hokkien, Cantonese and Mandarin, are heard throughout the film with no fuss. There are even some un-subtitled lines that slip in just for the fun of it, and the ease by which Chu embeds his film with these cultural trinkets only enriches the film further.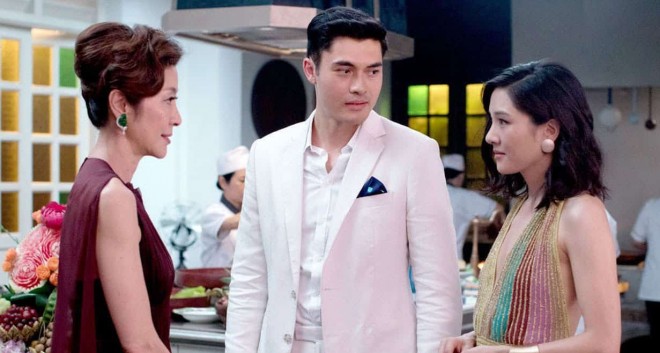 The wholehearted embrace of cultures is not the only reason why the film works. It succeeds just as much as a celebration of that as it does in returning the romantic-comedy back to its rightful crowning place, as a genre that can surprise and delight. The cracking, warm chemistry between Wu and Golding threads much of the film's more intimate moments. But it is rapper-turned-actress Awkwafina (Ocean's 8, 2018), playing Rachel Chu's best friend, Goh Peik Lin, who absolutely steals every scene in which she steps foot. She pulls the comedic punches out of her hilariously designed world-map handbag with an effortless snappiness.
Michelle Yeoh, as Nick's mother, Eleanor, handles her take on a mother-in-law figure with sophisticated grace, effectively side-stepping the stereotypical 'tiger-mother' archetype. Eleanor puts blood family first, and her own sacrifices accompany that decision. Yeoh's performance tethers between regal authority and disdainful critic. She gives more shape and nuance to Chiarelli and Lim's writing, which sympathetically draws out her character's motives behind an antagonism that's threatened by Rachel's Western etiquette and mannerisms.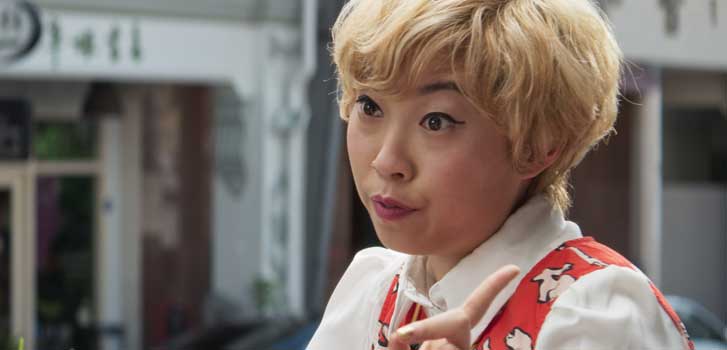 A pivotal mah-jong sequence between Rachel and Eleanor, tense enough to cut through with a knife, takes a page out of The Art of War, with its carefully crafted choreography that serves to finally resolve the brewing tension that sits between the two women. It is a scene that unveils the characters and their line of thinking in such a magnificently strategic way that the result is not only a triumphant win, but also a breath-of-fresh air from the climatic scenes we're accustomed to seeing. And Crazy Rich Asians, in its sweet but equally light-hearted approach to life, genre and culture, also steps forward to change that very game.
Summary: Jon M. Chu's film is the first Hollywood studio film since The Joy Luck Club (1993) to feature an Asian-American cast. The pay-off, both in representation, story, and consequent box office figures, is immense.