Games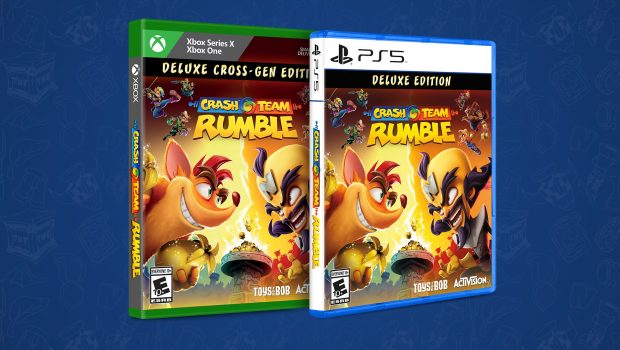 Published on June 20th, 2023 | by Adrian Gunning
Crash Team Rumble – Now Available For PlayStation & Xbox
t's time to get your rumble on! Crash Team Rumble, published by Activision Publishing, Inc. (NASDAQ: ATVI), is now available on PlayStation® 5, PlayStation® 4, Xbox® Series X/S, and Xbox One®. Crash™ fans can team up and #Bandicruit friends across PlayStation and Xbox platforms now and get in on the Wumpa fruit-collecting mayhem.
Developed by the incredibly talented team at Toys for Bob, Crash Team Rumble brings an all-new experience to the multiplayer table, with frenetic team-versus-team gameplay, thrilling strategic elements, and hilarious action when eight players race to score the max Wumpa fruits for their team. Starting today, players can take eight heroes and villains for a spin across nine epic arenas full of dangers, ledges, explosive crates, and tons of fun. Launch characters include Crash Bandicoot®, Coco, Tawna, Dingodile, Neo Cortex, N. Tropy, N. Brio, and the brand-new character to the Crash universe – Catbat. To keep things fresh, tons of new surprises are in store for fans when new seasonal content drops post-launch, including new characters, arenas, modes, powers, limited-time events, customisation options, and more. Fans can also expect two new characters to join the roster in Season 1 – fan-favourites Ripper Roo and N. Gin.
"We're thrilled to have Crash fans experience everything Crash Team Rumble has to offer," said Paul Yan, Co-Studio Head at Toys for Bob. "This new twist on Crash Bandicoot has been a true labour of love for all of us here, and we can't wait to share all the upcoming surprises we have in store for Crash fans."
In Crash Team Rumble, fans can play from a roster of friends and frenemies from the Crash universe, each of which falls into one of the three roles – Blocker, Booster, or Scorer. Teams strategically utilise the different roles to work together to be the first team to drop-off the most Wumpa fruit to their Wumpa bank, while simultaneously preventing the opposing team from scoring. Unique Relic Powers bring an additional strategic element to the game, which squadmates can use to gain the upper hand when scoring, leading their team to victory. Crash Team Rumble features cross-platform play*, allowing players across multiple consoles to squad up and jump into the competition.
Crash Team Rumble is available now on PlayStation® 5, PlayStation® 4, Xbox® Series X/S, and Xbox One® ($45.95 AUD / $47.95 NZD RRP) for the Standard Edition, and ($65.95 AUD / $69.95 NZD RRP) for the Deluxe Edition. The Crash Team Rumble Standard Edition features the full game, additional post-launch seasonal content and limited-time modes, and the Season 1 Premium Battle Pass. The Deluxe Edition features all the content from the Standard Edition, plus 25 Premium Battle Pass Tiers Instantly Unlocked during Season 1, the Season 2 Premium Battle Pass**, and the digital "Proto Pack" which includes a host of customisation options for each hero and villain at launch and other items. Both editions grant players access to exciting post-launch seasonal content.
For more information and to pre-order, head to the official Crash Bandicoot site, and be sure to follow @CrashBandicoot on Instagram, Twitter, Facebook, and TikTok for more news and information about Crash Team Rumble.